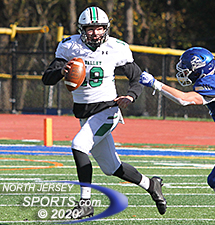 Zach Traina threw three TD passes for Pascack Valley, which returned from a two-week hiatus with a a 34-7 win in the road in Demarest on Saturday monring.
DEMAREST – When Covid-19 pops up in a local school district, change comes quickly. School buildings close to in-person instruction, students retreat to at-home, online learning and, most times, extracurricular activities and sporting events are postponed or canceled as team are forced into quarantine. Earlier this month, Pascack Valley fell victim.
So when the PV football team came off the involuntary two-week hiatus, which caused two postponements, they were fired up to get it going again. It showed on the field Saturday morning as Pascack Valley went on the road and routed Northern Valley/Demarest, 34-7.
"I feel a little bit better that we're back," said Valley coach Len Cusumano. "We're grateful to be back playing football. This was a long two weeks. We made sure we had no excuse. We went out and played and did a great job today.
"You take confidence in what you're doing, you take pride in what you're doing, you make sure you stick with the basics and don't turn over the football. We did well with that today."
It wasn't easy to take an unexpected two-week "vacation" in the middle of the season. Even though they aren't permitted to play football teenagers cannot be expected  to just sit home and do nothing.
"We had to trust the guys to do the right thing," Cucumano said. "We have to make sure we're following the rules as best we can. We have to trust that everyone is making the right decisions. We can't control everything the kids do but we make sure to let them know what the right things are and move on to the next game.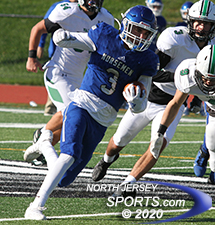 Sean Vadis scored the lone TD for NV/Demarest, which was coming off a win against Bloomfield last week.
"You can only do so much. Online workouts, meetings, making sure guys are doing the right things. The seniors were stepping up, being leaders when the guys were not able to get together."
On the opening possession of the game Demarest junior quarterback Andrew Argenziano connected with junior wide receiver Colin Ross for 12 yards on third-and-10, but the Valley defense stepped up and forced a punt four plays later.
Then Valley took the ball and began a 13-play, 69-yard scoring drive that put it ahead for good. No fewer than six offensive players had a part in the drive by throwing, catching or running the ball. Junior Nick Messina carried twice for 11 yards, senior Mike Solazzo gained 20 yards on four carries and senior quarterback Zach Traina connected with senior wide-outs John and Mike Supple on consecutive plays for a first down at the Demarest 19.
Solazzo took it from there, gaining 12 more yards on a burst up the middle and scoring one play later as he weaved through the Norsemen defense behind superb blocking by the offensive line. Junior Dylan Hutchinson booted the extra point and Valley led 7-0.
The next time PV got the ball they scored again. A 14-yard run by senior captain Desmond Von Toble, a fullback, propelled Valley into Demarest territory.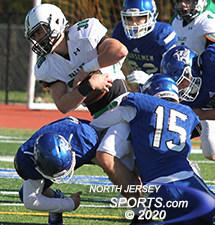 Desmond Von Tobel is a big part of Pascack Valley's multi-pronged running attack.
"[These are] all strong kids who have put in the time, put in the work," Cusumano said of his running backs. "Coach [Bill] Lynn, our offensive coordinator, does a great job making sure they all get multiple reps so the next guy is ready just in case. If we have depth at that position it's going to help."
"Having a lot of running backs really spreads out the offense," added Traina. "We are able to ground and pound with some guys and run bubbles and screens with the others. It makes our offense more diverse."
Traina spied senior tight end Daniel Haag cutting across the field in the end zone and he zipped a pass to the sliding Haag for a touchdown and 14-0 lead.
"We worked on running our routes well," said Traina, "making defenders move away from where we were trying to run so we could get open receivers and I could hit them wide open."'
Meanwhile the Norsemen offense had a tough time getting started. They graduated a bunch of players this past June and have only four seniors on the roster. In addition the Valley defense was outstanding.
"The defense did great," said Traina. "Coach [Adam] Preciado did a great job putting a scheme together for them. [Senior defensive back] Dave Jones had a couple of break-ups - he did great today. And the defensive line did a great job pressuring the quarterback a couple of times."
"Guys swung to the football and tackling was borderline outstanding," added Cusumano.
Valley scored again before the half on a 36-yard run around right end by Messina. He got into the open field and out-ran the Demarest defense to boost the lead to 20-0. Late in the third quarter Von Toble busted loose for a 27-yard run as he followed his blockers and picked his way through the Demarest defense.
"You have a fullback in Desmond Von Toble who is a tough, tough kid," Cusumano said. "We are very proud of the group."
Two plays later Traina hooked up with John Supple for a touchdown and 27-0 lead with 15 seconds to go in the third quarter. Valley scored once more midway through the fourth quarter when Traina ended an 84-yard drive with a 24-yard TD strike to senior wide receiver Ryan Donaldson. That made it 34-0.
Valley lost the shutout with 1:25 to go in the game when Argenziano completed a 36-yard strike to junior Sean Vadis. Pascack Valley improved to 2-1, while Demarest fell to 1-4.
"It was nice to get back on the field with these guys, our senior class," Cusumano said. "They're great kids. They deserve the best season possible and we want to make sure they get the best we can do.
"We're taking it week to week making sure we can play. We could have had a lot more interceptions than we did and caused a lot more turnovers, but we'll take it. A win is a win."
FOR MORE PHOTOS FROM THIS EVENT PLEASE CLICK HERE. TO BUY A COLLECTOR'S PRINT OF THIS STORY PLEASE VISIT 4-FeetGrafix.com.