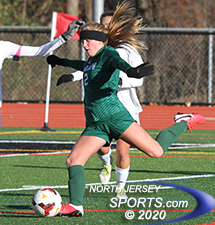 Mary Cochran and Ramapo beat Old Tappan, 2-0, in the state sectional quarterfinals as both teams seasons came to an end.
FRANKLIN LAKES – Reality had set in for the four Ramapo seniors interviewed after the final game of their high school careers, Wednesday's North East D state sectional tournament quarterfinal against NV/Old Tappan. The tears were flowing as Mia Suchora, Ella Onal, Haley Schmidt and Sarah Pecorelli, who have been on the varsity roster since their freshmen seasons, reflected on what had just come to an end.
It was yet another example of the upside down word we are living in. The interview was conducted after a Ramapo victory and after the postgame huddle where the players were told officially that COVID was closing down their season effective at the close of business on Wednesday.
"We felt this [shutdown] coming for a while. We didn't know before the game that this was definitely going to be our last one, but finding out that it is for sure right now is like the saddest thing ever," said Onal. "We have been together for the past four years, the four of us were freshmen on the varsity team, and every year it got better in better. To know that it is over now is just so sad."
Wednesday was the last day for all of Ramapo sports, which means that both their girls and boys soccer teams will not make their semifinal appearances and the football team's annual rivalry game against Wayne Hills was cancelled for the second time this season.
Trying to manage it all -- the logistics, the on-field performance and the psyches of young women playing under the cloud of a pandemic – fell to Maddie Dalie, who picked a heckuva time to go through her first season as a varsity head coach.
"Everyone kind of feels like they have been hit in the gut by this; personally, emotionally and mentally and physically. It's just all been very, very draining," said Dalie, whose team finished with an 8-2 record. "These girls deserved to get to the final and win it all and everyone in the administration tried so hard to come up with some way to let us keep playing, but these times are very difficult and this [virus] is above everyone."
As far as scorekeeping goes, Sophia Verneri scored the lone goal of the first half for Ramapo and Suchora, who will play at William & Mary next season, scored the final goal of the Green Raiders' season late in the second half.
"We had the mentality that we would have won this whole thing. We believed that, we still do and you could see that in the way we played today," said Suchora. "Right down to the last second we were still ready to play. We have known all along that we could be shut down at any second, so we all went for it every time we stepped on the field. We would have done that right down to the last game and we would have won. We know that."
Schmidt is going on to play in the ACC at the University of Pittsburgh. Her future is bright, but that does not make moving on from the Ramapo green and white any easier.
"These have definitely been the best four years of my life. I got to play with my best friends by my side," said Schmidt. "I am excited for the new chapter, but these are memories that will stay with me for the rest of my life. I had so much fun being a part of Ramapo soccer."
Daile certainly was quick to acknowledge the contributions of all eight seniors on this year's roster, which also includes Verneri, Katelyn Edwards, Kelly Heffernan and Drew Hourihan.
"These girls have carried the Ramapo program for the last four years. They have so much to be proud of not only in terms of soccer, but helping out with the underclassmen and keeping our program in shape," said Dalie, a former Ramapo player herself and an assistant coach for the program that won last season's Bergen County Tournament title. "They leave behind a legacy that other girls look up to and want to continue."
FOR MORE PHOTOS FROM THIS EVENT PLEASE CLICK HERE. TO BUY A COLLECTOR'S PRINT OF THIS STORY PLEASE VISIT 4-FeetGrafix.com.