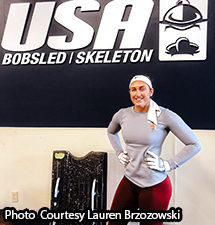 Lauren Brzozowski, a 2015 Ramapo High School grad, is currently in Lake Placid, NY, at the start of her journey into competitive bobsledding.
LAKE PLACID, NY – This global pandemic has upended every plan of every person on this planet and everyone has their own story of where they were when "Covid hit."
For Lauren Brzozowski, a 2015 graduate of Ramapo High School, it was just starting to happen. A standout sprinter, Brzozowski had just used up her four years of collegiate eligibility at Elon University and was on the verge of parlaying that into her dream. A bachelor's degree in strategic communications in hand, Brzozowski headed off to Loughborough University in England where she was going to pursue a master's degree and run the 200 meters for pay.
"That was the plan. As a senior at Elon I had my heart set on racing in Europe after I graduated and trying to go pro over there because it is a little less competitive," said Brzozowski, . "[Collegiate] sports are not as big over there, but Loughborough has the best track team in England and I was fortunate enough to get on their first team and represent the university."
Then, just like that, her race was run.
"Then with Covid, I literally got kicked out. I had one day to pack all of my things up and leave before Trump closed the border. I wound up living out of a suitcase for months because I couldn't go back," said Brzozowski, who completed her Loughborough University master's degree program from home, not a lot of fun considering the time difference. "I did finally get to go back and run one more race and get the rest of my stuff and when I got back home it was perfect timing."
Perfect timing for what you ask?
"Perfect timing for bobsledding," said Brzozowski in a Monday night interview from the US Olympic Training Center in Lake Placid, NY. "I only found out about bobsledding because I just got kicked out of the UK and I wasn't ready to give up on sports yet. I wanted to go back and run. I was supposed to compete in Belgium and Spain and Switzerland, but when all of that got taken away from me I was looking for my next thing."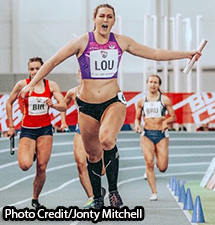 Lauren Brzozowski competing for Loughborough University in England.
Brzozowski had some casual acquaintances from her collegiate track days that had originally planted the seed of bobsledding, and she spent four months couch surfing in her twin sister Katherine's house in Baltimore, MD. There she worked out with Towson University track and field coach Mike Jackson, got further physical guidance from Mike Guadango and Joe Whittaker at Freak Strength in Oakland and then showed up in Lake Placid to start the grueling process of trying to become a national level bobsledder.
The sport of women's bobsledding has various facets. Skeleton employs just one racer careening head first down the icy track at break-neck speed. Then there is the two-woman sled that uses a driver and a brakeman, who pushes the sled off the line then tucks in tight for the duration of the ride before engaging the brakes post finish line.
Brzozowski, who arrived in Lake Placid on October 28 and will be there through November 12, is trying to become a brakeman and her high school track and field coach Bill Manzo truly believes that anything is possible for his former star sprinter.
"Lauren is one of the most driven athletes I have ever worked with and it showed in her decorated high school, Division 1 and international track careers," said Manzo, via text. "I am thrilled that she is pursuing this opportunity and if Team USA coaches see even a shred of what we know is in there, we will all see Lauren wearing the red, white and blue of Team USA in the future. I continue to be proud of Lauren and can't wait to see her leave her mark in yet another new and challenging endeavor."
How big of a mark she will make on bobsledding or even the route to get there are still a mystery for Brzozowski, who is so new to the sport that she is not all that sure of what comes next if she makes it through this initial combine stage.
For now it is all about pushing a sled, staying tucked as aerodynamically as possible and pulling the ripcord at the end. Whatever comes next, she will be ready for because she is just not yet ready to hang up the spikes.
"Sports are just such a big part of my life and the love of competing is really what is keeping me going and keeping me motivated," said Brzozowski. "The hardest part for me is not the competition or the training, I love those parts. The biggest challenge is trying to figure out how to fund this lifestyle. I don't want to be that kid that wasted a master's degree to chase this. Maybe wasted is not the right word, but I definitely went to school, I am talking Elon and Loughborough, so that I could compete. Bobsledding is self-funded for the most part, so I have to figure out how to have a career at the same time and keep this dream going as long as I can."
If Brzozowski indeed goes on to become a full-fledged member of the US Bobsled Team, northjerseysports.com has already promised to help in the fundraising push. Twitter links to gofundme pages are, hopefully, #ComingSoon.
TO BUY A COLLECTOR'S PRINT OF THIS STORY PLEASE VISIT 4-FeetGrafix.com.