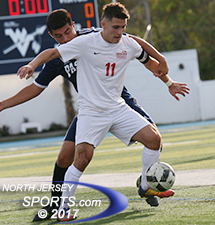 Pompton Lakes' Carlo Gonzalez
The state tournament is officially underway, but there is no reason to watch. All the answers and outcomes appear right here as we rev up The Super Computer to reveal who will win state titles in brackets in our coverage area. You are welcome...
NORTH 1, GROUP 1
The Seeds: 1. Pompton Lakes 2. Waldwick 3. Wallington 4. Boonton 5. Hasbrouck Heights 6. Emerson 7. Park Ridge 8. Cresskill 9. Wallkill Valley 10. Cedar Grove 11. Verona 12. Butler 13. Saddle Brooke 14. North Warren 15. New Milford 16. Midland Park
Player to Watch:
Carlo Gonzalez, Pompton Lakes
There are lots of talented players in this section but Gonzalez is the one who has been a difference maker up top all season and also has a supporting cast around him to make him equally as dangerous as a playmaker and a pure striker.
Biggest First-Round Upset:
None
Dark Horse: Emerson
Led by Kyle Covello (13 goals, 11 assists) as a threat in the midfield and Declan Petterman in net, the Cavos have the pieces in place to go on a deep run in North 1 Group 1. A one-goal loss and a tie in two regular-season meetings against No. 2 seed Waldwick serve notice that the gap is not all that far between the two and six seeds.
First Round Winners:
Pompton Lakes, Cresskill, Hasbrouck Heights, Boonton, Wallington, Emerson, Park Ridge, Waldwick
Quarterfinal Winners:
Pompton Lakes, Hasbrouck Heights, Wallington, Waldwick
Semifinal Winners:
Pompton Lakes, Wallington
Champion:
Pompton Lakes, 3-1
After a crushing loss in which they allowed three goals in the final eight minutes to fall to Passaic in the Passaic County semifinals, the Cardinals are even hungrier to atone for that loss with a section title.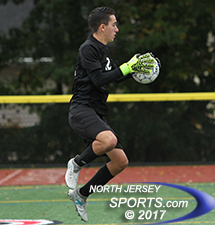 Pascack Hills' Jack Torre
NORTH 1, GROUP 2
The Seeds: 1. Glen Rock 2. Pascack Hills 3. Jefferson 4. Ramsey 5. Mahwah 6. Newton 7. Lakeland 8. Pequannock 9. Northern Valley/Demarest 10. Kinnelon 11. Elmwood Park 12. River Dell 13. Hawthorne 14. Sussex Tech 15. Lenape Valley 16. Dumont
Player to Watch:
Jack Torre, Pascack Hills
Much like hockey, riding a hot goaltender is not ideal but can be a recipe for success in a one-and-done tournament setting. Torre has the moxie and the instincts to carry his team when he is on. For the Cowboys to win a section title, Torre will have to be at his very best to lead the way.
Biggest First-Round Upset:
12 River Dell over 5 Mahwah
The Golden Hawks split their two regular-season matches against Mahwah including a recent 1-0 win. Most state tournament games are low-scoring affairs, which plays right into the hands of River Dell. The Super Computer is having trouble, though, figuring out if a Golden Hawk really exists. Upon going through millions of photos and articles in a manner of nanoseconds, the good ol' SC has determined that it is a made up mascot. Golden Eagle? Yes. Golden Hawk? No sign of it anywhere, especially in Oradell.
Dark Horse: Northern Valley/Demarest
The Norsemen are coming in on a hot streak having gone 6-2-1 in their last nine games. Their two previous games before that? Late one-goal losses to Bergen County champ Ramapo and Bergen County semifinalist Northern Highlands. In a wide-open bracket, the Norsemen have as good of a chance as any team to pull an upset or two.
First-Round Winners:
Glen Rock, Northern Valley/Demarest, River Dell, Ramsey, Jefferson, Newton, Kinnelon, Pascack Hills
Quarterfinal Winners:
Glen Rock, Ramsey, Newton, Pascack Hills
Semifinal Winners:
Glen Rock, Pascack Hills
Champion: Glen Rock 2-1 in overtime
The Panthers may or may not be the most talented team in this section. What they are though is a cohesive, balanced unit that dictates play by winning the 50-50 battles in the midfield, both in the air and on the ground. Never having to leave their home field is also a big advantage for the Panthers.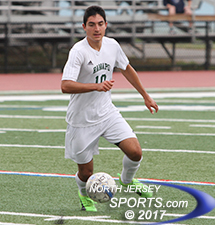 Ramapo's Sebastian Varela
NORTH 1, GROUP 3
The Seeds: 1. Ramapo 2. Northern Highlands 3. Northern Valley/Old Tappan 4. Passaic Valley 5. Wayne Hills 6. Pascack Valley 7. Sparta 8. Parsippany Hills 9. West Essex 10. Tenafly 11. Roxbury 12. Indian Hills 13. Montville 14. West Milford 15. Paramus 16. Dwight Morrow
Player to Watch:
Sebastian Varela, Ramapo
The Super Computer was spitting this one out as soon as it was turned on. Varela is the state's top playmaker. Ramapo's vaunted attack runs through him and he always seems to make the right read. More importantly, the bigger the game, the better Varela plays; evidenced by leading his team to four county championships in his four years of varsity socer and scoring the game-winning goal in three county finals. Enjoy Sebastian Varela while you can still see him in a Ramapo uniform. Bergen County soccer fans will never see that sort of big-game player again in boys' soccer. You heard from the Super Computer first.
Biggest First-Round Upset:
12 Indian Hills over 5 Wayne Hills
These two teams, Indian Hills (6) and Wayne Hills (5) have remarkably had 11 games this season end in a tie. Really? 11??? To put it in perspective, our incredibly handsome reporter Richie Ballgame played soccer through high school and college and has been a part of four ties combined. So obviously this game will go through overtime tied and into penalty kicks. That gives the edge to Indian Hills with three-year starter Andrew Cameron in net. He will come up with a big save of a PK and the Braves will walk away with a big upset.
First-Round Winners:
Ramapo, West Essex, Indian Hills, Passaic Valley, Northern Valley/Old Tappan, Pascack Valley, Tenafly, Northern Highlands
Quarterfinal Winners:
Ramapo, Indian Hills, Pascack Valley, Northern Highlands
Semifinal Winners:
Ramapo, Northern Highlands
Champion: Ramapo, 2-1
Remember when the Green Raiders, after having an undefeated season and winning a Group 3 state title last year, were 0-2 this season? Since then all Ramapo has done is rip off 15 wins in a row. Ramapo goaltenders have combined to make 40 saves over those 15 games, a mere 2.5 saves per game. Meaning the opportunities to score against the Green Raiders are far and few between. Ramapo repeats as section champions. Cory Doviak goes along for the ride while eating enough empanadas to stuff a buffalo.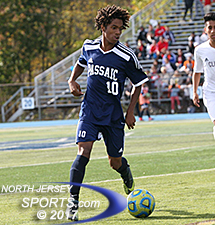 Passaic's Miguel Sencion
NORTH 1, GROUP 4
The Seeds: 1. Kearny 2. Morris Knolls 3. Montclair 4. Bergen Tech 5. Fair Lawn 6. North Bergen 7. West Orange 8. Clifton 9. Passaic 10. Mount Olive 11. Union City 12. Ridgewood 13. Passaic County Tech 14. Hackensack 15. Randolph 16. Bloomfield
Player to Watch:
Miguel Sencion, Passaic
Sencion is a quick lefty who likes to make opposing defenders look bad and is great at shooting on target from any angle. He often switches positions and sides of the field, which make him much more difficult to mark.
Biggest First-Round Upset: 13 PCT over 4 Bergen Tech
Passaic County Tech has shown that it is much better than its seed indicates. The Bulldogs rallied with three second-half goals to tie Bergen Tech in their regular-season meeting before falling in overtime of a wild game, 5-4. The Bulldogs split with Passaic County champ Clifton this season and have lost just once in the past six games. Now that they are finally healthy, they can make a dent in this section.
Dark Horse: Hackensack
It seems unlikely that a No. 14 seed could even get out of the first round in a rugged section like North 1, Group 4, especially when the first-round opponent is perennial state power Montclair. But if the Comets can do that, which they are certainly capable of evidenced by a win over Ramapo early in the season, they will have a wide-open bracket that sees a potential path to the section final in front of them.
First-Round Winners:
Kearny, Clifton, Fair Lawn, PCT, Montclair, Union City, West Orange, Morris Knolls
Quarterfinal Winners:
Clifton, PCT, Montclair, West Orange
Semifinal Winners:
Clifton, Montclair
Champion: Montclair 2-0
Montclair has balance, depth, and will be salivating for a shot at a section title after an upset loss to Millburn in the Essex County semifinals snapped a nine-game win streak. Also, Montclair is home of the best lunch spot of all-time, Ray's Luncheonette on Walnut Street. Hopefully the Super Computer can get a free cheeseburger and disco fries out of the plug.
TO BUY A COLLECTOR'S PRINT OF THIS STORY PLEASE VISIT 4-FeetGrafix.com.