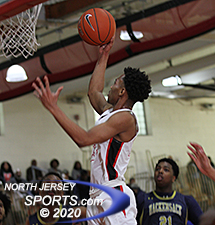 Sophomore Yasen Crawford made a free throw with just over 7 seconds left to give Kennedy the winning point in a 61-60 victory over Hackensack in the North 1, Group 4 state sectional semifinals
PATERSON – Kennedy head coach Tommie Paterson went with his gut. The North 1, Group 4 state sectional semifinal game was tied in the final 30 seconds and he had the opportunity to make any personnel changes he deemed necessary. He opted to put sophomore Yasen Crawford on the floor.
"As coaches, we argue back and forth about if we should let him keep shooting. The answer always turns to yes because I don't have anybody on my team that is as relentless as him," said Paterson. "When we needed a bucket I put him right back in."
Crawford was grateful for the opportunity, but that does not mean that he did not feel the gravity of the moment.
"To be in a situation like that I was a little nervous. It was a little scary," said Crawford. "I am a sophomore, this is my first year playing varsity and this is my first time experiencing this. This was crazy."
"This" referred to Kennedy's final possession where Crawford found himself with the ball and a lane to the basket with only one defender between him and the goal. Crawford went strong, was fouled and and then kept his emotions in check as he headed to the free throw line.
"There was a lot of pressure on me when it came to the free throws, but I knew what I had to do," said Crawford. "I had to make one to give us the lead and put the pressure back on [Hackensack]."

Crawford did make the first free throw with :07.1 left to give Kennedy the last of point in a 6-0 run that it closed the game with and then watched with his teammates as Hackensack missed the front end of the one-and-one it was granted at the other end of the floor with :02.4 seconds remaining.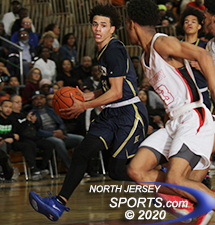 Hackensack senior Kevin Mateo finished with a game-high 24 points in his final high school game.
The rebound rattled around in the scrum under the basket as the final horn sounded on Kennedy's 61-60 victory that gives the top-seeded Knights one more home game this season. They will host No. 2 Ridgewood in the section final on Tuesday.
"That was the goal all year. I wanted to make sure all of the state tournament games that we were going to play were going to be at Kennedy in Paterson," said Tommie Paterson, who is in his fifth season as Kennedy's head coach. "Last year we lost at Ridgewood, one year we lost at Hackensack, we are always on the road and we worked hard to make sure that we would be at home this time."
The home crowd was buzzing right from the start and was a full throat when Kennedy made the first read bid to pull away. Neither team had larger than a three-point lead through the first 14 minutes of the game. Hackensack had a slim 11-9 advantage after a first quarter in which there eight lead changes. Hackensack was up 20-19 after a Kevin Mateo fastbreak bucket with 3:48 left in the second quarter before Deishon Harrison's transition basket at the other end kicked off an 11-0 run that closed out the first half  as Kennedy headed to the locker room with a 10-point lead, 30-20.
It took just over four minutes of the third period to wipe out that deficit as Hackensack came roaring back. Seth Sharif-Brown, the Comets' stand out senior who was saddled with foul trouble for most of the game and was held scoreless in the first half, broke out with an 11-point third quarter. A three-pointer from Camron Taylor with 3:31 to go in the period gave Hackensack its first lead of the second half, 38-36, as the Comets had a 46-42 lead heading into a frenzied and fun fourth quarter.
Kennedy opened the final period with six straight points, four of them by Jalen Hargrove in the post. Hargrove is a big boy and his work in the paint was more than just the 7 points that he scored as he piled fouls on Hackensack early and it paid off late.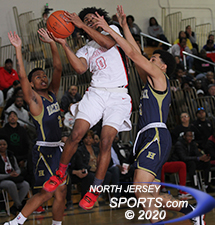 Deishon Harrison scored a team-high 20 points for Kennedy, which will host Ridgewood in the section final on Tuesday.
Kennedy went up 48-46 with 7:10 to play when Hargrove converted as the trailer on a fastbreak, but Hackensack responded with five straight points by Mateo and a basket inside by Khalil Baker. Mateo finished with a game-high 24 points and the last three of them came from behind the arc and gave the Comets a 58-53 lead with 3:17 to go and they were still up by five when Baker again scored inside to make it 60-55 with 1:53 left. Hackensack did not score again.
Harrison, who finished with a team-high 20 points, nailed a three-pointer that brought Kennedy quickly back to with two points and his baseline jumper tied the game at 60 with 1:00 to play. After a held ball gave the ball back to the Knights and after a timeout, Kennedy held the ball out looking for the last shot of the game before Crawford saw the lane and went for it.
Sharif-Brown (11 points) was left with only two options: he could either give up an uncontested layup or go for the block and risk his fifth foul. He opted for the latter and fouled out while Crawford headed to the line and made the first free throw. The second one bounced off the rim, which allowed Hackensack a chance to run with the rebound and a Comet did get a head of the field before being fouled on his way to the hoop.
Not in the act of shooting, the foul led to a one-and-one opportunity that was missed and there was a part on the hardwood as the Knights celebrated their trip to the final, which will be played on Tuesday.
For all of the tradition wrapped up in the Kennedy black and red, the Knights are heading for their first sectional championship game Tommie Paterson's tenure and have not won a section title since 1998. That is a long dry spell for the Silk City public school with a proud basketball pedigree.
"Somebody put in the paper that we have not been to the section final in 20-something years and I am happy that that is over," said Tommie Paterson. "I don't mean that like I am just happy to be there, we want to win, but I am happy for the kids that now they will get their chance."
TO VIEW MORE PHOTOS FROM THIS EVENT PLEASE CLICK HERE. TO BUY A COLLECTOR'S PRINT OF THIS STORY PLEASE VISIT 4-FeetGrafix.com.