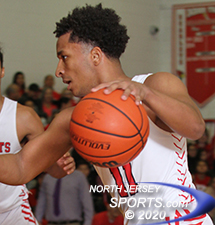 Junior Jenci Reyes scored a game-high 16 points for Ridgefield Park, which advanced to the North 2, Group 2 state sectional semifinals with a 56-29 win over Rutherford on Thursday night.
RIDGEFIELD PARK – At this time last year the basketballs were racked up and put in storage, the uniforms laundered for the last time and folded and the gym at Ridgefield Park High School was available to the softball and baseball teams if inclement weather forced their preseason practices inside. A 7-20 season was fully complete.
"Last year we were 7-20 and back then it was hard to envision a night like this," said Ridgefield Park head coach Chris Gaskin.

"A night like this" refers to Thursday night's North 2, Group 2 state sectional quarterfinal game. The gym was filled to near capacity. There was a host of alumni in the stands, the student section was into it right from the opening tip, the opponent was Rutherford, an old BCSL-American Division League rival that harkens back to playoff games like this one back in the 2012 and it was a basketball celebration.
The good times are back for sure in Ridgefield Park and they will continue into the near future as the Scarlets committed to the kind of defensive effort that leads to state tournament wins. Ridgefield Park held Rutherford to just five first half field goals, outscored the Bulldogs 19-4 in the second quarter and locked down a spot in Saturday's semifinals with a 56-29 victory.
"Last year we were 7-20. Now we are 21-7. These kids have bought in totally. People say we are young and that our future is brighter, and I hope that is true, but I could not be more happy for our seniors," said Gaskin. "I just asked Isaiah [Menendez], Kenneth [Tavares] and Logan [Martinez], the three seniors that have been here for all four years, if they have ever been to the third round [of the state playoffs] and they just started laughing. For them it was hard to even imagine getting to play in front of a crowd like this. This was the norm for a while here in Ridgefield Park and I hoping that we can bring it back over the next few years as well."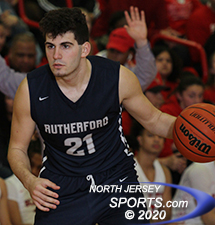 Senior Jack DeBari made the shot and free throw that finished off 13th-seeded Rutherford's first round upset of No. 4 Caldwell on Tuesday.
Both participants had eventful paths just to make it to Thursday. Ridgefield Park, the No. 5 seed, got all it could handle from No. 12 Hanover Park before a buzzer-beating three-pointer by sophomore Jose Muniz gave the Scarlets a 75-win. Rutherford, the No. 13 seed, overcame a 14-point deficit and then made a buzzer beater of its own to push its opening round game against No. 4 Caldwell into overtime before Jack DeBari's conventional three-point play with four seconds left in the extra session gave the Bulldogs the win.
For the first four minutes it looked like there might be another playoff classic a-brewin' as Rutherford got off to a solid start, but as Ridgefield Park ratcheted up its defensive pressure and as junior Jenci Reyes started to heat up, the Scarlets quickly took control. Reyes went on a personal 8-0 run to take Ridgefield Park from down 5-2 to up 10-5 and the Scarlets never gave back the lead. Ridgefield Park led 15-9 after the first quarter and Reyes made three-pointer right out of the gate in the second quarter to make the lead stick.
"The guy who is so underrated in so many people around the county and I do not understand why is Jenci Reyes. He is an animal on both sides of the floor, an outstanding rebounder for his size and he is a beast," said Gaskin. "I don't understand why he does not get the recognition and credit he deserves because he is a beast."
Ridgefield Park closed the first half on a 16-1 run that turned out the lights on a solid season for Rutherford, which is also young and on an upward trajectory.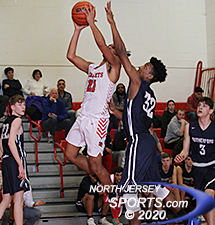 Sophomore Romel Cailo backed up his 30-point effort in the opening round with 14 more for Ridgefield Park, which will visit top-seeded Hackettstown in the semifinals on Saturday.
"The best part of this is that this was the first chance for these seniors to play in the state tournament and they have that memory [from the first round] for the rest of their life. Jack Carr, a senior, hit the shot, to send that game into overtime and then Jack DeBari caps it with a last-second and-one to end it," said Jamie Parnifiello, who is in his second season as Rutherford's head coach. "It was nice for the young kids to get to see what it takes to get to this level and they know the work that is ahead of them. I just told them that they have eight months. You look at the Ridgefield Park kids and then you look at ours and you can see that we need to get a little bit stronger, a little bit faster, a little bit more aggressive and we have to put in the work."
Patrick Rodgers led Rutherford (16-12) with 9 points and Messiah Porter (6), Brenden Kelly (5) and Dom Ciani (4) were the only other Bulldogs to make more than one field goal. Carr made a three-pointer and DeBari added a bucket.
Ridgefield Park got contributions from a host of players. Reyes led the way with 16 points, Romel Camilo, the sophomore who went off for 30 points in the opening round, backed that performance up with 14 points, including 9 in the second quarter to help the Scarlets pull away.
"It's just about adapting and getting used to what is happening. The playoffs are different and they are fun," said Camilo, a key piece to RP freshman team that won the Junior Jambo last season. "Our fans are the ones that are pushing us to keep going. Whenever we are down or whenever we lose a little energy they pick us back up. It's all about the fans in a game like this. They are pushing us forward."
Menendez also finished with 14 points, Jason Eagan, a transfer back from St. Joseph Regional who is making the most of his one year at his local public school, made a pair of field goals and also had three assists. Martinez, Muniz, Ralph Marinas and point guard AJ Huddleston each made field goals. Huddleston had a tremendous impact on the game without needing to score as he settled the Scarlets in the offensive end and made sure his scorers got their shots.
"They came out on first possession of the game and hit a shot to take the lead and after that it was like, we can't let you score anymore. We made adjustments, we worked hard and we held them to 19 points [in the first half]," said Menendez. "Two or three years ago I could not have imagined being in a situation like this but now that we are here we want to take full advantage of it. I am not taking anything for granted. This is my last year and I want to go out with a bang."
TO VIEW MORE PHOTOS FROM THIS EVENT PLEASE CLICK HERE. TO BUY A COLLECTOR'S PRINT OF THIS STORY PLEASE VISIT 4-FeetGrafix.com.