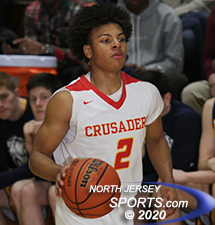 Julian Brown scored a game-high 18 points for Bergen Catholic, the defending champion and No. 1 seed which played its way back to the Jambo final with a 57-39 win over Ramsey on Saturday at Hackensack High School.
HACKENSACK – Ramsey has a Division 1 player in its starting lineup, a tough matchup in 6-foot-9 Sean Hansen who will play at Cornell University next year. The Rams have some other pieces, too, like a quality point guard in Jaden Quinerly, extra size in 6-foot-5 seniors Steven Turk and Jack Farrow and some role players capable of stepping up.
It is the kind of public school personnel that gave at least the hint that it might be able to play with the non-public school behemoth that is Bergen Catholic, the defending champion and this year's No. 1 seed in the Bergen County Jamboree.
In a tournament devoid of any type of real upsets, Ramsey, the No. 4 seed and a team that is capable of making a deep state tournament run, was the last hope.
And then, once again, the yawning gap between really good public schools and state power parochials was exposed in the very first quarter of the Jambo semifinal played on Saturday afternoon at Hackensack High School.
With a three-pointer by Raejon Figures to start the game, another by Julian Brown and a field goal by Jahsiem Davis, Bergen Catholic raced out to an 8-0 lead. Three-pointers on consecutive trips by Will Richardson and Elijah Flournoy pushed the BC lead into double digits for the first time just 5:29 into the game, the Crusaders led 20-6 at the end of the first quarter and raced to a 57-39 victory.
Jaden Quinerly scored a team-high 13 points for Ramsey.
Bergen Catholic will try to win its second straight Jambo title on Friday night when it plays second-seeded St. Joseph Regional on Friday night at the Rothman Center on the campus of Fairleigh Dickinson University.
The Crusaders were coming off a loss to Don Bosco Prep earlier in the week, but there was no hangover whatsoever as they came flying out of the gate.
"It is a good feeling to have played the first half that we did coming off a tough one on Thursday at Bosco. For us to play the way we did in the first half was great," said Bergen Catholic head coach Billy Armstrong. "It was a total team effort. I think we played 10 or 11 guys and everybody that came in gave us a great lift."
Bergen Catholic led by as many as 19 points in the second quarter, by 33-16 at halftime and by 22 after Richardson stroked a three-pointer to make it 42-20 with 5:01 left in the third quarter before Ramsey finally made its best run of the game. The Rams scored the final 8 points of the third period with the last two coming on a steal and a layup by Turk as Ramsey sneaked back to within 42-29 heading in the fourth quarter.
Then BC scored the first 10 points of the final stanza to slam the door shut with a loud bang.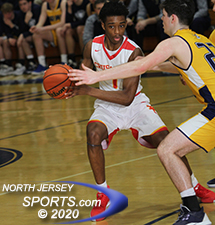 Will Richardson scored 9 points for BC, which will play St. Joseph Regional in the Jambo final on Friday night.
Quinerly (13 points) and Hansen (11 points) finished in double figures for Ramsey while Turk added 8. Sonny Olah had 5 points off the bench and Ben Bibergal had the other two points for the Rams, who can now turn their attention to the North 1, Group 2 state sectional tournament where they are the top seed and will host No. 16 Kittatinny on March 3.
Julian Brown had 18 points and Figures had 11 for BC, which had eight different players make at least one field goal. Richardson made two of the Crusaders' nine three-pointers, finished will 9 points, Matt Zona scored all 6 of his points in the first half, Flournoy added 5, Davis scored his 4 points during the first quarter storm and Chase Jackson and Joey Scrivanich split the other 4 points for BC, which is now just one win from a second straight Jambo title.
"It's Bergen-Joe's, just like Bergen-Bosco, they are just these kind of grind-it-out archrival slugfests or whatever that anybody can win on any given night," said Armstrong. "We are excited about the opportunity. I told the guys on the bus on the way over here that there are [a lot] of schools in Bergen County and there were just four playing today. We can't take anything for granted. Winning is really hard, so just to play today we really appreciated that opportunity and now we get to play next Friday."
TO VIEW MORE PHOTOS FROM THIS EVENT PLEASE CLICK HERE. TO BUY A COLLECTOR'S PRINT OF THIS STORY PLEASE VISIT 4-FeetGrafix.com.