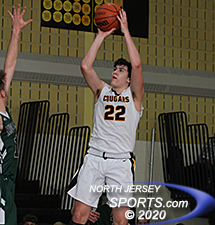 Chris Tracy was one of three double digit scorers for Cresskill, the No. 4 seed that advanced to the North 1, Group 1 state sectional quarterfinals with a 51-30 win over No. 5 Midland Park.
CRESSKILL – Seniors have the ultimate motivation when state tournament play begins. It is not only their last chance to chase trophies, but keeping the season, and with it a high school career, going is also of the utmost importance. Every game, every possession, every everything takes on added urgency.  Cresskill, a team with four seniors in its starting lineup, has gotten that message loud and clear and is flourishing in the heightened-intensity environment.
Consider the week that Kristian Radovich is having. In the North 1, Group 1 state sectional tournament opener on Monday against Waldwick, Radovich scored a career-high 39 points, the most ever by a Cougar boys basketball player in the state tournament, which is saying something at a tradition rich program like Cresskill. His 38th and 39th points in that game came on a breakaway dunk, and he followed that up with another solid display on Wednesday night.
Radovich's three-pointer 3:18 into the game gave his team the lead for good in a 51-30 victory over Midland Park in the North 1, Group 1 quarterfinals at Cresskill High School. With the Cougars' defense carrying the water bucket in this one, there was no need for high individual point total, but Radovich made all six of his second half points look pretty.
He scored two when he banked in an old-school, pull-up, midrange jumpshot and the last four came on a single possession when he made a three-pointer, was fouled and then made the free throw.
Sophomore David Luberoff scored 13 points for Midland Park and will be back along with two other starters next year.
"My dad loves the bank shot and he is always getting on me and my brother about using it. That is his thing and I don't know why I did it tonight, but I thought about him right after. Maybe he is right," said Radovich, whose older brother Luka was the leading scorer on the 2018 team that went to the Group 1 state final and is now at Fordham University. "I wouldn't really say I am on fire. It was a good game for me on Monday, a good shooting game, but that doesn't always carry over and I was just focused on the next opponent. We knew Midland Park was a good team coming in here and that we had to be at our best."
Midland Park is in the midst of a resurgence. The Panthers qualified for this season's Bergen County Jamboree, their first appearance in 17 years, they earned a first round state tournament home game and won by 40 and have a young team coming of age under head coach Adam Sidrow. The fifth-seeded Panthers were in the game through the first quarter when Brett Murray went coast-to-coast for a layup that made it 10-6 Cresskill after one period, but Midland Park managed just one more first half field goal against the Cougars' smothering defense which was mainly concerned with limiting 6-foot-8 sophomore center David Luberoff.
"We all worked together. Yesterday in practice we spent a lot of time on back-side help. I was specifically guarding the big guy, but if it was not for my teammates and the back-side help he would have probably gone off for a lot more than what he got, a lot closer to his average," said Kiel McGee, the lone junior in Cresskill's starting five. "We worked hard to shut him down."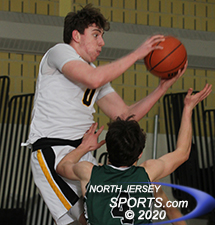 Kiel McGee and Cresskill will host Boonton in the semifinals on Friday.
Cresskill won the second quarter 12-4 and took a 22-10 lead into the locker and then steadily pulled away in the second half. Radovich (15 points), Chris Tracy (15) and McGee (10) all finished in double figures. Davis Ragovich and Daniel Ferrara each scored 3, Alex Riccardo made a fourth quarter field goal and Mark McDermott's fourth quarter free throw accounted for the rest of Cresskill's scoring.
It was point guard Aidan Feulner who made sure that the ball was ending up in the right places.
"We are just trying to ride the hot hand. Kristian has been that guy all season, he has been great in the last two games and I was just trying to get the ball to him in open space where he could do something with it," said Feulner. "You try to do the same with every player on our team because we have a lot of guys that can score."
Midland Park (18-10) made a late flurry to make the final score more respectable and walked out of the gym knowing just how bright the future is. Luberoff (13 points, 9 rebounds), Brett Murray (6 points) and Tyler Sansone (5 points) will all be back next season with Ben McDonald (6 points) and Ron Sgambati the only starters set to graduate in June.
"We made the Jambo for the first time in 17 years, won a game in the states and we have nothing to be ashamed of here. They triple-teamed Luberoff and gave him a hard time every time he touched it, but he is a sophomore and we are young overall. There are growing pains," said Adam Sidrow, who is in his second season as Midland Park's head coach. "We will regroup, we will take a little time off and then we will go again and be back next year. We have a lot coming back and a lot to look forward to."
Cresskill is looking forward to Friday night where it will get an unexpected home game. Eighth-seeded Boonton shocked top-seeded Bogota in Bogota in the quarterfinals and now will visit Cresskill for the semifinals. The two towns have some history as it was Boonton that knocked the Cougars out of the state football playoffs back in November.
"I would love the chance to get some revenge on Boonton and get a chance to play for a sectional championship, but we can get too emotional about it. We have to stick to our game plan and stick to what we have been doing," said Feulner, the starting quarterback on the Cougars' football team. "I am pretty sure they have some football kids playing basketball just like we do so we are looking forward to seeing them again."
TO VIEW MORE PHOTOS FROM THIS EVENT PLEASE CLICK HERE. TO BUY A COLLECTOR'S PRINT OF THIS STORY PLEASE VISIT 4-FeetGrafix.com.