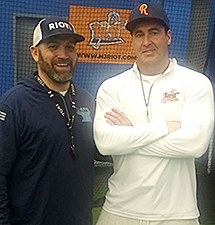 Bryan Armstrong (left) and Rich Robinson oversee the Power 120, the lacrosse specific training program run out of The Anvil, the state-of-the-art sports performance center in Fair Lawn.
FAIR LAWN – It is high team for winter sports. County basketball tournaments are in full swing, the state playoffs for all sports are right around the corner and the month of February is going to be full of big games in crowded gyms. For those engaged in the winter carnival it is going to be fun, but there are others putting in the work outside the spotlight awaiting their moment come the first sign of spring.
A perfect example was what was happening last Tuesday night at The Anvil, the state-of-the-art training facility in Fair Lawn. The Power 120 program brought 30 lacrosse players chomping at the bit for the high school season to arrive under one roof for an intense two-hour workout with the hopes of the payoff coming in county titles and state tournament runs.
"I am looking to win the Passaic County championship for the fourth year in a row. That is my personal goal, that is our team goal and that is a big reason why I am here at The Anvil putting in the work with these guys," said Patrick Orapello, a senior defenseman at Wayne Hills, who has already committed to play Division 1 lacrosse at Monmouth University. "Training with guys on this level only makes you better and I want to be the best player I can be in my last high school season and then moving on to Monmouth."
Orapello's teammate Michael Rasa was also throwing the weights around as were Bergen Catholic teammates Christopher Yoler and George Talarico, a pair of seniors who have committed to Lafayette College and Bucknell University, respectively, and Don Bosco Prep junior Carter Wilmot, another Division 1 caliber player who has yet to commit, was there, too.
All kids from different programs coming together to push themselves under the guidance of a quality coaching staff spear-headed by Bryan Armstrong, the recruiting director for NJ Riot lacrosse and Rich Robinson, the performance director at The Anvil, the strength and conditioning coordinator for NJ Riot and an assistant coach at Bergen Catholic.
"That is the thing about the Power 120. We have kids from different programs, different club teams all coming together to put in the work. You can see all of the different helmets. This is not about rivalries or trying to pull kids on way or the other. This is about getting kids that are hungry to get better at lacrosse together and then just getting after it," said Armstrong. "Our message is come work hard, come get better. We are not here pushing any kind of agenda. We have committed players, we have young players, we have up-and-coming guys that are going to big time players in North Jersey and more than that all here in this great facility at The Anvil."
Matt Lane, the 2018 captain of the Syracuse lacrosse team, and Marcus Cunningham, who captained the Orange in 2019, were also there putting the participants through their paces on the indoor field turf in a space large enough contain 15 of the best attacking players in the state.
Armstrong was leading the shooting drills while, on the other side of the wall separating the field turf from the indoor running lanes and workout stations, Robinson was leading the strength and conditioning aspect of the Power 120 program.
"This is the ultimate performance center. You have so much room here that we can work on all facets of the game in groups or individually all at the same time. We can work on mobility, flexibility, speed and agility. This place is such an asset and if you have a goal of playing a sport at a high level, you have everything at your fingertips here," said Robinson, speaking of The Anvil, a sponsor of northjerseysports.com's local high school sports coverage. "I do the lifting here, the agility and the strength training, while Coach Armstrong does the field stuff like shooting, moves to the net and defensive stance work. With Matt Lane and Marcus Cunningham over there, too, there are some pretty special coaches and we are getting great results with the kids being picked up by Division 1 college programs."
Wilmot, the junior from Bosco, is putting in the work with the plan of making it to the highest level of collegiate lacrosse.
"So far I have seen a huge progression and it has been amazing. Some of my teammates are here, so it is great to work out with them and there are also so rivals here, too. There is no trash talk at all, we are supporting each other, but it is a motivation when you know your opponents are here working hard," said Wilmot, a midfielder. "There are schools looking at me and I want to put in the effort so when an offer comes from a school that I like I can go for it and know I will be prepared."
In all Armstrong and Robinson, in their roles with NJ Riot, their connection to The Anvil and high school connections coached 32 players from the 2020 graduation class that have signed on to play across all collegiate levels, plus 29 more that graduated high school in 2019.
One of those Class of 2020 products is Talarico, who will play his senior season at Bergen Catholic, which is looking for its first Bergen County championship since 2015, then head off to Division 1 Bucknell University where his brother Travis currently plays and where his brother Alec also played before graduating in 2019.
"Me and [Christopher] Yoler are here every Tuesday, we have a lift after school on Tuesday and then a practice after that, so when the season starts we are going to be at a huge advantage. We are trying to lead by example and, hopefully, that is going to lead to a good season," said Talarico. "It has been a long time [since BC won a county title], so you want nothing more than to bring the hardware back to your home. That is what we hope to accomplish this season."
TO BUY A COLLECTOR'S PRINT OF THIS STORY PLEASE VISIT 4-FeetGrafix.com.