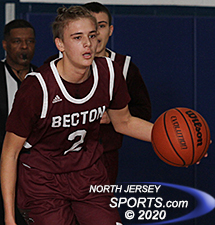 Nico Viso made four 3-pointers, including the one 41 seconds into the game that gave Becton the lead for good in a 60-28 win at Wood-Ridge on Tuesday.
WOOD-RIDGE – Separated by just a couple of miles on Route 17, similar in enrollment numbers and league affiliation, there is a genuine time-worn rivalry between Becton Regional and Wood-Ridge and the pregame on Tuesday night came with all of the trappings.
There was an energy in the gym and Wood-Ridge, the home team, had a tightly packed student section in attendance all dressed in black and ready to ride the opposition all night long.
Then Becton's Nico Viso hit a three-pointer just 31 seconds into the game and things went pretty quiet the rest of the way.
Becton scored the first seven points of the game, opened a double digit lead for good just 5:17 in, led by 22 at halftime and coasted to a 60-28 victory, a quality road win that ran the Wildcats' record to 8-2 on the season.
"We had a very clear game plan, the guys came out focused, energized and executed the game plan. We distributed the ball well and kept the focus on playing defense," said Dan Balaban, whose team is off to its best start in his six years as Becton's head coach. "Al Benameur, a senior who is averaging 20 [points] a game for us this year and who is going to score 1,000 for his career here soon, banged up his ankle in practice on Saturday and is not playing this week. The guys knew we were going to be without him and we came together united as a group and picked up the slack for him."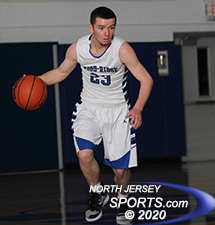 Liam Winslow finished with a team-high 11 points for Wood-Ridge.
Becton still had plenty of offensive options and used them all. In racing out to the 10-1 lead it built before Wood-Ridge had made its first field goal, four of the five Wildcats made baskets. Guard Robert Esposito scored off the offensive glass, senior Nick Mitarotonda got free off an inbounds play for an easy bucket and Marcus Duran drilled a three-pointer of the corner as the Wildcats took control early.
"I knew we had to start off strong and hitting that first shot really got us going. They are our rival and I wanted to make sure we came out with energy and got off to a good start," said Viso, whose opening three-pointer represented the line lead change in the game. "We knew that if they got going early then their student section would try to get in our heads, so we wanted to take the crowd out of it early and that is what we did."
Becton led 15-5 after the first quarter and 36-14 at the end of a first half in which three different shooters made a combined six three-pointers. Defensively, Duran drew the assignment of face guarding Wood-Ridge senior Liam Winslow all over the floor while his teammates, playing straight up man-to-man, made themselves available to help. The Wildcats held Wood-Ridge to just five first half field goals and to just 10 in the game.
Winslow finished with 11 points to lead the Wood-Ridge scorers. Matt Dellapena and Stephen Crandall each made a three-pointer and a free throw to score 4 points apiece and Michael Sarlo also made a three-pointer. John Kurz, Ryan Sarver and Tyler Raymond split the other six points evenly for Wood-Ridge, which fell to 4-5 on the season.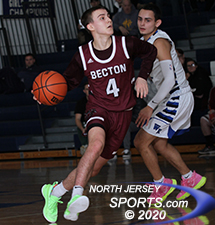 Robert Esposito (14 points) was one of 4 starters to finish in double figures for Becton, which improved to 8-2.
Four different Becton starters finished in double figures led by Mitarotonda's 15 points which leave him just 63 points shy of 1,000 for his career. Esposito added 14, Duran and Viso finished with 12, Brian Peralta made a pair of third quarter field goals and Massimo Offreda hit a three to account for all of the Wildcats' bench scoring.
Now with 8 wins in 10 games, Becton is in position to qualify for the Bergen County Jamboree for the first time since 2017. A league title, a Jambo berth and a deep state tournament run are always the goals for talented small school teams, even if they are not always verbalized.
"I don't want to say it out loud, but those are the goals," said Balaban. "For me I just want to take it one day at a time, practice hard every day and have a good game plan for every game and focus on defense. The rest will take care of itself."
Other than Balaban, Mitarotonda is the lone holdover from Becton's last Jambo team. He was the starting point guard as a freshman in 2017. Now bigger and stronger, he is looking forward to a return engagement.
"I think, honestly, this team has a better chance than the team that I was on as a freshman. We have been playing together since we were young and we have that connection already. We have some injuries right now, but when everybody comes back and we are healthy I think we are going to gel quickly and it is going to be good." said Mitarotonda. "I remember a lot of winning from my freshman year, but I was more nervous back then because I was playing with all seniors. Now I feel confident and the team is confident too."  
FOR MORE PHOTOS FROM THIS EVENT PLEASE CLICK HERE. TO BUY A COLLECTOR'S PRINT OF THIS STORY PLEASE VISIT 4-FeetGrafix.com.