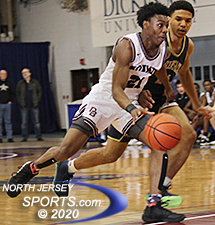 Myles Ruth guided Don Bosco Prep nearly flawlessly in a 78-57 win over Hackensack in the Jambo quarterfinals.
HACKENSACK – Don Bosco Prep figured that Hackensack, its opponent in the quarterfinals of the Bergen County Jamboree, would try to speed up the game with a full court pressure approach that would push the pace of play. Instead of devising ways to slow the game down where it could take advantage of its superior height in half court sets, Bosco head coach Kevin Diverio opted for the opposite.
Diverio employed a press of his own and the resulting wide open spaces on the big court at the Rothman Center on the campus of Fairleigh Dickinson University proved to be a boon for the Ironmen. Hackensack scored the first two points of the game before Brendan Mykalcio's steal and dunk tied the game for the only time.
Bosco ran out to an 11-2 lead and only excelled from there in a 78-57 victory that moves the third-seeded Ironmen into next weekend's semifinal round where they will play No. 2 St. Joseph Regional when the Jambo makes its return to its historic home at Hackensack High School.
"I think we may have caught them a little off guard with our press," said Diverio. "We turned them over early, got some easy baskets and coming out early and getting that 10-point boost was really the different in the game. It lifted our spirits and kind of deflated them a little bit."
A major deflator or Hackensack's chances was senior point guard Myles Ruth, who made a steal and a layup and then scored off another turnover for four points in 13 seconds that opened the 11-2 lead and forced the Comets into their first time out.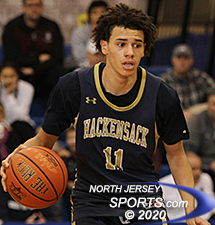 Hackensack senior Kevin Mateo finished with 25 points.
Similar to Bosco alum and the current point guard at Brown University, Brandon Anderson, Ruth is a smooth operator who does not look like he is going all out until he blows right by. He does not force shots, never gives up his dribble and scores when necessary. And he does not always deem it necessary. He scored only five points last week in the Round of 16 against Garfield and was more than happy to set up his teammates rather than get his own.
"I just want to stay poised and make sure the guys on my teammates are getting involved. When they are getting the ball and scoring it makes the game much easier for us and much harder on the defense," said Ruth, who scored 14 points in the first half as the Ironmen pulled away. "I played against some of those Hackensack guys in summer league and some of them in AAU, so I knew what their game was about. I told my team that they were going to try to play fast and that was okay with us."
Myles and Mykalcio, who scored 21 apiece to pace the Bosco offense, combined to score 17 of the Ironmen's 23 second quarter points. Ruth scored three in a row to push the lead to 20 points, 43-23, before Shawn Reckley's conventional three-point play at the buzzer got Hackensack to within 43-26 at halftime.
"They played great. They came out and played one of their best games and we didn't. We didn't come out with the energy level that was expected and that is necessary to compete with a team like that," said Hackensack head coach Aaron Taylor. "Against a team like that you can't miss free throws, you can't miss layups, you can't turn the ball over and give up easy baskets. You have to be able to keep the momentum, but we scored the first basket and they jumped on us after that."
Bosco led 60-36 after the third quarter and coasted home.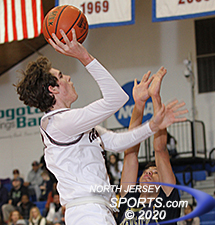 Brendan Mykalcio finsihed with 21 points for Bosco, which will play St, Joseph Regional in the Jambo semifinals.
Kevin Mateo, Hackensack's senior guard, scored a game-high 25 points and made four three-pointers. Senior Seth Sharif-Brown scored 15 and that duo combined to score 24 of the Comets' 29 second half points. Reckley scored all 6 of his points in the first half, Amire Walker made two three-pointers, Khalil Baker made two field goals and Camron Taylor had the other point for Hackensack, which can now turn its attention to the upcoming North 1, Group 4 state sectional tournament.
"It's pretty loaded up top and there are some good teams with equal ability," said Taylor. "It is going to be a matter of who shows up and plays to the best of its ability on that given day."
Bosco has more work to do in the Jambo before the state playoffs become the main focus and the Ironmen are playing their best basketball of the season right now. Ruth and Mykalcio are the only two seniors in the starting lineup and the experience gained through the grinder of a schedule played to this point has sharpened the younger players.
Eleven different Ironmen scored in the game with freshman Akil Watson (11 points) making in three in double figures. Isaiah Williams made two three-pointers, Joe Carroll and Isaiah Edmond each finished with 4 points, Mike Keller and Will Parisi each made three-pointers, Aaron Carter and Nick Stewart each made field goals and Kemet Sudan's free throw rounded out the scoring for Bosco, which will renew its rivalry with St. Joseph in the semifinals.
"That is going to be an exciting game, real exciting," said Ruth. "We played them twice already, we beat them once and they beat us once, so we know what we are in for."
FOR MORE PHOTOS FROM THIS EVENT PLEASE CLICK HERE. TO BUY A COLLECTOR'S PRINT OF THIS STORY PLEASE VISIT 4-FeetGrafix.com.