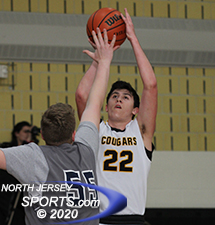 Chris Tracy, one of Cresskill's four senior starters, had 9 points in a balanced attack in a 65-42 win over Waldwick on Thursday.
CRESSKILL -- Expectations are always high for the Cresskill boys basketball program. A senior-heavy Cougar squad went all the way to the Group 1 state final in 2018, a new crew came in and gained experience in their stead last season and, with four seniors and five experienced starters returning for this year, Cresskill was supposed to hit the ground running in pursuit of yet another state sectional championship.
And then they lost to Park Ridge on opening night and lost three of their first four games of 2019-20. Oops…
"We had a lot of guys back and maybe we came in a little over confident. Take nothing away from Park Ridge, they won that game and honestly I think that helped ground us a little bit," said Cresskill head coach Dan Egorow. "Park Ridge showed us that we need to take everyone seriously, that we have to respect all of our opponents and as the season has progressed we have gotten better and better"
So much better in fact that Cresskill is right where it expects to be at this point of any given season; in the middle of a league title race, on the cusp of a Jambo berth and building up power points in advance of what will hopefully be another deep state tournament run.
The Cougars' 65-42 win over Waldwick at home on Thursday night was Cresskill's sixth straight win and its record now stands at 7-3 on the season.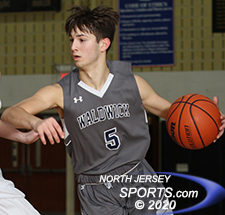 Sophomore Logan Wejnert scored a team-high 16 points for Waldwick..
"There are negatives and positives to the start we had and the positive is definitely that we are not going to let something like that happen again. I think we were embarrassed," said Kristian Radovich, one of Cresskill's four senior starters. "We were not expecting that kind of start at all and that just made us not take any game for granted and it is probably why we came out here so strong tonight."
Radovich, Chris Tracy and Kyle McGee, the lone junior in the Cresskill starting lineup, combined to scored 20 of the Cougars 23 first quarter points. Radovich hit a three-pointer from the corner 5:02 into the game to put Cresskill up by double digits for the first time at 19-7 and the margin stayed that way for the rest of the night.
Waldwick is an up-and-coming program under head coach Ed Rendzio, who is in his third season on the Warriors bench after 18 successful seasons at Wood-Ridge. Waldwick does not have a single senior starter, Anthony George is the lone junior and three sophomores and a freshman comprise the rest of starting five.
"The kids have a great attitude, they work hard every day and the young guys are coming along faster than I anticipated and the leadership of the older guys has been excellent. Right now there are some tough days, but there are plenty of good days ahead, I hope," said Rendzio, whose team fell to 3-7. "We have to learn how to win. We let a couple of games slip away early this season. There were about 4 or 5 toss-up games that we lost and if we could have gotten couple of those it would have made a real difference."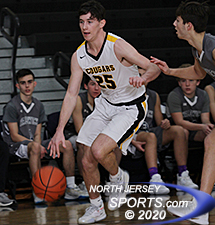 Davis Rogovich finished with 12 points for Cresskill, which is now 7-3 on the season and riding a six-game winning streak.
Waldwick has a host of players with real potential, including Tyler Koenig, a 6-foot-5 freshman, and Logan Wejnert, a sharp-shooter who grew up in North Jersey high school gymnasiums. Wejnert is the grandson of Lou Wejnert, the longtime River Dell girls basketball coach who is now in charge at Wood-Ridge.
Logan Wejnert scored a team-high 16 points for the Warriors and combined the two other sophomore starters, point guard Kyle Jehneke and Mekhi Cherry, to score 25 of Waldwick's 42 points. Tom Dell'Aglio (10 points) and Ryan Killagen combined to provide 10 points off the bench.
"I like the way our big guys are playing. The high/low worked pretty well at times tonight and it is just a matter of time for us," said Rendzio. "It is tough when you are a freshman or a sophomore coming in to play one of the best programs in all of the county. Dan [Egorow] does a great job, their kids are well-coached and you could see it. We looked young and they look like strong varsity guys."
A bunch of those varsity guys hit the scorebook for Cresskill, which led 40-24 at the half and 50-32 after three quarters. Radovich (20 points), McGee (11 points) and Davis Ragovich (12 points) all finished in double figures, Chris Tracy added 9 and senior point guard Aidan Feulner finished with 5 points, 7 assists and 3 steals. Daniel Ferrara and Mark McDermott added three points off the bench and Vincenzo DiRese made two fourth quarter free throws to round out the scoring for Cresskill, which is starting to look the part of sectional title contender once again.
"We were playing hot at the end of last year, we have the same group back and, after a little bit of a slow start, we are starting to hit our stride," said Tracy. "We are playing well, practices are intense and we are really coming together as a group. We are moving the ball well, we are really playing for each other and I feel like the sky is the limit for us."
FOR MORE PHOTOS FROM THIS EVENT PLEASE CLICK HERE. TO BUY A COLLECTOR'S PRINT OF THIS STORY PLEASE VISIT 4-FeetGrafix.com.