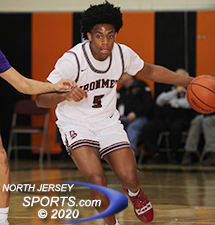 Isaiah Edmond was one of 11 Don Bosco Prep players to score at least two points as the Ironmen advanced to the Bergen County Jamboree quarterfinals with a 66-38 win at Tenafly High School.
TENAFLY– Tenafly High School has been a host site for the Bergen County Jamboree's Round of 16 for the last 21 years and over that time Don Bosco Prep has made the Tigers' gym its home away from home. With few exceptions, which Bosco head coach Kevin Diverio can rattle off the top of his head, when Bosco plays at Tenafly in the Round of 16, Bosco advances to the quarterfinals.
"I know we have two losses here. One to [P]ascack [V] when [Paul] Jurgenson was a junior [in 2013] and we lost to Dwight-Englewood in 2000 or 2001," said Diverio, who has been Bosco's head coach for the past 25 years. "We always play here and those are the only two losses so we like it here."
Bosco, the No. 3 seed in this year's Jambo had all of the comforts of home then when it took Garfield in the Round of 16 on Saturday and once again enjoyed the success. The Ironmen raced out to a double digit lead midway through the first quarter, went up by double digits for good on Joe Carroll's three-pointer from the wing with 2:12 left in the opening period and played the kind of lockdown defense that made every dribble, pass and shot a chore for the Boilermakers.
With a front line that goes 6-foot-5 (Brendan Mykalcio), 6-foot-6 (Carroll), 6-foot-7 (Akil Watson), a trio of forwards with pterodactyl-like length, Bosco gave up just 15 first half points of a 66-38 victory that puts the Ironmen into Sunday's quarterfinal round where it will play sixth-seeded Hackensack at Fairleigh Dickinson University.
"We are a notoriously slow-starting team so to get out like that, to come out strong with a lot of energy and make some shots, psychologically that was huge," said Diverio. "We are more inexperienced than young. We do have eight seniors and we have been getting better all year. We are playing better as a team and hopefully, if it continues to trend that way, then we might be able to do some good things down the stretch."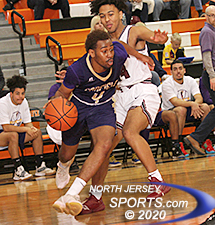 Nakie Graham scored a team-high 15 points for Garfield, which one a Jambo game for the first time since 2012 when it beat Dumont in the opening round.
Bosco did a lot of good things at the outset against Garfield, the No. 19 seed that beat No. 14 Dumont in last weekend's opening round. Mykalcio scored on the baseline seven seconds into the game to give the Ironmen the lead for good and Myles Ruth's fastbreak dunk gave them a 23-7 advantage after the first quarter of play. Bosco extended that out to 42-15 by halftime.
"They are obviously a great team, one of the best teams in the county and state, and even you get past their first five, their six through the end of the bench can all play," said Garfield head coach Chris Storm. "I thought my guys fought, I am proud of them for getting us back in the Jamboree and winning a game for the first time since 2012 and we did a great job in the Dumont game just to get here. All you want is a chance, we got that chance today and there were some moments when we did the right things."
Bosco had plenty of those moments, too, and Diverio managed the game smartly. His starters got their shots and their points early, his bench played extended minutes and 11 different Ironmen scored at least two points. Mykalcio and Carroll were the only Bosco players to reach double figures and they scored all but two of their combined 25 points in the first half.
"Our goal was to keep the pace fast, get the ball movement going, whipping it around and our ball movement was the key to our win today," said Mykalcio, who finished 12 points with 8 of them coming in the opening quarter as Bosco pulled away. "I think we had 13 assists off 17 shots in the first half and that is a great stat for us. It shows that we are starting to play a lot better as a team and that is going to be the key to our success in the counties."
Carroll led Bosco with 13 points and Watson added 8. Ruth finished with 5 points and Aaron Carter chipped in 3 as the five starters scored 37 of their combined 41 points in the first two quarters. Nick Stewart anchored the Bosco second line with his 8 points off the bench.
Garfield's Nakie Graham tied for game-high honors with 13 points, Elias Chery added 5 and Maxwell Drakeford, Mahajlo Bebekoski and Xavier Schofield all scored 4 points for the Boilermakers, who are hoping that playing up against a non-public power is going to help down the stretch.
"We are not going to play a better team than Don Bosco for the rest of the year. If we can learn from here, if we can take those lessons into the rest of our league games and into the sectional tournament, then it can be a fun year still," said Storm. "It was an accomplishment getting to this round because it has been a while, so we will take that with us and move forward."
FOR MORE PHOTOS FROM THIS EVENT PLEASE CLICK HERE. TO BUY A COLLECTOR'S PRINT OF THIS STORY PLEASE VISIT 4-FeetGrafix.com.