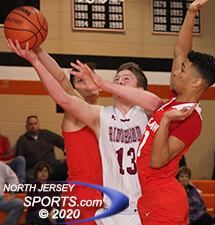 Tristan Wennersten got after and scored a team-high 29 points to lead Ridgewood to a 88-74 win over Fair Lawn in the Round of 16 of the Bergen County Jamboree.
TENAFLY – Ridgewood and Fair Lawn share a border, but little in the way of recent high school sports history. Despite being in neighboring towns and being two of Bergen County's few Group 4 schools, they could not be further apart in terms of interscholastic athletics. Fair Lawn plays in a league made up predominantly of Passaic County schools, while Ridgewood hangs out in a northern Bergen County circle and their paths rarely cross.
Because of the infrequency of their interactions and because both have talented, senior-laden basketball teams, the matchup in the Round of 16 of the Bergen County Jamboree at Tenafly High school was one of the most highly anticipated of Saturday's eight games.
The pregame hype looked like it was about to match the in-game action when Fair Lawn cut a 14-point halftime deficit down to six nearing the midway point of the third quarter, but, having never trailed at any point in the game, Ridgewood never got rattled.
Without even calling a timeout, Ridgewood head coach Mike Troy saw his team answer with a 13-4 run that pushed the lead back into double digits where it remained for the rest of the game, an 88-74 victory that propels the seventh-seeded Maroons into next weekend's quarterfinal round.
"The moment that I am most proud of was when they made the run in the third quarter and I was thinking about burning a timeout because they had a lot of momentum. I didn't and we went on an [11]-0 run in the blink of an eye," said Troy. "And it all came from getting stops and then running. That was the moment of the game where we started to feel a little more comfortable."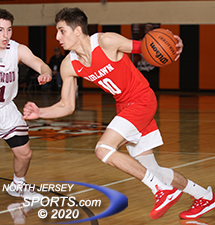 Darius Sohokish (14 points) was one of four double-digit scorers for Fair Lawn.
By the seeds, the 7/10 game should have been the toss-up in the four games in Tenafly's gym on Saturday. Fair Lawn, which has battled injury and illness all season, is finally back at full strength. With five senior starters, including guard Darius Sohikish, now back from preseason knee surgery, the Cutters were a No. 10 seed with single digit talent.
Then Ridgewood came out and scored 13 of the game's first 15 points to go up by double digits just 3:39 into the game. The Maroons led by as many 17 points in the second quarter and had seven different players score at least two points in that second period as they opened a 43-29 lead at the intermission.
"The strength of our team is our depth even right now when we are playing short-handed. I have two starters on the bench – [DJ] Sullivan, our point guard, and Wes Peane, our center – are both hurt and James Miller has not played a game this year because of his ACL," said Troy. "That is three potential starters on the bench in street clothes and yet we still had [seven] kids score in the first half. Although we are short-handed, I have the luxury of trusting a lot of kids in big spots."
Tristan Wennersten's conventional three-point play 49 seconds into the game put Ridgewood in front for good, Matt Favieri's three-pointer from the corner forced Fair Lawn to take its first time out trailing 11-2 3:12 in and Jared Powers, who scored 9 first quarter points, scored after a turnover right after that time out to put Ridgewood up 13-2. Then Devin Johnson nailed a three to give Ridgewood a 16-4.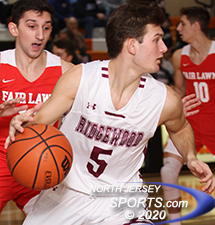 Matt Favieri Scored 15 points for Ridgewood, which will play No. 2 St. Joseph Regional in the quarterfinals.
Fair Lawn finally settled into the game and put together a 10-3 run to close the first quarter, but, in a recurring theme, Ridgewood answered every Cutter spurt with one of its own.
"Anytime we would make a run, they would hit a dagger," said Fair Lawn Kyle Sabella via a postgame text exchange. "It was unfortunate, but Ridgewood played great, so credit to them. They are a very good team, not many weaknesses."
The Maroons ran off 12 straight points in the second quarter to go from up 7 to a 40-23 lead, they led by 14 at the break and that was before Wennersten really got it going offensively in the second half when he scored 22 of his team-high 29 points and he did it in a variety of ways. He was 6 for 6 from the free throw line in the game, he made three-pointer, scored off of entry passes into the post and was all over the offensive glass.
"We were in the gym this morning, we all got our shots up and we came in here feeling good. We played as a team offensively and defensively," said Wennersten. "We prepared for them. They are all offense, so getting back in transition was our key to stopping them."
Or Sundjyvsky made his first shot of the second half for Fair Lawn and that got him going. The senior wing scored 11 points in the third quarter and 21 of his game-high 30 in the second as the Cutters crept back into the game a couple of times. Sundjyvsky scored five straight points to make it a six-point game, but that was when Ridgewood rallied to score 8 of the next 10 points. Matt Favieri's triple put Ridgewood up 65-48 after the third quarter and the lead never dipped below 12 in the fourth quarter.
Sundjyvsky's 30 points led all scorers and Sohikish (14 points), John Burek (10 points) and Jamin Reyes (10 points) all reached double figures for Fair Lawn. Julian Reyes (7 points) and Jayden Moran combined for 10 points off the bench,
Powers (18 points), Johnson (16 points) and Favieri (15 points) joined Wennersten in double figures for Ridgewood, which made 9 three-pointers and shot 17 of 23 from the free throw line as a team. Max Gieselmann made a pair of those three-pointers and John Kearney, Luke Notoro and Joe Sofia all added two points off the bench for the Maroons, who will play second-seeded St. Joseph Regional in the quarterfinals next Sunday at Fairleigh Dickinson University.
"We really appreciate the opportunity to go up against the private school teams. It is our dream really," said Wennersten. "We love the opportunity and we have to go out and make the most of it."
FOR MORE PHOTOS FROM THIS EVENT PLEASE CLICK HERE. TO BUY A COLLECTOR'S PRINT OF THIS STORY PLEASE VISIT 4-FeetGrafix.com.