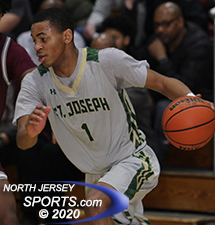 Senior Nazir Williams scored a game-high 26 points for second-seeded St, Joseph Regional, which beat No. 3 Don Bosco Prep, 73-64, in the Jambo semifinals on Saturday at Hackensack High School.
HACKENSACK – What is that disclaimer that you always hear on commercials for investment opportunities? Oh, yeah...Past performance is not indicative of future results. Ain't that the truth when it comes to high school basketball?
Third-seeded Don Bosco Prep came into the semifinal round of the 64th Annual Oscar F. Thompson Memorial Bergen County Jamboree playing the best of any team in the county as evidenced by its win over Bergen Catholic earlier in the week. St. Joseph Regional, the No. 2 seed, was reeling a bit after losing on its home floor on Thursday, Senior Night, to Pascack Hills, a public school team no less.
Proving once again that every game of basketball is a one-off and has nothing to do with any played before it, St. Joseph nosed in front midway through the second quarter and once it took the lead on a Ansley Almonor three-pointer from the wing it never gave it back. Almonor, SJR's 6-foot-6 senior, hit three-pointers on consecutive possessions to set the course for a 73-64 victory that put the Green Knights into Friday night's county championship game.
St. Joseph will play top-seeded Bergen Catholic at the Rothman Center on the campus of Fairleigh Dickinson University in a 7:00 p.m. tip-off.
"I came into the game very confident even though in the last two games we played against Bosco I did not play that well. I knew that I had to play much better today and I shot a lot of shots before the game to make sure I was ready," said Almonor, who shot much better to the tune of four first half three-pointers. "I knew I was going to be open a lot because I was open the first two times we played them, but I did not make the shots. Today, I hit them."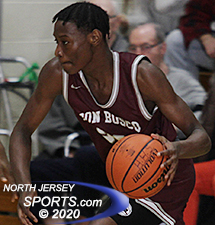 Freshman Akil Watson finished with a team-high 18 points for Don Bosco Prep.
Everybody on the floor was hitting shots in the first quarter. Having split the two regular season meetings with each winning on its own home court, there was no time wasted in acclimating to the opposition. Bosco was on a 100-point pace after the first quarter as it grabbed a 25-20 lead after the opening period with the teams combining to make 6 three-pointers, three apiece.
"Both teams came out on fire in the first quarter and thank God that we did. We needed to shoot as well as we did just to stay close early," said SJR head coach Mike Doherty. "It was a well-played, hard-fought game between two teams that really came to play today. It was fun to be a part of."
Brendan Mykalcio, Joe Carroll and freshman Akil Watson came flying out of the gates for Don Bosco as the trio combined to score 21 first quarter points. Isaiah Williams then chipped in with a foul line jumper at the buzzer to give Bosco its 5-point lead after the first quarter and Aaron Carter made two free throws for the first points of the second quarter which gave the Ironmen their largest lead of the game at seven points.
A personal 6-point run in the span of 1:02 by SJR senior Nazir Williams quickly closed the gap and then a steal and a layup by Malcolm Capers gave the Green Knights the lead, 28-27, their first since an early 6-5 edge, and forced a Bosco timeout.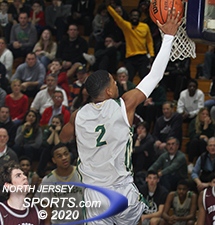 Albert Serrano (11 points) was one of four SJR starters to finish in double figures.
Watson made two free throws out of the timeout to put Bosco briefly back in front, but Almonor's back-to-back treys in the span of 48 seconds swung the scoreboard in SJR's favor for good. The Knights led by seven on two occasions in the second quarter and had a 40-35 advantage at the break.
"I thought we did a bad job of checking out. They got on the offensive glass way too much. They had 10 second chance points in the first half alone and probably had another six in the second half," said Bosco head coach Kevin Diverio. "And then we missed some point-blank shots that, in order to win these games, you have to make."
Down 45-38 with 6:42 left in the third quarter Bosco made a run. Brendan Mykalcio made a free throw and then put back his own missed shot for three quick points that were followed by Watson's fastbreak dunk that got the Ironmen pumped up and to within two points, 45-43, and they caught up fully for the final time at 49-49 when Watson, the freshman, finished off a conventional three-point play with 2:43 left to play in the third quarter. Daniel Lans gave SJR the lead back at the end of three quarters and Nazir Williams hit a clutch three that gave the Knights a 55-49 lead with 5:46 to go. Bosco could never get back to within one possession the rest of the way.
Watson, who will be a fixture in the Jambo for the next three years, led Bosco with 18 points, Mykalcio finished with 17 and senior point guard Myles Ruth had 10 after being saddled with early foul trouble. Joe Carroll scored all 7 of his points in the first quarter, Carter was a perfect 6-for-6 from the foul line and Isaiah Williams had the other two points for Bosco.
Nazir Williams, who went over the 1,000-point mark last week in the quarterfinals, led SJR and all scorers with 26 points, while Almonor (14), Albert Serrano (11) and Dyree Rogers (11) made it four starters in double figures for the Knights. Lans added 5, Capers had 4 and Brian Brennan's  third quarter layup rounded out the scoring for SJR (19-5), which is heading to the Jambo final against Bergen Catholic, the defending champion.
"Today we played very well. Because of how good Don Bosco is and because of how well they have been playing it makes today's accomplishment that much more significant," said Doherty, whose team is looking for its first Jambo title since 2016. "We are happy to be moving on, I am proud of the kids and how they responded to a big game situation. We are going to have to do the same on Friday."
TO VIEW MORE PHOTOS FROM THIS EVENT PLEASE CLICK HERE. TO BUY A COLLECTOR'S PRINT OF THIS STORY PLEASE VISIT 4-FeetGrafix.com.