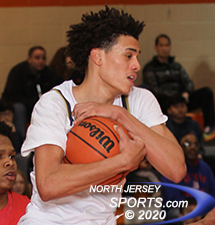 Kevin Mateo is back in the Hackensack lineup up and the Comets are heading to the Jambo quarterfinals after an 80-71 win over Ridgefield Park.
TENAFLY – Through injury, illness and eligibility issues, Hackensack has just not been able to put its strongest team on the floor on a consistent basis at all this season. At one point, eight members of the varsity roster were missing for a variety of reasons. The lineup uncertainly has led to an up and down season, but stability may have finally arrived just in time for the stretch run.
All of the injured players that did not suffer season-ending ailments are back and that coincided with the return of Kevin Mateo, the newly eligible senior talisman who has meant so much to the Hackensack program over the past four years.
He was the point guard when this current group of seniors won the Bergen County Freshman Tournament back in 2017, he was a key cog when the Comets won last season's Bergen Invitational Tournament (BIT) title and he made the jumper from the wing that finished off Hackensack's game-opening 9-0 run against Ridgefield Park in the Round of 16 in this season's Bergen County Jamboree.
The sixth-seeded Comets excelled early and held on late in a wire-to-wire 80-71 victory over No. 11 Ridgefield Park in the first game of Saturday's quadruple header at Tenafly High School.
"They were focused and it was good to see them ready to go early in the morning. The season is a grind, so it is not always easy to keep the concentration game in and game out, but I think we see the light at the end of the tunnel and it is time to go for it," said Hackensack head coach Aaron Taylor. "We are excited for this opportunity, we are thankful to be back in the Jamboree after not making it last year and we are enjoying the experience."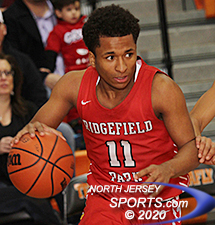 Jenci Reyes scored a team-high 22 points for Ridgefield Park.
Having Mateo and his big game experience back in the lineup was obviously a boost as he not only understood the game plan, but was a big part in putting it into action.
"We knew that Ridgefield Park had a lot of guards, so one of the main things we wanted to focus on was putting pressure on the ball and make them uncomfortable. We wanted to other players to have to handle the ball and make decisions," said Mateo. "I am just happy to be back with my brothers, my coaches, my family and all of my friends that supported me. Just being in the Jambo and being a senior, I feel like this is our time to shine."
Hackensack was glowing hot right out of the game as it scored the first nine points of the game, stretched that to a 18-2 lead 4:32 into the opening period and took a heavy toll on the timeout allotment available to Ridgefield Park head coach Chris Gaskin, who used three of them in the first four-and-a-half minutes as he tried to keep his squad, which trailed 22-8 after the opening stanza, somewhat in the game. He was out of timeouts completely with his team down 31-12 3:08 into the second quarter as Hackensack raced out to a 46-22 halftime lead.
"Credit Hackensack. They forced us to play the style of play that I did not want to play and that we told our team not to play," said Gaskin. "You are dealing with high school kids and sometimes what they hear is not what they want hear, but I am really proud of our second half. We fought to the end, but our game plan was to go nice and slow, stay relaxed, run our sets and be patient, but we certainly did not follow through with anything that we had talked about leading up to this game."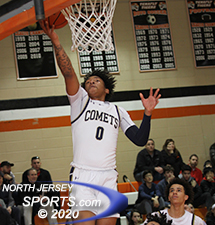 Seth Sharif-Brown scored 24 points for 6th-seeded Hackensack, which will play No. 3 Don Bosco Prep in the quarterfinals.
Hackensack was flying behind Mateo and Seth Sharif-Brown, the outside/inside senior duo who scored 24 points apiece. Mateo hit a three to put the Comets up 52-31, Sharif-Brown completed a conventional three-point play to make it 55-33 and the Mateo hit another three from the wing to make it 58-36 with 2:09 left in the third quarter. Beco Kolenovic's bucket in the paint put Hackensack ahead 66-41 heading into the fourth quarter.
It certainly looked like all hope was lost for Ridgefield Park, but it made its last quarter in the Jambo its best quarter in the Jambo. The Scarlets, who knocked off Becton in the opening round last weekend, cut down on their turnovers and stated to get to the free throw line. They scored 8 of the 12 points in a fourth quarter-opening 12-2 run from the foul line. Actually it was 10 of 12 as Jose Muniz's jumper from the foul line extended had RP back within 15 with 5:45 to go and it could have gotten even closer, but missed a wide open layup that was followed by six straight Hackensack points that pushed the lead back 74-53. Ridgefield Park put together another run of 18-5 in its favor and got back to within single digits, 79-71, with 47 seconds to play, but time was on Hackensack's side and it closed out the game to set up a date with third-seeded Don Bosco Prep in next week's quarterfinal round.
"Bosco is a great team and we are going to have to be ready for the challenge. From here on you are going to have to beat one of the Catholic schools to advance," said Taylor. "We are not going to shy away from it. We are going to prepare the best we can and we will go out and give it our all."
Shawn Reckley (15 points) joined Sharif-Brown and Mateo in double figures and, in all, 10 Comets scored at least one point. Amire Walker had all 7 of his in the first half and Khalil Baker, Camron Taylor, Kolenovic, Joshua Sloan and Horacio Honoret all made on field goal apiece.
Jenci Reyes scored a team-high 22 points for Ridgefield Park and Isaiah Menendez added 18. AJ Huddleston scored all 8 of his points in the second half, Jose Muniz (9 points) and Jason Eagan combined for 16 off the bench, Romel Camilo had 4 points and Marinas' three-pointer rounded out the scoring for the Scarlets.
"This is the third of four crazy games. We are at Ramsey on Tuesday night, Dumont kicked our butts the other night, just a tough stretch, but hopefully we will be able to regroup," said Gaskin, who team fell to 13-6 on the season. "It's a great group of kids that we have, we just didn't execute today the way we had hoped to. Credit Hackensack for that. They are moving on and we will be fans in the stands for the next couple of weeks."
FOR MORE PHOTOS FROM THIS EVENT PLEASE CLICK HERE. TO BUY A COLLECTOR'S PRINT OF THIS STORY PLEASE VISIT 4-FeetGrafix.com.