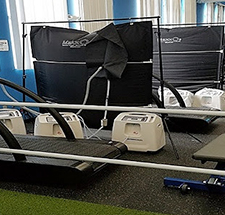 The Maxx O2 system, which simulates high altitude training, is a new feature offered by The Anvil at this time when personal fitness is at a premium.
FAIR LAWN – Every small business has faced an existential threat to its existence during the pandemic and no sector has been hit as hard as the in-person fitness industry. Athletic training centers are just about last on the list of facilities that can re-open at somewhat near the way they used to operate and some have been forced to close their doors for good.
The Anvil, the state of the art facility housed in a former lumber mill on Morlot Avenue in Fair Lawn, has chosen to double down on offerings that now set it apart in the changed landscape. GLICE, which has the look and feel of real ice, oxygen training, and customized boxing training are just some of the new programs that The Anvil is providing its clients in this time of heightened awareness of personal health.
Those amenities are in addition to the personal training sessions that have resumed with a strict adherence to New Jersey state guidelines.
"It is particularly important, especially now, because of COVID, for people to stay in shape," said Lauren Kinnally, The Anvil's Director of Operation. "They can do it in this giant, clean building basically by themselves or in a small group if that group has been co-habitating. That is not a bad deal and there has been a steady stream of people showing interest."
Larger group classes will only come all the way back when health conditions permit, but it is the other programs that The Anvil is putting in place that can help bridge the gap.
GLICE should be a home run in an area short on facilities with available ice time. By installing a surface large enough for small-sided games and multiple drills and then surrounding it with boards to simulate a real rink, The Anvil is now a legit ice hockey venue and houses a team of local to take full advantage.
Justin Selman (Bergen Catholic Class of 2012) and Connor Leen (Don Bosco Prep '10), doing business as TopLine Hockey @The Anvil, have taken up residence.
"We have a good friend (the New York Rangers') Brandon Crawley who introduced us to (The Anvil owner) Tom Kinnally and after the first meeting we knew that this was the place to implement ice hockey training," said Selman, a former captain of the University of Michigan ice hockey team. "This is the only facility in this area that has GLICE and GLICE is the Ferrari of synthetic surfaces. You can do full hockey stops, turns, sprints and stops and backwards skating and it feels exactly like ice."
The possibilities are endless.
"When the boards arrive and are installed, you could play a full three-on-three game in here or at least two-on-two comfortably and we plan to do a small league in here," said Leen. "We are going to get a lot of high skill reps on here because it is such tight quarters that you are always going to have someone on you, which forces quick and smart decisions. We can do one-on-one shooting lanes, skill circuits and take full advantage of what is a really unique facility, especially for this area."
Ice hockey not your thing? The Anvil has other cutting edge fitness options available like its Exercise With Oxygen Therapy (EWOT) system. In short, the user buys his/her own specialized facemask, hooks it up to a MAXX 02 machine and then hits the treadmill for a workout like none other. The benefits of working out with pure oxygen include increased oxygen circulation in the body, restored blood flow and the increased production of ATP. The potential positive results include weight loss, improved immunity, accelerated recovery from illness or injury, boosted energy, improved cardiovascular health, stronger lung function/respiratory system and more.
In the age of COVID, those outcomes take on more importance.
"After one of these workouts, I can tell you that you will sleep like a baby," said Maria Korongy, a client who then hit the treadmill for a sample workout. "Theoretically you build muscle and gain recovery enhancements."
There is a lot of science being employed at the two oxygen therapy stations, but there are also some less techy solutions for stress relief. Clients can also throw punches in anger under the direction of Rati Gabidauri, a decorated boxer in his native Republic of Georgia.
"We talk to our clients about their goals. If they really want to learn how to fight, we do that or we teach cardio boxing to those looking to lose weight or burn some calories," Gabidauri. "We focus on balance, coordination of your upper body, how to throw a punch and how to control your speed and strength. We hit the heavy bag, the water bag and we tailor everything to give our clients a real workout and the basis for self-defense."
For more information on these or any other program offered by The Anvil, an official sponsor northjerseysports.com, check out www.anvilperformance.com.
TO BUY A COLLECTOR'S PRINT OF THIS STORY PLEASE VISIT 4-FeetGrafix.com.