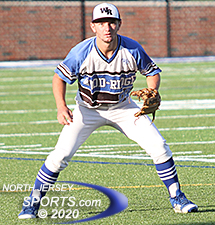 For recently graduated seniors from the Class of 2020 like Wood-Ridge's Liam Winslow, the Last Dance World Series has provided a chance to close out high school careers on the field of play.
WOOD-RIDGE –So there was a guy sitting under a tent checking the temperatures of players as they came through the gates. There were barricades set up keep to fans and families six feet away from the players in their respective dugouts and there were additional measures to sanitize everything as often as possible. Still, there was baseball and for a minute at least, the world felt almost normal as a crowd gathered yet did its best to stay distanced for a sporting event played on a high school campus.
The Last Chance World Series has brought high school sports back for a cameo appearance and its giving players who lost their spring sports season to the COVID-19 pandemic, players like Wood-Ridge's Liam Winslow, a sense of closure.
Had things gone as originally planned, Winslow would have been a varsity starter for the fourth straight season, he would have reached 100 career hits and he would have been a part of a quality team that had designs on making a deep state tournament run before heading off for a collegiate baseball career at Rutgers University – Newark.
Then something called the corona virus showed up and, poof, season over after a couple of practices.
"When it first happened I was upset that I was not going to get a chance to play baseball for Wood-Ridge for the rest of my life. We had a couple of practices and then that was it," said Winslow, back in a Wood-Ridge jersey and standing the behind the backstop as the sun began to set behind Donna Ricker Field on Tuesday night. "This Last Dance Tournament kind of gave me one more go around to get back out there on this field and I am pretty happy about it."
Winslow's story can be multiplied by the hundreds as 222 pseudo-high school teams jumped at the opportunity to play in the Last Chance Tournament. Seniors from the Class of 2020 are at least getting the chance to go out on their own terms.
"This tournament is for everyone, but most importantly it is for the seniors like Liam. He would have been a four-year starter if he did not lose his senior year. He would have gotten 100 hits, he was 16 away, as he would have had the most hits by a graduating senior in the time that I have been here, which is 10 years," said Wood-Ridge head coach Mike Carcich. "There are so many examples like that from every team in the state and it is just nice for these kids to have something like this. Obviously the coronavirus is a big thing and the most important thing is that everyone stays healthy, but for these kids this is their season and at least they get a little taste of it."
Wood-Ridge hosted a double-header on Tuesday night with a team representing Midland Park topping a squad made up of players from Ridgefield Park and Bogota, 7-4. Wood-Ridge then took on North Arlington in the nightcap and came away with a 6-0 victory even though this tournament is not all about wins and losses.
"The Last Dance is just a great chance for the seniors and all of the players who missed the season and opportunity to play some baseball competitively, but it also gives them the opportunity to get out there and have some fun," said North Arlington head coach Paul Marcantuono. "It's a beautiful day, it's a great start to the tournament out here today and we are all just happy to be out here. A lot of people have really been looking forward to this."
As per NJSIAA, New Jersey's high school sports governing body, guidelines, high school coaches were not allowed to coach their teams in the lead-up to the last dance. Some school districts were uncomfortable allowing their high school coaches to participate at all. So, putting such a vast tournament together with without the usual conductors made it a lesson in on-the-fly logistics.
The Wood-Ridge community took responsibility for its home site and also for the four-team doubleheader held at Riggin Field, the home complex of Becton Regional High School just down Route 17. By all reports, the games went off without a hitch, a hopeful sign amid a global pandemic.
Paul Sarlo is a New Jersey state senator, a Wood-Ridge resident and the father a Wood-Ridge High School baseball player and he took an early interest in helping the Last Dance get up and running. He also sees wider ramifications of safely conducting interscholastic athletics in the days of COVID-19.
"At first I wondered if this was really going to be feasible, but as time went on and they cancelled the high school season, I spoke to Mike Murray, the St. Joe's Metuchen athletic director, and told him to count me in. I wanted to support this in whatever way I could," said Sarlo. "I also believe that it is about more than baseball and giving the seniors a last chance. I also think this sets a tone to move forward with high school fall sports. Little things put in place like putting up barricades, keeping the fans away from the kids, having hand sanitizer on the benches, doing temperature checks, disinfecting the dugouts…all of those things go a long way in demonstrating to the regulatory folks that we could get high school sports going."
Whatever happens in the grand scheme of things, it was nice to be at a field watching a competitive game of baseball. It was exactly what many people needed.
"You think back to the first week of quarantine and there was no one on the roads, no one around. Looking around here today it is nice to get back to some type of normalcy, for however long it lasts," said Carcich. "For me, I am really going to enjoy this chance to coach a couple of baseball games. I am going to do it with a smile on my face."
TO BUY A COLLECTOR'S PRINT OF THIS STORY PLEASE VISIT 4-FeetGrafix.com.