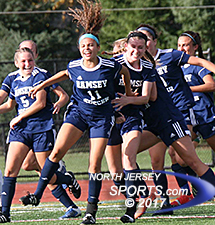 Alexa Correa scored the goal that forced overtime and then made her penalty kick for Ramsey, which upset second-seeded Ramapo 1-1 (4-2 PKs) in the semifinals of the Bergen County Tournament.
ORADELL – Preparing for a match against perennial power Ramapo in the Bergen County Tournament semifinals, some coaches might try to devise a specific plan to try to slow down Ramapo's attack and keep its speed from controlling the game.
Ramsey head coach Kevin Sabella's focus was not so much the game plan, but the experience of it all. He had faith in his players and their abilities. So his only mantra was to go out there and play without being tentative.  The Rams did just that even when faced with adversity. It proved to be a simple but important task that helped produce one of the biggest victories in the history of the Ramsey girls' soccer program.
After falling behind 1-0 midway through the second half, the Rams stayed calm and kept pushing forward whenever they could. That resulted in the tying goal by Alexa Correa just minutes later that eventually forced overtime and, even when Correa's potential game-winning goal was saved at the buzzer to end double overtime, there was no panic heading into penalty kicks.
Correa, Chloe Gavalankis, Corinne Kropas, and Caroline Schwanewede all connected on their attempts and Ramapo hit the crossbar twice in its four attempts as No. 6 seed Ramsey advanced to its first county final since 2002 with a 1-1 (4-2 PKs) victory over second-seeded Ramapo on Sunday at River Dell High School in Oradell.
"We've been playing in close games all year and we never give up as long as there's time on the clock," said Sabella. "We wanted to stick to our gameplan of getting numbers up the field and taking shots when we had enough space to get one off. It's not easy to do against a team like Ramapo, but we didn't want to sit back and let them dictate the entire game."
Danielle Zerbo gave Ramapo a 1-0 lead with her goal in the 60th minute.
Ramsey was dealt a tough blow before the game even started as starting keeper Katie Sylvester came down with mononucleosis. That forced Sabella to go with freshman Emily Peters between the pipes. Quite a time for her first varsity start and Peters was certainly tested throughout the first half with a blinding sun in her eyes, but she proved her worth by keeping the Green Raiders off the scoreboard.
Even though Peters had never made a varsity start before it was apparent that Ramapo was going to have to work hard to get one past her. That finally happened in the 60th minute when Danielle Zerbo hit a bender that Peters could do nothing about as the ball whizzed into the upper left-hand corner to put Ramapo ahead 1-0.
What could have been a moment for panic for Ramsey turned into anything but. The Rams stayed composed and used the whole field with Corinne Kropas drawing a hard foul that drew a yellow card on a play near the sideline about 30 yards out. Dominique Bianchini, who marked the dangerous Correa well for most of the match, was forced off the field momentarily and that proved to be a difference maker.
After Kropas lofted a long cross towards the back post one Ramsey shot was saved and another hit the post only for the rebound to bounce right to Correa. The junior striker calmly settled the ball in traffic, pulled back to create space then ripped a shot past Ramapo keeper Natalie Kologrivov from 10 yards out to knot the score at 1 with just over 16 minutes left in regulation.
All freshman Emily Peters did for Ramsey in her first-ever varsity start was hold Ramapo to one goal and win the penalty kick shootout.
"(Bianchini) is a really good back there for Ramapo and with her off the field I knew I had to see if I could my shot off," said Correa. "We got a couple of shots off in a row and next thing I know the ball is at my feet. A defender was right there so I pulled it back to create some room and get my shot off."
The teams picked up the pace towards the end of regulation before Ramapo seized control, which they maintained through both overtime periods. Peters made a great save to keep Ramsey alive and the Rams nearly stole the game in the final seconds on a counterattack. Correa reeled in a long ball and got loose for a breakaway with the final seconds ticking down. Kologrivov was just able to get her left hand on Correa's shot and push it wide of the right post as time expired.
That save gave Ramapo some momentum heading into the penalty kick shootout, but it was quickly taken back as Correa connected to even the score at 1-1 in the PK round. Sabella also made a shrewd move by sending in Gavalankis and Schwanewede in the second overtime to make them eligible shooters for penalty kicks.
"Those two aren't players who necessarily play big minutes, but they have ice water in their veins and I had all the confidence in the world that they would come up big when it counted," said Sabella.
Ramapo goalkeeper Natalie Kologrivov made a clutch save at the end of the second overtime to force PKs.
After a Ramapo shot hit the crossbar, Gavalankis gave Ramsey a 2-1 lead. Each team scored on its third shot before Schwanewede's rocket into the upper right-hand corner put Ramsey ahead 4-2. When Ramapo's fourth attempt hit the crossbar, the Rams let loose in celebrating a rare berth in the Bergen County finals.
Peters made the most of her first varsity start by finishing with eight saves for Ramsey (10-1-4). Kologrivov had six saves for Ramapo (13-1-2).
Ramsey now faces the ultimate test in next Saturday's Bergen County final against top-seeded and two-time defending champion Northern Highlands, which has now made it to the Bergen County final in each of the past seven seasons. While the stakes will be higher and the opponent supremely talented the gameplan will remain the same for the Rams.
"This whole season we've just gone out and played our game. We know it will be really tough against Highlands but we'll try to play the same way and treat it like any other game," added Correa.
TO BUY A COLLECTOR'S PRINT OF THIS STORY PLEASE VISIT 4-FeetGrafix.com. FOR MORE PHOTOS FROM THIS GAME CLICK HERE!