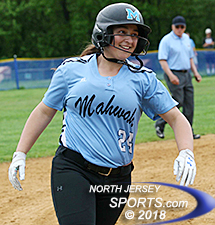 Maddie Kolich hit two home runs in the same inning for Mahwah, which slugged its way to a 17-6 win over Hawthorne in the opening round of the North 1, Group 2 state sectional tournament on Friday
MAHWAH – Maddie Kolich has turned herself into a valuable player for Mahwah by playing solid defense and having a strong arm in right field. With such a deep lineup, however, Kolich spent most of the season being replaced in the Thunderbirds' lineup by a designated player. When that player went down with an injury last week, Mahwah head coach Craig Nielsen took a shot by reinserting Kolich into the lineup for the state tournament and he was certainly glad that he did after Friday's performance.
Kolich proved her coach right by pulling off a rare feat on any level of softball. Although she had no homeruns on the season coming into the Thunderbirds' first-round state tournament game against Hawthorne and was slotted in the No. 9 hole, the senior showed she had some serious pop in her bat. She clocked two homers to dead center field, both in a 10-run fourth inning. Fellow senior Stephanie Kantanas also slugged a pair of homers as fourth-seeded Mahwah broke open a close game to move into the North 1, Group 2 quarterfinals with a 17-6 win over No. 13 seed Hawthorne at Mahwah High School.
"I didn't know how we'd come out after the layoff from the rain, but I'm very pleased at our approach at the plate," said Nielsen. "We're confident that we'll score runs. They key for us is that it's a different player each game who seems to step up for us when we really need it."
Danielle D'Ascoli had three hits, including a home run, for Hawthorne.
Hawthorne came into the game with nothing to lose and swung aggressively right from the first inning. Danielle D'Ascoli hit a solo homer and Beth O'Boyle later had an RBI single to give the Bears a 2-0 lead.
Mahwah responded in the second inning with the bottom of the order doing some damage. Abby Cohen and Kolich had back-to-back RBI singles. That turned the lineup over to the top where even more damage awaited the Bears. Brenna Forgette lined a two-run single and Kantanas followed with a three-run moonshot that gave Mahwah a 7-2 lead.
"Whenever someone scores on us first it's always a wake-up call for us," Kantanas. "It gives us the motivation to get a big inning going. Once we get that first hit it becomes a domino effect up and down our lineup that everyone wants to get the next hit."
The Bears pressed on and loaded the bases in the third. It looked like a run would score when Jaylen Mateo lined a grounder through the right side. Kolich attacked the ground ball and came up firing from right field to get Mateo by a step at first to keep the run off the board and end the threat.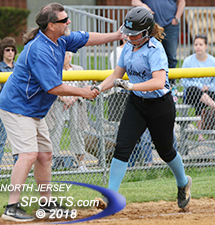 Stephanie Kantanas hit two home runs for Mahwah, which will play Kinnelon in the sectional quarterfinals.
That did not stop Hawthorne from hitting as it also got production from the lower half of the order. No. 9 batter Kaitlyn Maskal poked a two-run single before D'Ascoli belted another drive to left-center that scored another run and cut the lead to 7-6. The Bears had the tying and go-ahead runs in scoring position, but Chrissy Altamara came on in relief to preserve the lead and turn the game back over to the dangerous bats of the Thunderbirds.
Any momentum Hawthorne had was gone in one swing of the bat. Kolich set the tone by getting a hold of a fastball over the outer half of the plate and driving over the centerfield fence for a solo homer.
"I was leading off so I was honestly just thinking of a single or whatever I could do get on base," Kolich. "It felt great when you feel like you hit the ball really well. I was just trying to hit it up the middle but got a good swing. As soon as it left the bat I knew it was gone."
That sparked a string of seven straight batters to reach base. Bella Devine had a two-run single before Kolich struck again by launching a three-run homer. Two batters later, Kantanas matched Kolich by hitting her second homer of the day, a two-run shot to make it 17-6.
Kolich and Kantanas both notched career-highs of five RBIs and three runs scored for Mahwah (18-5). Forgette added three runs scored and a pair of RBIs. Every starter in Mahwah's lineup scored at least once. Altamara retired all four batters she faced including two strikeouts. D'Ascoli paced the offense for Hawthorne (12-7) by going 3-for-3 with a homerun.
Mahwah moves onto the North 1 Group 2 quarterfinals on Wednesday to face fifth-seeded Kinnelon, a 6-0 winner over Pascack Hills on Friday. With the bats awakening at the right time, the Thunderbirds will be a tough team to knock off.
"Doesn't matter where you are in the lineup or in the field; everyone on this team contributes," added Kantanas. "Once we get going we're pretty tough to stop. We always have each other's backs and we're excited to see how far we can go."
TO BUY A COLLECTOR'S PRINT OF THIS STORY PLEASE VISIT 4-FeetGrafix.com. FOR MORE PHOTOS FROM THIS GAME PLEASE CLICK HERE