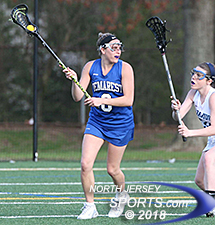 Jamie Cottrell scored five goals for NV/Demarest, the No, 16 seed that upset No. 13 Paramus, 13-8, in the opening round of the Bergen County Tournament.
PARAMUS – With the internet making high school box scores more accessible, players from all sorts of teams often use the transitive property of equality to see how they might stack up against future competitors. That is how most of the players from Northern Valley/Demarest's girls lacrosse team sized up their Bergen County Tournament opponent.
Demarest was the lower seed and its first-round opponent, Paramus, had beaten some teams that had already defeated the Norsewomen. That caused some uneasiness in the opening minutes, but once the Norsewomen settled in they realized that the game is played out between in between the lines not in box score comparisons.
Hannah Schwartz and Jamie Cottrell each scored five goals and Gabi Cammilleri came up with some huge defensive plays as 16th-seeded Northern Valley/Demarest held Paramus, the No. 13 seed, without a goal for nearly 14 minutes in the second half to collect the program's first Bergen County Tournament win in over a decade with a 13-8 triumph on Thursday in Paramus.
"Everyone expected us to lose this game, we're seeded lower, but once we got comfortable the girls felt this was a game we could win," said Northern Valley/Demarest head coach Alexandra Champ. "We kept the intensity up in the second half. This game was going to come down to getting those extra possessions. It is going to come down to those 50-50 ground balls. Whoever picks those up and wants it more is going to win."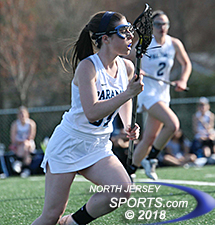 Samantha Mancini and Paramus had an early 4-3 lead.
Nicole Buccola scored just over 10 minutes in to give Paramus a 4-3 lead. However, that lead would be the Spartans' last as the Norsewomen outhustled Paramus to scoop of the majority of ground balls for the remainder of the half before turning them into goals late.
Schwartz scored the go-ahead goal and the Spartans shifted to try to slow her down. To a degree that strategy worked, but it also opened up more space for Cottrell, who took advantage of it with two late strikes, including one with 37 seconds left in the first half to give Demarest a 7-4 lead at the break.
"We're in the habit of rushing, but it seemed every time we were patient it got us a goal," said Cottrell. "I knew I had to step up with Hannah coming back from injury and the defense focusing on her. I just depended on all of my teammates and we worked really hard together to win this game."
The lead grew to four when Cottrell opened the second half with a score but Paramus got back in the game thanks to the efforts of Patti Daniels. On a loose ball in which Demarest goalie Rebecca Yin came all the way out of net and was one of four players battling for a loose ball, Daniels came out of nowhere to get control and slice between two defenders before shooting it into an open net. That cut the Demarest lead to 9-7 with just over 14 minutes remaining.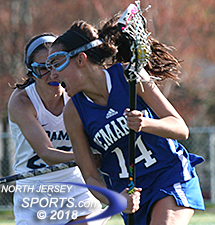 Hannah Schwartz, Demarest's all-time leading scorer, finished with five goals for the Norsewomen, who will play No. 4 Northern Highlands in the Round of 16..
It was a time where the Norsewomen could have easily gotten rattled. The confidence never wavered and they kept coming with big plays. This time it was on the defensive end. Yin came up with two huge saves to keep the Spartans at bay before Cammilleri quietly made her presence felt on the back line. She led all players in the game by forcing six turnovers, four of them in the final 12 minutes.
"Whenever Paramus scored, we never got down and we kept our head up to stay in the game mentally," said Cammilleri. "Our goalies made so many saves when the game got close. As a defense we got so many deflections on passes. On loose balls I just had to go for it and want it more than they did."
That allowed Cottrell and Schwartz to control the pace of the game and widen the lead before Kyri LePree's goal in the final minutes put the game on the ice and snapped the Spartans' seven-game win streak.
Schwartz won six draw controls and Cottrell had three for Demarest. Samantha Gordon also had a solid game with two goals and two assists. Sophia Mottola and Yin each collected six saves.
Daniels led all players with eight draw controls and added a team-high four goals for Paramus. Buccola added a hat trick and Alex Voorhis also found the back of the net.
The Norsewomen will be a considerably bigger underdog when they take on fourth-seeded Northern Highlands in the Bergen County Tournament's Round of 16 on Saturday. But just like in this game, once the whistle blows to start play the records are out the window and the result is decided on the field.
"Northern Highlands is a very good team and it's a great opportunity to play them but we like going into that game with nothing to lose," said Schwartz, Demarest's all-time leading scorer with 190 career goals. "I think sometimes we get intimidated by looking at box scores and seeing how we do against common opponents. Once we just go out and play, we know what we can do. I can't even remember the last time we won a county game and it's really exciting to be a part of this."
TO BUY A COLLECTOR'S PRINT OF THIS STORY PLEASE VISIT 4-FeetGrafix.com. FOR MORE PHOTOS FROM THIS GAME PLEASE CLICK HERE