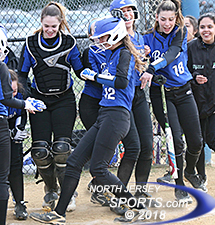 Danni D'Ascoli homered for the second straight game and also picked up the win in the circle as Hawthorne topped Lodi, 14-1, on Wednesday afternoon.
HAWTHORNE – Two games into the 2018 season and Hawthorne head softball coach Joe Oliva did not know what to make of his team. A tough 1-0 loss to Glen Rock opened the season before it busted out for 18 runs in a win over Elmwood Park. However, the Bears allowed 13 runs in that game. With undefeated Lodi in town for an NJIC-Colonial battle on Wednesday, it was an opportunity for the Bears to play a complete game and show that they are a contender for a league title.
Clinging to a one-run lead, Hawthorne turned to small ball to create a spark that turned into a raging fire with all the heat coming from the red-hot Hawthorne bats.
Hawthorne strung together seven consecutive hits in a 12-run fourth inning. Winning pitcher Danni D'Ascoli had two hits in the inning, including a three-run homer, as Hawthorne handed Lodi its first loss in emphatic fashion with a 14-1, five-inning triumph on Wednesday in Hawthorne.
"Instead of focusing on our opponents we are really trying to focus on ourselves and what we can control. That definitely helped us play well today," said Hawthorne's Sabrina Dotday. "Focusing on each pitch, each swing, each ground ball or fly ball was our goal today. When we do that and bring a lot of energy we feel confident in how well we can play."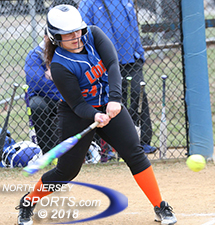 Emmma Bernardo had one of the two hits for Lodi, which fell to 3-1 on the season.
The Bears opened the scoring in the bottom of the second. Beth O'Boyle led off with a single to center with an outfield error allowing her to move to third before scoring on a single by Brittany Foley.
Lodi answered back with a run in the top of the third. Alexandra led off with a double to right-center and advanced to third on a wild pitch. Thaliya Ramirez's groundout brought her home to tie the score at 1.
D'Ascoli was hitting her spots in the circle and helped her own cause with her bat throughout the game. She stroked a leadoff triple and scored the go-ahead run on a sacrifice fly from Jillian Padovani.
Lodi catcher Mary Breny nearly tied the game in the top of the fourth on one swing of the bat. But Meghan Knepper broke back on the ball and caught it right in front of the fence in dead centerfield. The game had the flow of an old school pitcher's duel; but it was another old school tactic that set the wheels in motion for Hawthorne's big inning.
With the 7-8-9 spot in the order coming up in the bottom of the fourth, Oliva implored them to be ultra patient at the plate and bunt effectively to create some havoc. Caleigh McCarthy worked a long at-bat for a leadoff walk. Foley and Kaitlyn Maskal then dropped down successive bunts and beat them out for hits to not only load the bases but also turn the lineup over to the top.
Knepper bounced one back through the box and the drawn-in Lodi infield to plate two runs. D'Ascoli followed with an RBI double. Sabrina Dotday reached base in all four of her plate appearances, including a two-run single that broke the game open for a 7-1 lead. Nerisa Youghar and Padovani capped seven straight hits for the Bears with RBI singles. Foley and Knepper each added a second hit in the inning before D'Ascoli ripped a bomb to straightaway center to make it 14-1. It was the second straight game that D'Ascoli homered.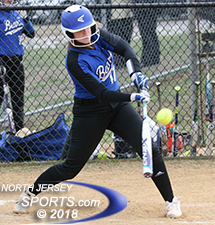 Jillian Padovani had one of seven straight hits that Hawthorne strung together in a 12-run fourth inning.
"We pitched and played defense well in the first game, hit well but allowed too any runs in the second game, today we put it together in all phases of the game," said Oliva, in his first year as the Bears' skipper. "Being able to play small ball wins or loses games. It made us more disciplined at the plate and put us in positions where we can be more aggressive on pitches in the strike zone."
D'Ascoli, a sophomore righty, finished a single shy of the cycle with four RBIs and three runs scored. She also went the distance on a three-hitter to pick up the win for Hawthorne (2-1). Dotday went 3-for-3 at the plate and played rock solid defense at shortstop for the Bears. Daysia Bubenik and Kylie Bernardo had hits for Lodi (3-1).
A convincing win over a fellow contending team inside the NJIC-Colonial has opened the eyes of the Hawthorne players that the modest goals set at the beginning of the season need to be elevated.
"When our team plays like we just did we see that we have a chance to do things we didn't even know we could do," said D'Ascoli. "We just have to come into every game with the same mentality that we had today and build off of that."
TO BUY A COLLECTOR'S PRINT OF THIS STORY PLEASE VISIT 4-FeetGrafix.com. FOR MORE PHOTOS FROM THIS GAME PLEASE CLICK HERE