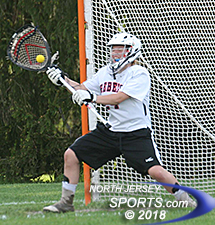 Bella Garabo made 22 saves for Saddle River Day, which closed its regular season with a 15-3 win over Ramapo.
SADDLE RIVER – After winning the program's first-ever section title in 2017, Saddle River Day's girls lacrosse team has had a rough go of it this season. The injury bug, a high-profile transfer, and some inexperienced players being forced into action have all contributed to a disappointing season as far as the Rebels' record is concerned. But with a power-point advantage of playing in New Jersey's toughest division, Saddle River Day is in line for a high seed in the state tournament. That has been a motivating factor as the Rebels are starting to round into championship form at the right time of year.
Bella Garabo notched a career-high 22 saves and three players scored at least four goals as Saddle River Day won back-to-back games for the first time all season with a 15-3 victory over Ramapo on Thursday afternoon in Saddle River.
"This is a big win for us. We know what we need to do from here on out," said Garabo. "The chemistry has been there off the field. Now we're working better together on the field and it's showing in our last couple of games."
Both teams had point-blank chances over the first 10 minutes. Saddle River Day's Alexa Tsahalis clanked the post twice and Garabo was forced to make several tough saves.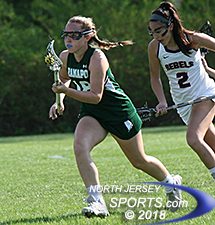 Caitlin Wolfe was one of Ramapo's three goal scorers.
"Once I got that first save out of the way it helped me build some confidence," added Garabo. "Today was Senior Day and I wanted this game for them. I also wanted to prove something to them that they can count on me in big games."
Kaitlin Pani scored for Ramapo, cutting the Raiders' deficit to 2-1 midway through the first half. The game turned on a fluke goal, one the Rebels desperately needed. A centering pass by Sophia McMahon missed Tsahalis, but it somehow skipped through traffic and into the net. 
That sparked a run of six consecutive goals for SRD. Tsahalis, Michaela and Sophia McMahon, and Ally Glynn all scored during the spurt that had the Rebels in control by halftime, 8-1.
Emily Sheppard scored just 16 seconds into the second half to try to light a fire for the Green Raiders. That was quickly stamped out with two more goals from Tsahalis and goals 12 seconds apart from the McMahon sisters along with more big saves from Garabo, who was outstanding from start to finish, as the Rebels pulled away.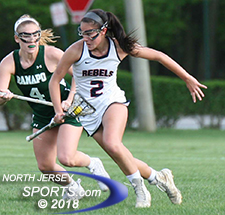 Sophia McMahon and Saddle RIver Day won consecutive games for the first time this season.
"We've put a lot of emphasis on getting some momentum and carrying it all the way into states," said Michaela McMahon. "There's a lot of pressure that goes into each game, but everyone plays a role and we're getting more consistent late in the season."
Tsahalis, a senior attack headed to Villanova, led all players with five goals for Saddle River Day (5-13). Penn-bound Michaela McMahon tallied four goals and four assists. Sophia McMahon added four goals and Ally Glynn scored twice. Caitlin Wolfe also scored for Ramapo (4-10).
With the regular season over the Rebels are wiping the slate clean and looking forward to seeing if their strong play over the past week will translate into more state tournament success.
"Even though our record isn't as good, our expectations are still the same going into states," added McMahon. "Mountain Lakes is the top team in our section and we've already faced them this year. We were right with them in the first half before we fell apart a bit in the second half. We're a different team from when we saw them last time. That gives us a lot of confidence because we feel like we have the skill and the talent to be successful against any team that is in our state tournament bracket."
TO BUY A COLLECTOR'S PRINT OF THIS STORY PLEASE VISIT 4-FeetGrafix.com. FOR MORE PHOTOS FROM THIS GAME PLEASE CLICK HERE