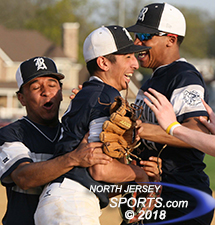 Sophomore CJ Francisco is mobbed by his teammates after getting the final out and the first save of his career in Rutherford's 3-2 win over Indian Hills in the opening round of the Bergen County Tournament.
RUTHERFORD – It is a rare occurrence in Bergen County public school baseball when two Division 1-bound pitchers face one another, so it was a must-see opening game on Wednesday when Rutherford fireballer John Kelly and Indian Hills' crafty right-hander Alex Havlicek went toe-to-toe. These two have been at the top of their team's rotations for the past two seasons and have pitched well in big games, but in the tense final moments it was another pitcher, Rutherford's CJ Francisco, who also showed his ability to come through in the clutch.
With the bases loaded in the top of the seventh and both the tying and go-ahead runs in scoring position, Francisco struck out the last two batters of the game as 14th-seeded Rutherford advanced to the Bergen County Tournament's Round of 16 by hanging on for a 3-2 triumph over No. 19 seed Indian Hills at Memorial Park.
"This was a great game to be a part of and the adrenaline was pumping," said Kelly. "It took me a little while, but I started to get a feel for what pitches to throw to what batters in certain counts. I trusted my defense to do the job and we got the hits we needed to get the win."
With two of the top two pitchers in North Jersey on the bump and a steady wind blowing in toward home plate it figured that runs would be at a premium. The game began nearly an hour after the scheduled 4:00 start time but that did not stop Indian Hills from striking quickly.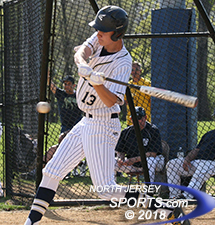 Sean McMorrow had two hits and drove in both of Indian HIlls' runs.
Frank Greco drew a two-out walk and took second on a wild pitch. Sean McMorrow followed with a single back through the box to put Indian Hills ahead, 1-0, after one-half of an inning. McMorrow was at it again in the top of the third. His two-out single through the left side plated Nick DiDonato to make it 2-0.
Havlicek escaped trouble in the first two innings before Rutherford finally got to him in the third with three straight hits to start the inning. Abellany Mendez bunted his way on before Regan Landrigan and Kelly followed with singles, the last of which scored Mendez. Landrigan was thrown out at the plate by Braves' centerfielder Joe Crucintro, but Kelly alerted moved up to second on the throw home. He then stole third and came home on a sac fly by Jay Tobin to knot the score at 2.
It was still 2-2 heading into the sixth inning when two infield errors and a single by Justin Riehl loaded the bases with one out and the go-ahead run just 90 feet away. The Oklahoma State-bound Kelly stopped overthinking his approach and relied more on his fastball to get ahead in the count. That set the tone and he struck out the next two batters to get out of the jam.
"I started off with first-pitch sliders before throwing my fastball and breaking balls in counts that matter," added Kelly. "I locked in on getting ahead in the count and spotting my best pitches. Our baseball IQ as a team has really grown recently and that's showing in our results on the field."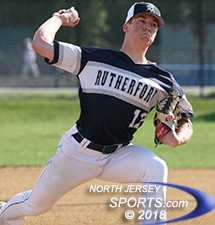 John Kelly struck out 11 and picked up the win for Rutherford, which will play St. Joseph Regional in the Round of 16.
That momentum spilled over into the bottom half of the inning with Nico Mundo stroking a leadoff double inside the left field line. An error and a single by Edel Barcenes loaded the bases with one out. Eric Wernicki's suicide squeeze bunt was nearly a disastrous inning-ending double play as the bunt was popped up down the third-base line. But with the third baseman playing deep the ball dropped and Mundo scored to give Rutherford its only lead of the game, 3-2.
The Braves had a patient (sometimes too patient) approach at the plate all game long. While it hurt the Braves at certain points it nearly paid off handsomely in their final at-bat. Kelly reached the 110-pitch limit after his second walk in the top of the seventh and filled the bases with one out. That brought the sophomore Francisco into quite a predicament. With the game on the line and nowhere to put any runners, Francisco had to come after hitters right from his first pitch.
The first batter he faced put together a nine-pitch at-bat that ran the count full before Francisco got a swinging strikeout. After notching another strikeout the Bulldogs mobbed Francisco as he closed out the biggest win of the season thus far.
"I had to stay calm and hit my spots. That was my only focus," said Francisco. "Once I threw the first strike the confidence started to grow. I knew if I could keep it on the outer half and low that I'd be in control instead of the batter. Got to take our hats off to (John) Kelly, he kept us in the game and I wanted to make sure we got this win for him."
Kelly picked up the win for Rutherford (9-5). He scattered six hits and three walks with11 strikeouts over 6 1/3 innings of work. Barcenes singled in all three of his at-bats. McMorrow went 2-for-3 with two RBIs to pace the offense for Indian Hills (7-9).
"Tough, tough loss to take because of how hard we played," said Indian Hills head coach George Hill. "I thought we could have been more aggressive at the plate. We seem to get the momentum against tough teams like this, but we can't seem to keep it. I couldn't be happier with this group overall from how hard they work to how well they respect the game and each other. Just wish we would have had a different outcome."
Rutherford advances to play third-seeded St. Joseph Regional  on Saturday afternoon in the BCT's Round of 16. There they will be a heavy underdog, but head coach Carmen Spina is confident. It is a role that past Rutherford teams have thrived in and he feels this team has the same capabilities to make a deep run in the counties.
"This is an outstanding win and it was a total team effort," said Spina. "We just want to play our style of ball and grind it out. St. Joe's is a great team and we're going to have our hands full with them. It's about putting pressure on them and making them feel uncomfortable. It's an honor to compete in this tournament and we're excited to take the field on Saturday."
TO BUY A COLLECTOR'S PRINT OF THIS STORY PLEASE VISIT 4-FeetGrafix.com. FOR MORE PHOTOS FROM THIS GAME PLEASE CLICK HERE