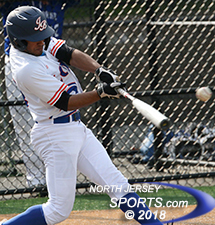 Elian Guzman drove in a run in the first inning and did not allow a hit from the mound in his 3 1/3 innings of work as Lodi won his sixth straight game, 12-2, over Hawthorne on Monday.
LODI – After losing 10 seniors and starting seven underclassmen Lodi head coach Kurt Geisler figured that his team would some time to jell. Sitting under the .500 mark at the midway point of the season, he made a point for each of his players to break down the game by simplifying it one pitch, one at-bat, one out at a time. That approach has worked over the past two weeks and it continued on Monday in a big NJIC-Colonial Division showdown with Hawthorne.
The Rams used their collective speed early and often, led by freshman standout Rob Klawans. Lodi scored three runs in the first inning and tacked on seven more in the third to win its sixth straight game, 12-2 in five innings, over Hawthorne at Lodi High School.
"We wanted to put pressure on them by scoring some early runs and it helped us play relaxed," said Geisler. "We've been playing in close games a lot this season, so to get some run support for Elian [Guzman] right out of the gate was huge."
Lodi scored a run before even putting a bat on the ball thanks to the individual effort of Klawans. He walked on four pitches, stole second and third before alertly scooting home with a headfirst slide on a passed ball to get the Rams on the scoreboard. Guzman, the Lodi starting pitcher, then drove home a run with a double and battery mate Gerald Sandoval followed with a run-scoring single to make it 3-0.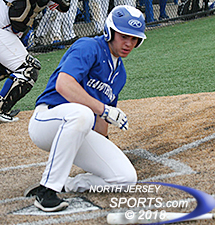 Tom Gallo sliding in with one of Hawthorne's two runs.
"It's a team effort and once we got some runs in the first inning, the game then was on me to keep that lead," said Guzman. "I didn't have to too much other than hit my spots and let my teammates make the plays behind me."
Guzman did not allow a hit in his 3 1/3 innings and the Rams poured on the run support in the bottom half of the third with their largest output in a single inning this season.
Lodi clubbed six straight hits to start the inning, four of which went for extra bases. Vin Vartalone, Carlos Andrickson, and Chase Geisler ripped back-to-back-to-back RBI doubles as the Rams put up a 7-spot to take a 10-0 lead.
Down to its last strike in the fifth inning, Hawthorne showed some life with a triple by Dominic Scola scoring Tom Gallo to keep the game alive. It did not stay that way for long as Lodi quickly put up two runs in the bottom half of the frame. After a leadoff walk to Josh Inirio, Guzman tripled then came home on a sacrifice fly from Sandoval to invoke the mercy rule.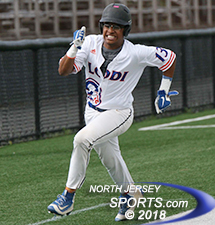 Lodi's Josh Inirio reached base in all four of his plate appearances, scored three times and drove in a run.
Guzman walked three and had five strikeouts to pick up the win for Lodi (11-6). Inirio paced offense by reaching base in all four of his plate appearances, scoring three times and driving in a run. Michael Cangialosi pitched the final 1 2/3 innings of relief for the Rams. Manny Pujols drove in the other run for Hawthorne (9-7), which has now lost seven of its past eight games.
Having thrown only 48 pitches, Guzman will be available to pitch in Wednesday's showdown against Rutherford, which holds a two-game lead over Lodi in the race for the NJIC-Colonial Division title. It is not a position the Rams expected to be in before the season, but they are excited for the opportunity to make some noise both in league play and when the state tournament rolls around.
"We have a young group but we're starting to believe in each other and what we can do on the field," added Guzman. "Once we started working together, playing simple and putting the egos aside things started clicking. Good pitching, timely hitting, being aggressive on the bases, making the fundamental plays in the field, that's how you win games. As the weather gets hotter, we're getting tougher to beat. We're at six in a row and want to keep that streak going."
TO BUY A COLLECTOR'S PRINT OF THIS STORY PLEASE VISIT 4-FeetGrafix.com. FOR MORE PHOTOS FROM THIS GAME PLEASE CLICK HERE