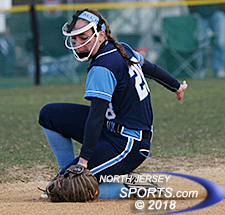 Devin Burke got the 100th hit of her career in bottom of the seventh inning as part of the game-winning rally that gave Waldwick a wild 14-13 win over Becton.
WALDWICK – As the Waldwick players warmed up before Tuesday's NJIC crossover game against Becton they did so thinking it would be just another April game in cold weather. But the Warriors quickly realized that this particular game was going to be different.
As each inning passed each team responded to pressure situations and intensity of the game grew until reaching a boiling point in the bottom of the seventh inning. Locked in a tie game with the bases loaded and two outs, Waldwick's Ashley Buschgans was in the spot every player dreams of and made the most of it.
Buschgans lined a 1-1 pitch through the left side of the infield to score Jess Parsons with the winning run as Waldwick needed nearly three hours to stay undefeated in pulling off a wild 14-13 triumph.
"It felt like a county or a state tournament game; it was really exciting to experience something like this in general, especially so early in the season," said Waldwick's Danielle Burke. "We started off really strong in our first two games but they set the tone today and we had to bounce back from it."
Waldwick was never threatened in two comfortable wins to start the season, so the Warriors were a bit shell shocked when Becton came out swinging and running aggressively.
The Wildcats have a youth movement going this season, but it is not just the future that looks bright. The present is pretty good too as freshman speedster Felicia Carty got things started by beating out a routine grounder for an infield hit before coming around to score on an infield hit by Raquel Chandra. With two outs, sophomore Alyssa Nozka and freshman Kayla O'Brien had back-to-back RBI singles as Becton jumped out to a 3-0 lead.
It did not last long, however, as an experienced Waldwick lineup showed that it too can make solid contact up and down the lineup. Sage Rizzi lined an RBI single and Carly Basich plated two more runs with a single of her own to put Waldwick in front 4-3 after one inning.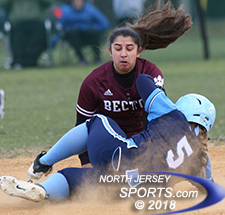 Raquel Chandra went 3-for-4 at the plate for Becton, which is 1-2 on the season, but improving with a young squad.
Becton came back in the top of the second to take the lead on a two-out, two-run double off the bat of Chandra. The Warriors answered right back on a frozen rope off the bat of cleanup batter Kacie Centineo. With two runners on, Centineo pulled one down the right-field line to score two runs. Hustling right out of the box, she kept going when the ball skipped by the right fielder and came all the way around to score for a 7-5 lead.
"We saw pretty early that (Becton) can hit and we need to get our bats going," said Centineo. "I was just looking for a good pitch to hit whenever I got to the plate. Situations like we had today definitely are going to help us in the long run."
An inning later, Buschgans and Centineo lined consecutive run-scoring singles to double the Warriors' lead to four. Now it was Becton's turn to strike back.
Becton loaded the bases with one out when Waldwick appeared to catch a break. Waldwick right-fielder Jaden Rizzi made an outstanding over-the-shoulder catch to save a couple of runs. That was only temporary though as Jana Christiano poked an RBI single and O'Brien drove home two more runs on a double. She was thrown out at third to end the top of the fourth inning but the damage was done and the Wildcats had tied the game at 9.
It was at this point where the tenor in both dugouts changed. Players from both teams knew that this was going to be unlike any game they have ever played in. Every at-bat was crucial and the pressure mounted with each pitch.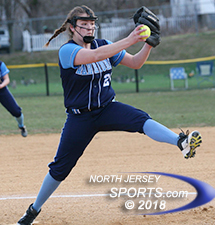 Ashley Buschgans had the game-winning hit and picked up the win in the circle for Waldwick.
Centineo put the Warriors back in front with an RBI single that brought home a second run on an error. Another error on a hard ground ball off the bat of Lauren Toolen plated another run and gave Waldwick a 12-9 lead after five innings.
Despite their youth the Wildcats showed the hunger of a veteran team by battling back for the third time from a deficit. After an error brought home one run, O'Brien lined a double in the right-centerfield gap to bring home two more runs. One pitch later the Wildcats had the lead, 13-12, on an RBI single by Nozka. In a game filled with important hits, perhaps the most important play came on the defensive end. With two runners in scoring position, Centineo got a great jump on a sinking line drive in right-center and made a sliding, back-handed catch that saved two runs and ended the inning in one fell swoop.
"I just didn't want the girl on third to score because I knew that could be a big run," said Centineo. "I got a good jump and just went for it."
Waldwick was still some hot bats in the order but were starting to run out of outs so they went to a more patient approach at the plate. One of Bergen County's more underrated No. 2 batters, Danielle Burke, led off the bottom of the sixth by drawing a walk. Buschgans after narrowly missing a long homerun the pitch before roped an RBI double being home Burke and knot the score at 13.
Buschgans set up her own heroics by fielding a hot smash up the middle off the bat of Chandra to retire the side give the Warriors a chance for a walk-off win.
Jess Parsons, who came on as a pinch-hitter in the fifth inning, dropped in a seeing-eye single to get things started. With two outs, Devin Burke hit a cue ball off the end of the bat and beat it out for the 100th hit of her career but more importantly a chance to get to the heart of the Warrior lineup. Danielle Burke drew a walk to load the bases and put the game on the shoulders of Buschgans.
Buschgans stepped to the plate and hit a laser that neither Becton's shortstop nor third baseman had a chance at knocking down. Parsons raced home with the game-winning run.
"If I get a good pitch I'm going to swing and make good contact, that was my mindset," said Buschgans. "With the bases loaded so I knew she had to give me a pretty good pitch to hit."
While the Warriors celebrated, the Becton players could only watch and wonder what they could have done differently in a great game that both teams deserved to win on effort alone.
"We had our chances but we just couldn't close out the game and Waldwick deserved to win," said Becton head coach Dwight Hall. "With a really young team we figured there were going to be some growing pains. We battled hard for seven innings and we never quit even though we got down a few times. They showed no fear today and that drive will only make us better as the season goes on."
Danielle Burke reached in all six of her plate appearances and scored a career-high five runs for Waldwick (3-0). Centineo also reached in all of her plate appearances, driving in five runs. Buschgans not only picked up the game-winning hit but also got the win in the circle.
Chandra and O'Brien each went 3-4 at the plate and they combined for nine RBIs for Becton (1-2). Polmann went 4-5 with three runs scored.
Waldwick will look to keep the winning ways going today against Park Ridge before heading into a rough ten-day stretch. During that time frame the Warriors will face Midland Park, Wood-Ridge, Emerson, and Rutherford, with three of those games being on the road.
But for now, the Warriors are still on cloud nine and rightfully so. They feel that this is just the first of many special victories to be celebrated.
"I think this was a huge win for us, honestly for our egos as much as anything else," said Devin Burke. "Softball is a hard sport and anything can happen on any given day. I think we were riding high after two big wins. But today we got a little bit of everything. We were humbled but we still fought through it and found a way to win. This will be a win we talk about for a long time."
TO BUY A COLLECTOR'S PRINT OF THIS STORY PLEASE VISIT 4-FeetGrafix.com. FOR MORE PHOTOS FROM THIS GAME PLEASE CLICK HERE