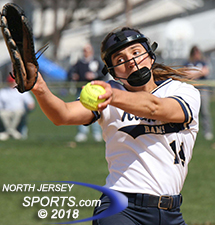 Victoria Sebastian threw a 0ne-hitter and also went 3-for-4 at the plate for Ramsey, which shut out Paramus Catholic, 5-0, at the HOFS Classic in Saddle Brook.
SADDLE BROOK – With several key players returning from a team that won 29 straight games including a Bergen County title last spring, Ramsey was expected to roll through the regular season before getting an opportunity to defend its crown.
An upset loss to Bergen Tech could have cast doubt in the minds of the Rams. Just like championship teams do though when faced with adversity, they have used that experience to make the team even stronger. With the Bergen County Tournament right around the corner now, the Rams are showing that they are still the team to beat.
Facing a dangerous Paramus Catholic team squad that is also poised to make a run come county tournament time, the Rams broke open a scoreless game with one swing of the bat. Sophomore Kaitlin Houser rocked a two-run shot in the fourth inning and that was all the run support Victoria Sebastian needed. The junior southpaw twirled a one-hitter as Ramsey stayed red hot with a 5-0 triumph over Paramus Catholic on Saturday afternoon at the HOFS Classic in Saddle Brook.
"I'm not really a strikeout pitcher so I rely on the defense behind me to make plays and they always come through," said Sebastian. "The loss to Bergen Tech stung us a bit just because honestly we haven't been used to losing the past two years. It's a lesson learned. But that's something we'd rather have happen in April rather than late May or June. Against a real good pitcher like Katie (Kudlacik), we had to be locked in."
Paramus Catholic pitcher Katie Kudlacik struck out four.
The matchup was the marquee game of the four-game Saturday session of the HOFS Classic and it lived up to the billing through three innings. Sebastian had it working, retiring the first eight hitters she faced. Her counterpart, James Madison-bound Katie Kudlacik matched her with zeros early on and also got some defensive help. The Rams loaded the bases in the first inning, but a leaping grab by Nicolette Strollo saved two runs and kept the game without a score.
The game remained scoreless until the bottom of the fourth. Bella Sebastian hustled down the line on a ground ball, forced an errant throw and advanced to second with two outs and kept the inning alive for Houser. She took full advantage by smoking a 1-1 riser well over the fence in left-center to give Ramsey a 2-0 lead.
"I was just actually trying to hit the ball on the ground and get that run home, I was really surprised that it went out," said Houser on the home run, her second of the season. "We've worked so hard during the off-season and we're seeing that improvement now. This is a big win but we have to keep taking things one game at a time."
Ryan Henry, Ramsey's senior catcher and a Fordham University commit, tacked on another run with an RBI single in the fifth inning before Sebastian helped her own cause in the sixth with a two-run double that made it a five-run lead. With the way Sebastian was dealing the game was well in hand. She fell behind in the count several times but consistently came back by hitting her spots with a variety of pitches, including a nasty changeup for a called third strike in the top of the seventh. No Paramus Catholic player reached second base all game as Ramsey cruised to a fifth straight win.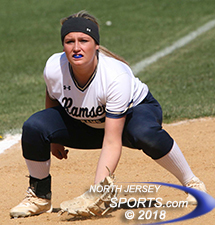 Sophomore Kaitlin Houser cracked the game open with a two-run homer.
"Against a team as good as Ramsey is, there is no room for error and they make you pay for every little mistake," said Paramus Catholic head coach Bill McPartland. "Ramsey is obviously a very good team but we felt like we were right there. We feel like we're a team that can make a run in the counties this year. "
Sebastian allowed just one hit with no walks and eight K's for Ramsey (8-1) and also went 3-4 at the plate. Bella Sebastian and Houser each scored twice.
Claudia Rento had the lone hit for Paramus Catholic (4-3). Kudlacik took the loss, allowing seven hits with one walk and four strikeouts.
Ramsey has certainly bounced back after the loss to Bergen Tech. In fact the Rams have been dominant since then, outscoring their past five opponents by a whopping 51-1 margin. They played a clean game against a quality opponent but head coach Chris Caserta feels the best is still yet to come.
"We're excited to play as well as we played against a team like PC in a great tournament like the HOFS Classic," said Caserta. "I thought we did a great job doing the little things. Sacrificing runners over, courtesy runners coming in and being aggressive on the bases, making the routine plays in the field, all things we need to do to be successful. I think the Bergen Tech loss humbled us and showed us that wins are hard to come by. By our goal is to be humble and be hungry every time we take the field. I think we showed that there's still room for improvement but we're getting to where we want to be."
TO BUY A COLLECTOR'S PRINT OF THIS STORY PLEASE VISIT 4-FeetGrafix.com. FOR MORE PHOTOS FROM THIS GAME PLEASE CLICK HERE