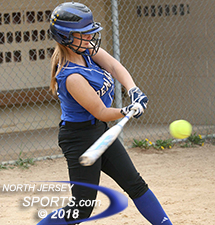 Samantha O'Donnell about to connect with her first-ever varsity home run during Demarest's 6-0 win over Dumont in the opening round of the Bergen County Tournament on Saturday.
DUMONT – With a runner on third base and one out, Northern Valley/Demarest's Samantha O'Donnell headed to the plate with a job to do. O'Donnell was supposed to lay down a bunt that would either get the runner home with its placement or at least ratchet up the pressure on the Dumont defense to the point where any mistake might get that run home. Two failed attempts later, she stepped out of the batter's box.
Taking a glance at her father, who was watching the game from beyond the centerfield fence, a brief and seemingly unrealistic thought crossed her mind. However, on the very next pitch O'Donnell's dream scenario became a reality.
The senior got a hold of one that cleared the fence and fell right into the hands of her father. It was O'Donnell's first ever varsity homerun and it provided some breathing room as No. 17 seed Northern Valley/Demarest scored a 6-0 victory over 16th-seeded Dumont in the first round of the Bergen County Tournament at Columbia Field in Dumont.
"I happened to see my dad out there and I wondered if I'd be able to reach him if I hit the ball really hard," said O'Donnell. "I imagined it and then it happened…pretty funny."
This was the third consecutive year that these teams have met in the Bergen County Tournament with Dumont winning the previous two meetings, both by a single run. That made the Norsewomen even more determined as they went on the road for Round 3.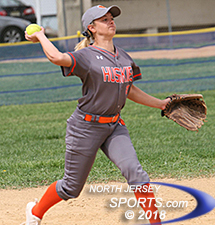 Ariana Martoral had one of Dumont's three hits.
Demarest struck first on a two-out, RBI single from Maddie Tredo in the top of the first. The Huskies looked to answer with two runners on and one out in the top of the first. Senior right-hander Makenzie McGrath bore down and struck the next two batters out to quell the threat.
Although it is a play that will not pop out of the box score, Dumont was on the wrong end of a tough call In the second inning. After leadoff batter Ariana Martoral reached on an error, Gia Diaz and McGrath dueled in a long at-bat. After the count ran full, it looked as if Diaz drew a walk on a pitch above the letters on her jersey. Demarest catcher Meadow Garcia framed the pitch effectively and the end result was a called third strike.
"I took more risks in the circle early because I had that insurance run to work with," said McGrath. "Once I got out of those first two innings I settled in and gained confidence as the game went on."
Tredo got things going in the fourth inning with leadoff single. She then stole second and went to third on a sacrifice bunt by Garcia to bring O'Donnell to the plate. With the count 1-2 after on two misfired bunt attempts, she got full extension on a fastball over the outer half of the plate. She was happy just to do her job, but when she saw her dad catch the ball and heard her teammates scream, O'Donnell had a smile from ear to ear knowing that she had done something both memorable and truly unique.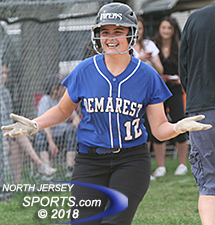 Liz Reverand trotting home after her sixth inning home run for Demarest, which will play top-seeded Indian Hills in the Round of 16 on Sunday.
"It's a great feeling to help out our team and get some runs for (McGrath) because she's working so hard for us," said O'Donnell. "With a runner on third I was doing whatever I could to get that run home from third."
Her homer gave the Norsewomen a 3-0 lead, which was more than enough run support for McGrath. She kept a powerful Dumont lineup that averaged nearly 10 runs a game coming in off-balance. The Fordham-bound right-hander mixed her pitches and locations well throughout her seven shutout innings. That, mixed with a solid defensive effort and some timely hits, lifted Demarest into the Round of 16.
Liz Reverend put the game away with a two-run homer in the sixth for Northern Valley/Demarest (12-7). McGrath gave up just three hits with three walks and 8 K's. Tredo pitched in at the plate going 3-for-4 with a run scored. Ariana Pena, Martoral, and Diaz had the hits for Dumont (14-5).
A tall task lies ahead as Demarest has less than 24 hours to get its energy back up before facing top-seeded Indian Hills in the Round of 16 at 10:00 A.M. in Ramsey. Having won six out of their last seven games, four of them via shutout, there is a buzz amongst the Norsewomen that they are as dangerous as any team left in the Bergen County Tournament.
"We have to play like there's nothing to lose and come out fighting," said McGrath, who was in the circle as a sophomore when Demarest won the Group 2 state title. "We really put it together against Pascack Valley and Paramus Catholic earlier this week. Those games motivated us and it carried over into today's game. We're playing with confidence and we're peaking at right time of the season."
TO BUY A COLLECTOR'S PRINT OF THIS STORY PLEASE VISIT 4-FeetGrafix.com. FOR MORE PHOTOS FROM THIS GAME PLEASE CLICK HERE