Tommy Moran scored a career-high four goals for Wayne Valley, which gave up the first goal of the game and then nothing else in a 13-1 win at Clifton.
CLIFTON – After allowing more than 10 goals per game in a disappointing 5-13 season last year, Wayne Valley had to completely change its approach to the game. Opting for more of a defensive-minded, ball control approach, the Indians came into this season with most of the starting lineup returning and high expectations. But not even the Indians could have predicted what has transpired over the first three weeks of the regular season.
Wayne Valley been lights out since the first faceoff and Tuesday's NNJIL-Curcio Division tilt against Clifton was more of the same. Tommy Pelligrino scored four goals, including the 100th of his career. Tommy Moran added a career-high four goals amid an outstanding defensive effort as Wayne Valley shut down Clifton over the final three-and-a-half quarters in a 13-1 romp on Tuesday afternoon at Clifton High School.
"We have a whole new atmosphere here and it's showing up with the way we've been playing," said Pelligrino.
Clifton (4-3) was off to a good start of its own this season and came out the hungrier team in the opening minutes. Joe Walker collected a ground ball from between two Indian players, got around another defender and scored to put Clifton in front, 1-0. Normally that would just be a blip in a 48-minute game but Wayne Valley head coach Robert Glander felt he had to call timeout and set the tone.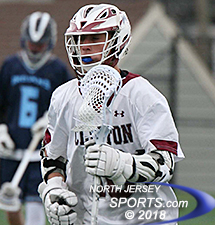 Joe Walker's early goal gave Clifton a 1-0 lead.
"We've been preaching to worry about us and get our job done," said Glander. "I thought we weren't in control for those first few minutes and we had to start dictating the tempo of the game. Our defense really got us going and they bring it every game."
The Indians responded right off the draw with long stick middie Danny Dentinger scooping up the loose ball and racing all the way in to score the tying goal. Later in the opening stanza, Moran scored the go-ahead goal off a nice feed from Cole Drozjock. The turning point of the game came in the waning seconds when Mark DuBois ripped a shot through traffic into the lower left-hand corner with four seconds left to give Wayne Valley a 3-1 lead.
After a relatively even first quarter in terms of possession the final three quarters were all Wayne Valley. Once again the Indians struck in the final seconds of a period to maintain momentum. This time it was Pellegrino scoring off of a pass from Moran to give the Indians a 5-1 halftime lead.
"Our motto throughout the season has been 'no excuses.' We had to honor that," said Moran. "We couldn't let the cold or Clifton dictate what we wanted to do. After a tough start we had to step it up and be more aggressive."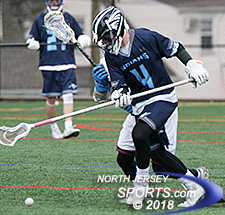 Danny Dentinger scored a goal and also helped Wayne Valley keep clifton scoreless for the final three-and-a-half quarter.
Led by Dentinger, Michael McConeghey, Jack White, and Canon Coyle the Indians' back line absolutely smothered the Mustangs over the final three quarters, allowing just two shots in the second and third quarters. Moran scored his third and fourth goals of the game to make it 9-1 and put the game away.
The only suspense left was whether Pelligrino would score his 100th career goal. The senior attack did just that with 7:34 to play as the Indians stayed undefeated.
"Feels great to score my 100th goal, just have to thank my teammates for making that happen," said Pelligrino on his milestone goal.
Kyle Cavill and Reagan Cappozoli also scored while Nick Beninati made four saves in net for Wayne Valley (7-0). After having a leaky back line a season ago, the Indians have morphed into one of the top defenses in the state having given up just 1.71 goals per game. In their seven games they have given up more than two goals in a game just once, and that was in the season opener (a 4-3 win over Jefferson).
"I'm confident in what this team possesses and what we're capable of moving forward," added Glander. "Together we have a common goal and we're working hard to achieve those goals. We've gotten better each and every game. As well as we've been playing recently I don't think we've peaked just yet. There's still a lot of room for improvement and we'll keep working hard."
TO BUY A COLLECTOR'S PRINT OF THIS STORY PLEASE VISIT 4-FeetGrafix.com. FOR MORE PHOTOS FROM THIS GAME PLEASE CLICK HERE