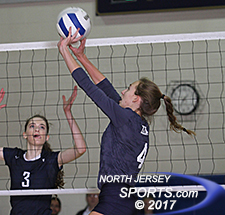 Julia Morris handed out 30 assists for top-seeded IHA, which advanced to the Bergen County Tournament final with a 25-13, 25-16 win over No. 5 NV/Old Tappan
OLD TAPPAN – Heading into the Bergen County Tournament semifinals on Friday night, IHA head coach Maria Nolan had to talk her team back off the ledge. Rather than a motivational speech, Nolan needed to tell her team to tone it down a little bit.
"Actually, I was worried because they were so pumped to play Old Tappan. In the huddle before they went out there I told them, 'You need to settle down when you get out there," said Nolan. "They were so riled up."
The Blue Eagles had reason to be fired up. Old Tappan has won the Tournament of Champions in each of the last two seasons and both times the Golden Knights beat IHA in the season's final match to claim the No. 1 ranking in New Jersey, not according to polls or rankings but as decided on the court. Old Tappan also beat IHA in the 2015 Bergen County Tournament final.
"This game was extra special for us because of what happened in last year's Tournament of Champions final when they beat us," said Anna Morris, IHA's sophomore middle blocker. "We knew we couldn't let up at all because we know how good Old Tappan is and they were kind of on a roll coming into tonight."
Fifth-seeded Old Tappan, a team that has reinvented itself after losing Julia Passante to injury early in the season, was impressive in its quarterfinal win over No. 4 Ramapo and had lost just twice all season coming in, but a motivated and talented IHA team played like the No. 1 seed right from the get-go. The Eagles took control right from the start in a 25-13, 25-16 win that puts them into Sunday afternoon's county final against Northern Valley/Demarest, the No. 2 seed that beat Pascack Hills in straight sets in the other semifinal.
"With our five seniors I think we have the strongest team that we have had here in a while and we feel like this is our year," said Morris. "We lost to River Dell in the county final last year, so now we have a chance to go back there and try to win it. We are expecting a good game, but we are confident and we are looking forward to it."
Over the years, the best strategy against IHA, a program that seems always to be stacked with a bevy of offensive options that can score points from anywhere along the front line and even from the back row, is to dig up some blasts, draw the Eagles into long point situations and hope to force some mistakes at the end of rallies. The problem with that approach on Friday night was that IHA was just as effective on the defensive side as it was on the attack and Old Tappan was never able to gain any kind of momentum.
"We thought had a little bit of a strategy that might work going in, but it was tough to execute. They certainly made it difficult to do what we wanted to do. IHA just played an outstanding game," said Old Tappan head coach Melissa Landeck. "They blocked really well, which I think really affected us tonight."
The start of the second set was closer as Old Tappan stayed within two or three points for the first half of it. The Knights were still hanging around, trailing 16-14, when IHA senior Sydney Taylor got hot. She hit two boomers from the outside to double the advantage and then Morris, put down two kills from the middle of the court to cap a 4-1 spurt that put the Eagles up 20-15.
Morris added two more kills and a block to make it 23-16, Kaela Wong then served an ace to give IHA the only match point it needed before senior setter Julia Morris pushed one into an empty spot in the back to officially give the Eagles their spot in the county final.
IHA was in such a groove that Anna Morris led with nine kills from her middle blocker's spot and Taylor had a team-high three blocks from her outside hitter's position to go along with eight kills. Julia Morris handed out 30 assists and senior libero Erica Timpanaro finished with 12 digs for the Eagles, who improved to 32-1 on the season.
"I felt like we were really connected, that our hitting was on. We have been working on where to hit to not just for Old Tappan, but in general, and we did a good job," said Nolan, whose team is looking for its first county title since going back-to-back in 2013 and 2014. "Whether you play Old Tappan or Demarest it is always a good match because everyone comes ready to play and it is always a good match. You have to be on your game. So what do we do (against Demarest on Sunday)? Hopefully a lot of the same as what we did tonight because we had it together."
In most years, a semifinal exit from the county tournament would be a disappointment for Old Tappan (14-3) but this year there are extenuating circumstances. While not exactly cracking a smile after the match, Landeck could see the bright side for her team, which lost an All-State quality talent in Passante and still rallied to make the Final 4 in the Bergen County Tournament, the toughest tournament in the state including the state playoffs and even the Tournament of Champions.
"We certainly don't make excuses. The goals remain the same, but I think if you ask a lot of people if Old Tappan would have been playing tonight with the injuries we have had and whatever, I am sure that there would be a lot of people that would have said no," said Landeck. "Credit to my girls. They believed that they belonged here, they worked hard to get here and I think they deserved to be here. Although we did not come out with a win, I think we played IHA as tough as I have seen a lot of people play IHA."
TO BUY A COLLECTOR'S PRINT OF THIS STORY PLEASE VISIT 4-FeetGrafix.com. FOR MORE PHOTOS FROM THIS GAME CLICK HERE!