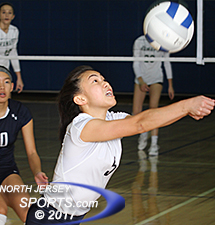 Senior libero Lizzie Chu finished with 12 digs for fifth-seeded Old Tappan, which hustled its way to a 25-20, 25-22 win over No. 4 Ramapo in the quarterfinals of the Bergen County Tournament.
OLD TAPPAN – Northern Valley/Old Tappan played perhaps its best match of the season in a 2-0 (25-20, 25-22) victory over No. 4 seeded Ramapo in the Elite Eight of the 43rd Annual BCWCA Volleyball Tournament Tuesday night.
"It was one of the best games we've played all season," said Old Tappan coach Melissa Landeck. "One of our best executions of a game plan. You talk about the strategy you want to have with certain teams and it's great to practice it and say it. But then to go out there and execute it under pressure against a high-caliber team such as Ramapo, I was just very proud of the girls."
The No. 5 seeded Golden Knights jumped out to an 8-2 lead in the first set. They were trailing, 2-1, when junior Camryn Monfried stepped to the service line. Six serves, including four aces, later Old Tappan had a lead it would not relinquish for the rest of the set.
"We really worked on consistency in practice because we were a little off and on with our serve," said senior co-captain Lizzy Chu. "We were really trying to go for it which was really good but our percentage of in and out was kind of low. So Landeck really pushed serving - over and tough and into our spots in practice the last couple of days. It translated into today with Camryn (Monfried), Kelly [Chen], Gianna [Fasano] and Chrissie [Chu] - everyone had a great serving day."
Ramapo fought back on the backs of their superb outside hitters, seniors Gretchen Kincade and Elena Montgomery, who each had five kills in the first set.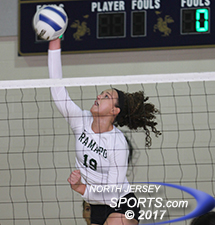 Senior Elena Montgomery finished with a match-high 14 kills for Ramapo.
"I've been playing with Elena and Gretchen for three years - with them and against them," Lizzy Chu said. "It's always a fun game against Ramapo. They're always going to hit as hard as possible, dig as many balls as possible. Defense wins games. That's what we always pride ourselves on. Camryn and Gianna stepped up today because Elena and Gretchen were really going at it relentlessly. It was really great to see them digging those balls."
The Green Raiders nearly caught up with a kill by Kincade to make it 14-13, but Knights senior Alexandra Trouilloud smacked a kill to boost the lead back to two. Then Montgomery scored on a well-placed kill, but Monfried pounded a kill and after a Raiders attack error, tallied another ace to give Old Tappan a three-point lead, 18-14. From there the Golden Knights outscored the Green Raiders 7-6 to close out the set.
"Our hitters had such a great day," said Chen. "Sometimes when your hitters aren't doing that well you're unsure who to set, but I felt I could set anyone and I had no doubt if they were going to make an error or not - because I knew they weren't. It was such a great day overall for the team. We were zeroed in and focused from the start, from warm-ups to finish."
In the second set the two teams battled back and forth and there were 10 ties and 13 lead changes.
The Golden Knights took a three-point lead, 10-7, on a kill by Monfried, but Montgomery crushed three straight kills, including a blast that ended a looong rally.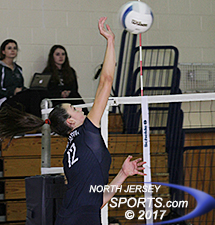 Camryn Manfried had 6 kills for Old Tappan, which improved to 14-2 on the season heading into Friday's semifinal against IHA.
"There were a lot of long rallies and we didn't quit on defense," said Landeck. "The defense of Lizzy, Gianna Fasano, Camryn and Kelly Chen was outstanding today. The girls in the front row were working on getting touches just to slow it down for our defense. We knew it would be hard to block their players due to the height advantage but we thought if we could just get a touch we could slow it down. Alex Trouilloud, Katie Ellingham and Crissy Chu did a really nice job of that."
Back-to-back kills by senior middle Corinne Dougherty broke a 15-15 tie and gave Ramapo a lead, which ended when Knights junior setter Kelly Chen blasted a kill to tie the set, 21-all.
In addition to the blast, which Chen said she "had to take because the pass was perfect," she also had two "dumps" for points.
"When I first started becoming offensive," she said, "it was the 'dump' shot. I had seen it before so I thought I would experiment with it. Now that I see how much of a weapon it can be for our team - it keeps the other team off guard - it gives a better option for the hitters on our team. If they begin to key on me it leaves single blockers on our outside hitters. It helps my timing too. Now I know when to do it and when not to do it. When I dump it's when everyone is kind of scrambling and are off guard."
Trouilloud gave Old Tappan a one-point lead, 22-21, with a well-placed kill.
"Our defense and the setters help out a lot with telling me where to tip and where to hit," Trouilloud said. "Lizzy came up to me and said, 'tip to four there's an open spot.' So the next two kills that I got were out to four. And then I got to the bench and Julia [Passante] said, 'there's an open spot on deep five. So the next two kills I got were off of those. With such a big block on the other side it's hard to hit as you normally would so we found kills by targeting spots."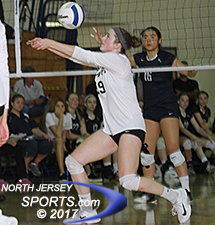 Caroline Smolenski had 23 assists for Ramapo, which fell to 13-2 on the season.
After Montgomery tied the set at 22 with her 13th kill of the match, Monfried and Fasano scored to give Old Tappan a match point, 24-22. Ramapo called its final timeout and right afterward, Knights' senior Nina Curko served the ball to Ramapo. The Green Raiders sent the ball back over the net, where it was set for Fasano. Fasano belted the ball and when it was dug out by the Raiders defense it flew up and hit the ceiling, deflecting away from the Ramapo defenders and ending the match, 25-22.
"This definitely boosts our confidence so much," Trouilloud said. "In other games if we lost we might play scared a little bit [in the next game]. Now that we've come out with a win I think we'll come out with even more confidence in the next game. But we have to remember not to be too cocky because there are always going to be great competitors and we have to bring our all to every game."
The Golden Knights played a clean match, making only two attack errors, while combining for 21 kills by five different players. Monfried has six kills, while Fasano and Trouilloud had five each.
"I don't think we've ever passed that well," said Chen. "It's a credit to Landeck and to our whole team. Every day we come to practice being ready to work, sort of knowing every contact matters. We focus on that a lot. We don't just go through the motions. Every single thing we do on the court has a purpose to it and it really translated well into this game. Because of that it allows the setters to run their offense freely."
The Golden Knights improve to 14-2, while Ramapo falls to 13-2. Old Tappan moves on to play Immaculate Heart Academy Friday at 6:30 p.m.
"We had some really good practices before we came and I think that's what really helped us today," said Trouilloud. "When you practice something over and over it's easier to pull it out in a game when you're so stressed because you have so much respect for the other team. I also noticed that we weren't as scared, especially in the first set. In other games we've been losing the first set and coming back later. In this game we were so calm and confident. We just decided to come out with our full force in the first game, instead of waiting."
TO BUY A COLLECTOR'S PRINT OF THIS STORY PLEASE VISIT 4-FeetGrafix.com. FOR MORE PHOTOS FROM THIS GAME CLICK HERE!