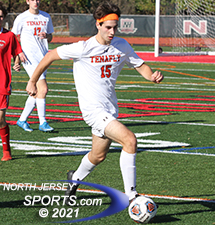 Senior defender Gavi Vidra headed home a goal just 5:19 into the game to give Tenafly the lead for good in a 2-0 road upset of Northern Highlands in the first round of the North 1, Group 3 state sectional tournament.
ALLENDALE – Sometimes when a defender ends up inside the penalty box on the opposite side of the field from where he is accustom, the result might not always be a work of art. Tenafly's Gavi Vidra is one such defender and he rose to meet a cross sent in by Jack Neuman, also a defender who moved up to take the restart on the left side and about 35 yards from goal.
"I rely on my teammates; I relied on a good cross from Jack Neuman. He sends great crosses to the back post and I found my way in there," said Vidra, one of 13 seniors on the Tenafly roster. "And then I kind of face-planted the ball into the net."
That face-plant, as Vidra termed it, came just over five minutes into the game and it set the stage for a state tournament upset. Tenafly, the No. 13 seed, went on the road and knocked off No. 4 Northern Highlands, 2-0, in Allendale on Monday afternoon.
The defender to defender connection was no coincidence.
"We do a lot of work with our outside backs and I think you see that throughout the course of the game. Jack [Neuman] laid in a great ball, Vidra headed it right and cleaned it up," said Tenafly head coach Bill Jaeger. "We have talked about it early on; the need to attack a ball. That is something we have not done as well all season, but it was win or go home and Vidra got in there and sold himself in the box."
The early goal was a sea change from the last time these two teams met, a convincing 3-0 Highlands victory in the Bergen County Tournament. With the lead, Tenafly could pick and choose when to get forward instead of opening itself up, which would have been dangerous with a player like Ty Pennington always lurking up top for the Highlanders.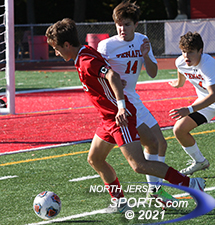 Northern Highlands senior Ty Pennington was a handful for the Tenafly defense.
Pennington was dangerous at times, but Tenafly paid close attention and pushed him to the flanks as much as possible to turn him from finisher to distributor. Even with the loss of senior defenders Noam Mermelstein and Rodi Adar to recurring injuries during the game, Tenafly stayed organized in the back.
Junior central defender Felix Quiros Keller was a vital contributor to that effort.
"The last time [played them] we went home almost embarrassed because we did not put out the kind of performance that we should have. The result showed us as a team that we definitely are not," said Quiros Keller. "We showed today what type of team we really are. Every player on the field knew their offensive and defensive duties and we came out here with fight today. A crucial part of our team is how the midfield holds and today the midfield held really well. Highlands likes to switch the ball and get it wide, but every time they tried our wide midfielders were there to clean it up."
Highlands' best chance to score in the first half might have been a penalty in the box that was not called as Pennington was grabbed in the 21st minute, but the game was refereed consistently and contact, doled out by either team, was not strictly prohibited.
Highlands ramped up the pressure out of the halftime intermission and Pennington was again the agitator as he dribbled through and forced a pile-up in front from where he hooked a shot around a falling defender only for Tenafly keeper Roman Segui to make the save. The Highlanders were the aggressors as they pushed for the equalizer, but that did not mean that Tenafly just sat back and absorbed the pressure. The Tigers were always looking to counter and the give-and-take morphed into the final plot twist.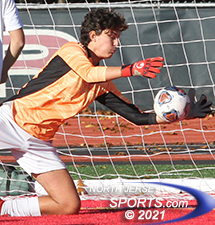 Roman Sequi making the best save of the day for Tenafly, which will play Pascack Valley in the quarterfinal round on Thursday.
With just over eight minutes to play Kevin Tellez Cano took a step forward to break up a Northern Highlands rush, won the ball and touched it quickly to freshman Nicholas Vaimakis, who moved it along to Esteban Velasco inside the center circle. With Highlands so advanced, Velasco just needed a short touch out wide to the right to spring Noam Raz, who went in 1-v-1 against Highlands keeper Wyatt Cosgriff, who was left exposed. Raz went low left to make it 2-0 with 8:09 left in regulation.
At the other end of the field Highlands' day could be summed up by one sequence of events. Will Koo won an angle deep on the right and fired in a quality cross that he put right on the noggin of Pennington, who had a free header between two defenders. Pennington did his part by nodding the ball down and on frame, but, even with the blazing sun directly in his line of vision, Segui plucked Highlands' last shot of the game out of the air with 6:37 left to play.
"Everything was moving so fast and I tried to react quickly. I saw the ball dipping in off the cross and the guy [Pennington] headed it. I got there first with my fingertips and then managed to hold on to it and keep that clean sheet," said Segui. "Felix [Quiros Keller], Noam [Mermelstein], Christian [Carrillo], Jack [Neumann], Danny [Vesga], Rodi [Adar], Gavi [Vidra]; all of them played phenomenally today and there would be no clean sheet without all of those guys doing their jobs in front of me."
Tenafly has 13 seniors on the roster, so the sun is going to set on a bunch of high school careers in the not too distant future, but Monday was not that day as the Tigers advance to take on 12th-seeded Pascack Valley, an upset winner over No. 5 Garfield, in the North 1, Group 3 quarterfinals. That game will take place on Thursday in Hillsdale.
"We get to play in another big game and we know it is going to be a tough one because the team we are playing is also coming off a huge win," said Quiros Keller. "We are going to have to play as well as we did today or probably even better to get another win and keep going."
FOR MORE PHOTOS FROM THIS EVENT PLEASE CLICK HERE. TO BUY A COLLECTOR'S PRINT OF THIS STORY PLEASE VISIT 4-FeetGrafix.com.