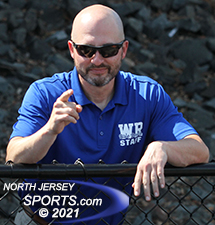 After a stint as the principal at Wood-Ridge High School, Joe Sutera has taken over as the athletic director at Dumont.
DUMONT – Some are moving out, some are moving over, some are moving in and others are on their way back. Established athletic directors and aspiring ones have changed places at such a rapid pace in the last couple of months that the landscape of North Jersey high school sports can't help but change.
Long tenured AD's like Northern Valley/Demarest's Greg Butler, Northern Highlands' Bob Williams and Pascack Hills' Phil Paspalas have all stepped away while other long-timers have not officially announced their exit dates but are expected to follow shortly.
"There is definitely a big change over happening in Bergen County with athletic directors. Like any other profession, there comes a certain time where one generation reaches their limit and there is a new wave coming in," said Butler, who has spent 37 years in total at Demarest and more than a decade as AD. "High school athletics are very important in society overall, they are important to every player and family that take part and there are so many challenges as they continue to evolve. We have seen the rise of club sports and competition in general and things are changing, but this new group of athletic directors coming in will bring their own ideas and will meet the challenges and continue to move high school sports forward."
Butler, who will stay on through the fall season to ease the transition, leaves two open positions. His role as athletic director at Demarest is being filled by Mike Oppido, who heads up Knickerbocker Road after a successful stint in the AD's chair at Dumont High School. Butler's role as the Tournament Director of the Bergen County Baseball Tournament was assumed by Joe Sutera, a long-time baseball head coach who was then the principal at Wood-Ridge High School. As the carousel started spinning, however, Sutera wanted back in the game full time and was recently appointed as Dumont's new athletic director.
Oppido, a Wood-Ridge High School graduate and former AD and vice principal at his alma mater, spent seven-and-a-half years as the Dumont AD and oversaw almost a complete overhaul of the athletic facilities in the district. There are new baseball and softball venues, the on-campus football/soccer stadium is top notch, the gym has been upgraded and there have been other physical plant initiatives.
It was in a refurbished and well-cooled office deep inside Dumont High School where Oppido and Sutera talked about their new gigs and what comes next for each of them and high school sports.
"Even if you take the pandemic piece out of it, and that is a whole other subject in terms of students' mental health and well-being, high school sports are so much different than they were even as little as 10 years ago. It's just a different environment," said Oppido. "I think we are in a time now where one of the most important things is to support your coaches. If you don't, you are not going to have good coaches. Moving to Demarest I am going to have the opportunity to work with Beth Powell, one of the best volleyball coaches ever in New Jersey. She has been so successful and if I did not go in there and give my full support to someone like that, she might just say, 'I don't need this. I am out of here.' And if that happens then how many kids would not have the opportunity to play for her and learn from her? If you go in and back your coaches you wind up with a very good athletic program."
Oppido, a Felician University graduate, first became an athletic director at Wood-Ridge in 2011 before moving on to Elmwood Park in 2013 and then to Dumont in 2014. Sutera's resume in Bergen County athletics goes back even further. He was an assistant coach on the Rutherford team that won the Bergen County Baseball Tournament back in 2001. He won two section titles as the New Milford head coach in 2004 and 2005 and also won a Group 1 state championship, the first in that school's history in any sport.  
He was also the head coach at Elmwood Park and Glen Rock before being named the athletic director and vice principal at Wood-Ridge in 2014. By 2016 he was an administrator only, but switched paths when the AD's job opened at Dumont where his three sons – Joe, James and Thomas – will all come through over the next several years. Joe will be a freshman when school opens this week and will be one of the many student-athletes Sutera hopes will have positive experience in orange and brown.
"High School athletics have always been important, but I think now more than ever it affords opportunities that these kids need. It's an outlet that is really important at this time in our society," said Sutera, also a co-host on Talkin' Baseball, northjerseysports.com's original multimedia series that will continue despite the job switch. "Some people might look at it as a step back because of the title, but I don't put much stock in titles. My decision was the best decision for me. I owe Wood-Ridge a lot because they gave me my first chance to be an administrator and I enjoyed being a principal, but I was one of those guys that always had my eyes on what was going on in athletics. When I walked up to the field the other day and saw my son out there with his friends at practice and knowing that I was going to have the chance to watch this group of kids develop and grow, it was a no-brainer and I am just glad that Dumont has given me this opportunity. I am so appreciative."
If Dumont is so great, then why did the previous AD exit?
"They have been great to me at Dumont. I told them very early that I was going to go through the process [of interviewing at Demarest] and a big reason why I wanted to was Greg [Butler]. He has been a mentor and friend throughout the years and I knew how much he cared about Northern Valley/Demarest," said Oppido. "I know how hard it was for him to step away and it was just such a great opportunity to carry on what he has going there. It is the only place I would have left Dumont for and I really mean that. Demarest is a first class school district in education and athletics and I am really looking forward to getting started."
Not everything needs to change, however. In some places, a couple of tweaks and personal touches added to a stay-the-course mentality are what is needed. At least that is the plan at Pascack Hills where Steve Papa has taken over for Paspalas, but has the advantage of having been inside the program for a long time. Papa was the athletic trainer for the better part of two decades and enters his new job with a clear idea of the needs of the athletic department as a whole.
"Taking over for Phil is not easy. He set a standard here, one that I have always been onboard with and that I hope to continue to live up to," said Papa. "This has been my dream job for a while and I want to continue to expand on what Phil has already built. The goal here has always been to help with the long term success of our student-athletes, our coaches and the athletic department as a whole and I want to continue to keep those high standards."
While the old guard leaves a void and their experience and abilities will be missed, high school sports in Bergen County are in a good place in terms of leadership even if the landscape is constantly changing. There are plenty of examples.
Sutera and Mike Carcich have made a seamless transition as heads of the Bergen County Baseball Tournament, Palisades Park AD Joe Spafford put in a solid three-year shift as the president of the Bergen County Coaches Association, Marc Sinclair, a graduate of East Stroudsburg University, who took over for Sutera as the Wood-Ridge AD, has helped oversee the facilities upgrades that have made the Group 1 school district the standard to aspire to.
"We can't lose sight of what the benefits of high school sports are to the kids that play them and the coaches who put in all of the time. The greatest thing is when those kids that you coached or those kids that you were associated with come back years later and say, "Hey coach, remember when this happened?' Or when they get in touch because they remember what high school sports meant to them. That is the best," said Sutera. "We need to keep that in mind with everything we do. We need to keep providing those positive experiences for those kids because high school and high school sports specifically are such a big part of their development as people."
TO BUY A COLLECTOR'S PRINT OF THIS STORY PLEASE VISIT 4-FeetGrafix.com.