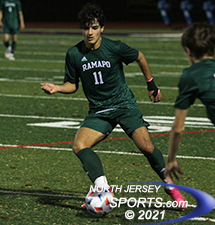 Alim Lita scored the lone goal early in the first half and Ramapo then held on for a 1-0 win over Ramsey in the Bergen County Tournament final on Saturday night at Indian Hills High School.
OAKLAND -- For about the first 10 minutes of the Bergen County Tournament championship match Ramsey ceded ground. If Ramapo wanted to keep the ball moving on the carpet along its backline and build up a possession advantage without really getting forward then the Rams were fine with that.
It was not too long after that, however, that Ramapo scored a deflected goal and Ramsey decided that there would be not one of the playing surface at Indian Hills High School that would not be fought for in Saturday night's Bergen County Tournament championship match.
"In the second half, especially, they unwound us and that is a credit to Ramsey," said Ramapo head coach Evan Baumgarten. "They got great opportunities by driving balls in, by us fouling because we weren't keeping up. They were serving balls in and they made it real difficult for us."
So with Ramsey was pressing hard and Ramapo hanging on for dear life, it was a contest worthy of circumstances. When the final whistle blew it was Ramapo's players that sprinted to celebrate with the student section that filled a section of the stands while Ramsey's crew dropped to the turf in understandable exhaustion, having fallen just short of the program's first-ever Bergen County title.
Ramapo won the 14th county title in the history of its boys soccer program and the 12th under Baumgarten, 1-0 in Oakland.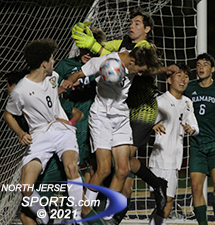 This is what most of the second half looked like, traffic in front of the Ramapo net, but the Green Raiders held on for a 1-0 victory over Ramsey in an entertaining Bergen County Tournament championship match.
"They had a good long throw and they were really aggressive and I had to come out and punch or grab everything I could," said Robert Achter, Ramapo's junior goalkeeper who played the second half and split the clean sheet with Antonio Spina. "They put us under a lot of pressure, but all of the guys on our defense did a good job of clearing balls out when I could not get to them."
There was one two minute stretch starting when there was just about 12 minutes to play in the game when Ramsey had four restarts in rapid succession and all of them tested Achter and his backline. Christian Bender launched a long throw into the mixer to get the party started and then there were three straight corner kicks as Ramapo struggled to win possession and clear the ball out.
Patrick Weir, Vincent Tredici, Edward Ko, Peter Soldano, Kristian Hernandez and others flung themselves into the pile in front of the Ramapo goal looking for that decisive touch and the game-tying goal and came so tantalizingly close.
"It's a good group of boys. They get it. They have to work, they have to earn everything and as the season has gone on they have gotten better and better," said Ramsey head coach Cesar Blacido. "It stinks, this is not the result we wanted, but I am happy with the way the boys played and moving forward we will shift and look forward to [the state tournament] now."
Over the final 40 minutes of the game especially, Ramsey had the statistical advantage and the Rams put 10 shots on goal to Ramapo's 1, but the Green Raiders made theirs count and that was the difference in game.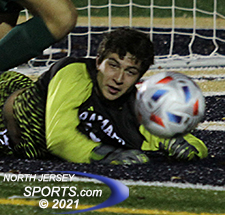 Ramapo sophomore Antonio Spina made a couple of standout saves, including this one, in the first half.
Amir Lita scored it and explains how it happened: "When you are surrounded by a great group of players like I am you are going to get chances and that was a bog one. Me and Darias [Redzematovic] had the little combination at the top of the box, I struck it, it took a deflection and it went in," said Lita, a senior. "It was on frame and I think it might have gone in anyway."
After it did go in it was all about defending for Ramapo, which is still undefeated on the season at 15-0-2. Jayden Onal, Nick Marino, Cole Dushang and Daniel Costa stood up wave after wave of Ramsey pressure down the stretch and not to be overlooked were two outstanding first half saves by Spina, the sophomore who splits time with Achter.
Spina turned away a George Haskell free kick from 30 yards out in the 34th minute, climbing the ladder to knock it out of the upper shelf and he also went low to make the initial save on a Tredici cracker before Marino won the race to clean up the rebound.
There is much that Ramsey can take from Saturday night's effort into the state tournament where it is the top seed in North 1, Group 2 with a home game against No. 16 Jefferson in a quick turnaround on Monday.
"We have been preaching all year to be better the next game no matter what [the outcome] of the game before," said Blacido. "We are disappointed and tonight we will let ourselves be disappointed, but tomorrow we turn the page and we get back to work."
Ramapo has to turn the page, too. A county championship in hand, it is time to start its next journey toward a state sectional championship and that starts on Monday as the top seed at home against No. 16 Wayne Hills in the North 1, Group 3 section.
"We worked hard in the preseason, we have worked all during the season and this [county title] is just a little reward for all of that," said Lita. "But this is not where we want it to end. We are not done yet."
FOR MORE PHOTOS FROM THIS EVENT PLEASE CLICK HERE. TO BUY A COLLECTOR'S PRINT OF THIS STORY PLEASE VISIT 4-FeetGrafix.com.