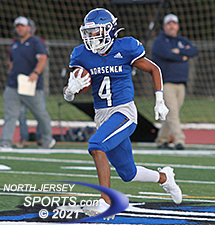 Demarest senior Karan Khemlani returned the opening kickoff for a score to spark a wild night that ended in a 41-35 overtime victory over Paramus.
DEMAREST -- There was a lot to take in over the three-plus hours that it took to play the season opener between Northern Valley/Demarest and visiting Paramus on Friday night. For one, the fans were back and Demarest's throaty student section made for an electric atmosphere for high school sports, something that was sorely missing during last season. Everybody was so pumped up that the national anthem was played twice in the pregame and things got progressively more interesting from there starting with the first kick of the ball.
The shortened version is provided by Demarest senior quarterback Andrew Argenziano.
"To go from up 14-0 without even touching the ball on offense to being down 35-27 with two minutes left to a late score with a two-point conversion and an [overtime]…it's unbelievable, really," said Argenziano. "My whole body hurts, but I feel good anyway."
It was a winding path to the extra session for sure, but once it arrived it was Demarest that made all of the big plays. Paramus (0-1) had the ball first in overtime, but its possession lasted just one play as Chris Short picked off a pass near the goal line to give the Norsemen the ball. A 23-yard hook-up between Argenziano and Sean Vadis on third-and-9 brought Demarest to the doorstep and Argenziano took it the final two yards himself to grab a 41-35 win and set off a wild on-field celebration that capped an opening night to remember.
"It was so important to win this game," said Argenziano. "We have been saying 'Beat Paramus' since June, so it was great that we were able to come through."
Short made a host of big plays for the home team, the last of which was the interception that gave Demarest the ball for the final time.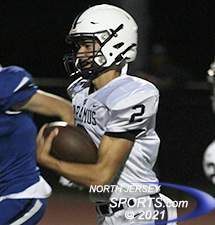 Paramus QB Corey Petruzzella ran for three scored and threw for two more.
"I saw the play coming, I followed the receiver and I jumped the route. I just wanted to make sure I held on to the ball," said Short, a junior who plays both ways in the offensive and defensive backfields. "Somebody had to make a play, we had to find a way to get a stop and I just wanted to get the ball to our offense so we could go win the game."
The frantic finish came after a marathon of back-and-forth football that lasted well into the night and started with Demarest's Karan Khemlani returning the opening kickoff for an 86-yard TD. Lincoln Sorenson added the extra point to make it 7-0 just 16 seconds into the game. Paramus was then forced to punt and Short returned that kick 78 yards for a second special teams score inside the first five-and-a-half minutes of the game.
It looked like it might be a tough one for Paramus, but the Spartans have a talented and unflappable left-handed quarterback in junior Corey Petruzzella and he brought his team back from the brink. Petruzzella hit Benjamin Agatone for a 15-yard gain to set up his own two-yard sneak that got his team, with Massimo Guacci's extra point, back to with 14-7 in the first quarter and then all even by halftime as his one-yard keeper with 3:46 left in the second quarter made it 14 all.
By the time the Norsemen trudged up the hill to their locker room at halftime, the momentum had clearly shifted to the visitors. The teams traded two third quarter TDs each with Petruzzella hitting Firaol Tulu for a 5-yard score and keeping for a two-yard TD for Paramus, while Short ripped off a 64-yard dash for Demarest's first second half TD and Argenziano lowered his head and bulled in from four yards out for the second.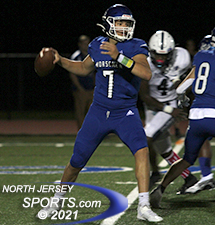 Andrew Argenziano ran in the winning scored in overtime for Demarest, which will travel to West Milford on Friday night.
A missed extra point, however, left Demarest trailing 28-27 heading into the fourth quarter and just less than four minutes in Petruzzella connected with Justus Diaz-Rinaldi for a 23-yard strike that extended the Spartans' lead to 35-27 and they forced Demarest into a punt on its next turn on offense.
"We had a lot of penalties that put is behind the sticks and that is not usually our M.O. and their quarterback gave us some trouble," said Demarest head coach Tony Mottola. "[Petruzzella] is tough, he runs the ball well and he is a lefty, which always makes things a little more difficult. We had to show resolve and battle."
The Norsemen caught a break when Paramus had a chance to pin them deep with a Gaucci punt, but was unable to keep the bouncing ball out of the endzone. That left Demarest 80 yards away with 3:45 left in the game needing a touchdown and a two-point conversion to get back even.
Demarest covered the ground quickly, in just three plays in fact, as Argenziano hit Khemlani for 25 yards, Vadis for 26 and then Short got the corner on the right side and raced 39 yards to the house. Argenziano ran in the two-point conversion to tie the game at 35 with 2:40 left and the Demarest defense came through to force a turnover on downs with 44 seconds left to play, enough time to take a few shots at the endzone, at least so Demarest thought until two calls went the other way on the same play.
On first-and-10 from his own 45, Argenziano had two defenders pulling him toward the carpet. He may have been down when he released a pass into the left flat and the ball might have hit the ground before Paramus' Liam Jones could secure it, but neither was recognized. Without replay there is no way to know if either of both calls were correct, but what is for sure is that both went the Spartans' way. Argenziano was not ruled down and Jones was given credit for the interception, but Paramus ran out of time before it could do anything with Demarest's lone turnover of the game.
Demarest won the toss, elected to play defense first and then Short stepped in front of the pass one play into the tie-breaker. Four plays later Argenziano ended the game and what used to be a tradition of how to enjoy a win.
"When you take the field in Group 3 with 28 kids on your varsity roster you never take any win for granted and definitely not a win like this one," said Mottola. "Here in Norsemen Nation the rule is usually that you get to enjoy a win for 24 hours. No chance. We are going to enjoy this one for the weekend, the full 72 hours and then we will get back to work on Monday."
Demarest (1-0) will hit the road for three straight games starting with a visit to West Milford on Friday night. The Norsemen will not return home until October 1 when they will host Nutley. Paramus will try to get win No. 1 on Friday night in the first of three straight home games.
FOR MORE PHOTOS FROM THIS EVENT PLEASE CLICK HERE. TO BUY A COLLECTOR'S PRINT OF THIS STORY PLEASE VISIT 4-FeetGrafix.com.