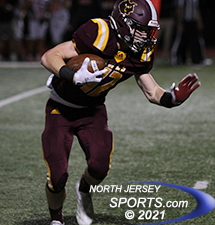 Kyle Bratcher scored one of Park Ridge's touchdowns for Park Ridge, which outlasted Hasbrouck Heights, 22-21, after a successful two-point conversion in overtime in the NJIC semifinals on Friday.
PARK RIDGE – Park Ridge head coach Tom Curry, Jr., was leaning toward going for the two-point conversion anyway, but when his players chimed in it became a no-brainer.
"I always have it in my mind to go for two and end the game," said Curry. "The fact that they were pushing me made me confident that it was the right decision.
Park Ridge had just scored to get two within one point of Hasbrouck Heights in a cracker of an NJIC playoff semifinal on Friday night and rather than play deeper into the night, a gaggle of the Owls' senior leaders turned lobbyists as they marched toward the sideline during a timeout.
"Coach Curry turned to us and said that the seniors have led this team all year and he asked us and we took a team vote," said Andrew Baskapan, who of those Park Ridge seniors. "It was kind of a unanimous vote."
"We were gassed," said Matthew Manning, who played a starring role in what happened next. "We did not want to go on the other side of the ball and go back on defense."
Senior Kyle Bratcher had more of a T-Shirt worthy response: "We were going to risk it for the biscuit. That was what we were looking for and that is what we did."
So the script was sketched out during that final timeout, but the ending was still unclear even after sophomore quarterback Cole Hughes took the snap and sprinted to his right as his receivers tried to maintain their spacing.
"That play is designed for Matt [Manning] to be on the goal line and me in the endzone," said Bratcher. "But when the game is on the line you have to improvise and that is what we did."
Manning made the adjustment.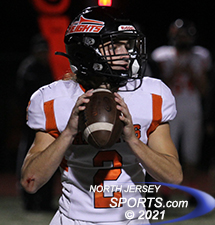 Hasbrouck Heights' Jake Diaz ran for two scores, threw for another and also had an interception from his spot in the defensive backfield.
There was a defender on the goal line so I moved toward the back of the endzone," said Manning. "Cole threw a little bit of a wobbler and so I caught it in my stomach and rolled over. I still can't believe that I caught that ball."
Manning did catch it for the winning points in a 22-21 victory that sends Park Ridge into the NJIC championship game where it will play Rutherford, a 20-8 winner over Waldwick/Midland Park, on the road next Friday night at Tryon Field.
All of that late game drama kind of came out of nowhere. The first three-and-a-half quarters were more like a chess match and then the back half of the fourth quarter and the overtime were more like a paintball fight in a phone booth…really wild.
Hasbrouck Heights (5-2) did not pick up even a single first down on either of its first two offensive possessions of the night, but on the first play of its third drive senior quarterback Jake Diaz won the corner and raced 91 yards up the left sideline for a score. Diego Mancini's extra point made it 7-0 Heights with 2:45 left in the opening quarter.
A Manning interception set up his own TD, Park Ridge's first score, on which he slammed it home on a 4th-and-one-inch from just outside the goal line to make it 7-7 with 6:00 left in the first half. The Owls grabbed the lead with a well-organized march late in the second quarter that was kept alive when Hughes hit Bratcher for 12 yards on a third-and-5 with 19 seconds left in the half and then the same pair hooked up on a crossing route with 9 seconds to go that gave the home team a 14-7 edge at the intermission.
The score was the same at the end of the third quarter and Park Ridge (7-0) looked like it was in good shape on its first drive of the fourth quarter. Hughes hit Baskapan for 19 yards on a third-and-13 and the march continued deep into Hasbrouck Heights territory, to the 19 in fact, before Luke Kest fell on a fumble to give the Aviators the ball back 77 yards from the tying score with 6:20 left in regulation.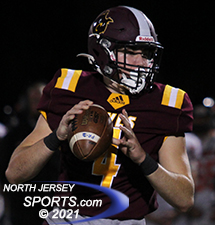 Cole Hughes threw the 2-point conversion pass that put Park Ridge into the NJIC championship game against Rutherford.
Diaz, a dual-threat quarterback who thrives in pressure situations, completed a pass for 31 yards on the first play of that crunch time drive and then finished it off with a scramble to his left and a lofted pass that Robert Boscarino snared at the back line of the endzone, getting one foot down in time to get Heights even at 14 with 2:38 left in the fourth quarter.
Diaz almost figured out a way to win the game for his team in regulation as he intercepted a pass with 1:59 to go, but Park Ridge's defense held up. The Owls won the toss and chose to play defense first in the overtime, then promptly fell behind, 21-14, when Diaz scored from one yard out on a keeper.
Park Ridge was down to its ride twice on its overtime possession, but Manning ran for a clutch first down on a fourth down play and then somehow caught that wobbly pass in traffic to account for all 8 points that the Owls needed to reach next weekend's final where they will look for the program's first-ever NJIC playoff championship.
"This is a fun tournament. I don't know what is going to happen in the state playoffs with the brackets. The teams change every year, teams get better and move up or down, but this is an exciting thing for teams in our [league] to be a part of," said Curry, whose team reached the final in 2019 before falling to Lyndhurst. "I feel like each game is better and better and it is really exciting. There is just a buzz."
Manning, Baskapan and Bratcher all played a sophomores in that championship game in 2019 and they are obviously looking for a different outcome this time around.
"Two years ago we got snuffed. We lost to Lyndhurst and that has put a chip on our shoulder the entire time since," said Bratcher. "Now we have a chance to get back there and do it over and we don't want to make the same mistake twice."
FOR MORE PHOTOS FROM THIS EVENT PLEASE CLICK HERE. TO BUY A COLLECTOR'S PRINT OF THIS STORY PLEASE VISIT 4-FeetGrafix.com.