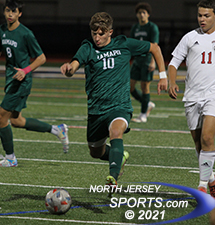 Daris Redzematovic scored the lone goal in a 1-0 victory over Northern Highlands that puts Ramapo in next weekend's Bergen County championship match against Ramsey.
RAMSEY – The year was 1986 and a then young Evan Baumgarten brought a Ramapo boys soccer team to the Bergen County Tournament championship match for the first time under his guidance. The Green Raiders won that year. Georgio Calderone scored the game's lone goal, Mark Panjawani kept the clean sheet in goal in a 1-0 overtime victory, the first county title of many for Baumgarten led teams.
Why is this information important now? It's not to remind the coach, who has over 600 career victories and has won 11 county championships in total, how long he has been around, but to illustrate just how enduring the rivalry between Ramapo and Northern Highlands really is.
Ramapo's opponent in that county final 35 years ago was Northern Highlands and its opponent in this season's semifinal round was, of course, the Highlanders. The roads to league, county or state almost always lead through each other for both proud programs and the latest round went Ramapo's way, a well-earned 1-0 victory on a rain-soaked Saturday night at Ramsey High School.
"First off, whenever Highlands plays against Ramapo they always bring a lot intensity, a lot of effort and there is no such thing as an easy game," said Baumgarten. "We really had to keep a close eye on #25 [Ty Pennington]. He has the ability to breakout and create great things for them. He's a handful, a very talented player and a real challenge for our guys."
Kyle Feltmann nearly got Highlands even with a crafty floater with 10 minutes left in regulation.
Ramapo's designated defenders played well when called upon for sure, but their load was lightened by the 11-man unit working as one to keep the ball on the carpet and in its possession. Northern Highlands had to work hard to get on the ball, was closed down quickly when it did and was forced to do a lot of chasing to try to get it back.
"I feel like we really just played as a team. When we move it quick we get the other team running and that is what I think we did well tonight. We stayed together," said Daniel Costa, Ramapo's senior defender. "These are the games that we love to play. We know Highlands is going to show up, we know it is going to be a close game. We love these battles and that what tonight's game really was; a battle."
Highlands' defense was solid as well and stood up to the combination play that Ramapo was throwing at it all night. The senior trio of Daris Redzematovic, Sam Ware and Alim Lita all took turns in dangerous situations and MJ Dungo was dangerous in trying to slip down the channels with attention turned elsewhere.
Redzematovic fired the first real warning shot at Wyatt Cosgriff, forced Highlands' senior keeper into a dive to keep out a skipping worm burner struck with pace from 30 yards out in the 10th minute. Four minutes later, Redzematovic sent a ball out to the right for Ware, whose first touch was a precise cross that rattled around in the goal mouth. Lita nearly got a finishing boot to it, but it was cleared away from trouble by Highlands's Derek Madonna.
Lita threatened again with the 10 minutes to go in the first half when he bent a free kick around the wall and toward the upper shelf only to see Cosgriff get up there in time to pick it out and preserve the scoreless draw into halftime.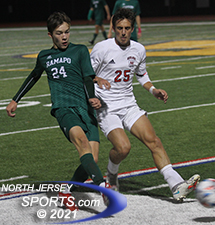 Jayden Onal (left) had the assist for Ramapo, which improved to 14-0-2 on the season.
The rain intensified late in the first half, stayed steady through the intermission and was still falling fast when Redzematovic finally pushed one over the goal line. Jayden Onal's service from the right flank made it to the back post where Redzematovic was waiting to nod it home with 32:08 remaining in the game.  
"The team did a good job of sticking with the ball and moving it from side to side to try to get them unbalanced. We had a couple of chances and we tested the keeper from out[side], but we had to find a way to shorten the space to goal," said Redzematovic, who was just a step or two from the goal line when he headed in the game's lone goal. "The ball came down off a free kick and I just kept my composure and put it in the back of the net."
Cosgriff came up with a couple of quality saves to keep his team right on Ramapo's heels. He came out smartly and strongly to break up chance for Dungo, who was sent in by sophomore Albert Carilli in the 66th minute. Cosgriff kept Dungo from making solid contact and then made himself big enough in the resulting scramble to force Carilli's rebound attempt to an angle that would carry it over the crossbar.
An optical illusion made it look like Highlands had gotten even in the 70th minute when Kyle Feltmann's attempt to chip the keeper made it over Robert Achter's outstretched gloves, but landed harmlessly on top of the goal as the net rippled. Achter was not particularly busy, but he did not have the night off. Ramapo's junior keeper made the best of his three saves in 75th minute when he slid out of a kick save against Jack Bart, who was less than step away from a legitimate opportunity on the doorstep.
The final whistle blew not that long after and Ramapo (14-0-2) secured a spot in the county final for the 16th time under Baumgarten and it should be a doozy. The Raiders' opponent will be Ramsey, which knocked off a non-public school power for the second consecutive week. The Rams beat Bergen Catholic in penalty kicks last week and then did the same too Don Bosco Prep, the parochial school within its own borders, in front of a jam packed audience in the first semifinal on Saturday.
The championship match will be played on Saturday at Indian Hills High School with a 6:00 p.m. kickoff.
"We playing close to home at Indian Hills and we don't expect anything other than a tight match," said Redzematovic. "We are hoping for a good result, but we know anything can happen in this tournament and we are going to have to play our best match."
FOR MORE PHOTOS FROM THIS EVENT PLEASE CLICK HERE. TO BUY A COLLECTOR'S PRINT OF THIS STORY PLEASE VISIT 4-FeetGrafix.com.