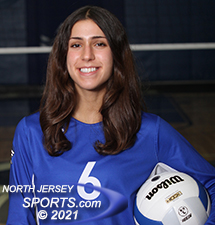 Senior setter Olivia Cammalleri handed out 20 assists for Demaerst, which improved to 8-0 on the season with a hard-fought 25-20, 25-22 victory over rival Old Tappan.
OLD TAPPAN - NV/Demarest remained undefeated with a hard-fought, closely-contested 2-0 (25-20, 25-22) victory over district rival NV/Old Tappan Wednesday afternoon.
"It is a pretty big rivalry in our area so everyone always gets hyped up for these types of matches," said Demarest junior middle blocker Gianna Galli.
The first set was tight as the teams traded points early on. Old Tappan took its first lead of the game, 15-14, on a block by sophomore middle blocker Layla Giordano, one of the many young players in the Golden Knights' lineup.
After a timeout, a rotation mixup and an attack error gave the lead back to Demarest. The Golden Knights regained the lead but two kills by Norsewoman Nikki Woods sandwiched around a kill by Galli gave Demarest the lead for good. A few points later Galli ended the first set with a kill.
The teams battled back and forth early in the second set with neither team leading by more than three points. Several points ended after long rallies.
"They're really exciting, especially with OT," Galli said of the rallies. "You never know what's coming back to your side of the court. In the end if you win one of those rallies it gets you so energized."
Old Tappan senior outside hitter Jola Olutiola broke a 14-14 tie with a thunderous kill but Galli tied it with a blast of her own. Sophomore Taylor Miller gave Demarest the lead but Olutiola smacked a kill to tie the score, 16-16. Back-to-back kills by Woods and senior middle Gretchen Haray gave Demarest the lead but Old Tappan was unable to get closer than two points the rest of the way. Galli again belted the game winner and Demarest escaped with the victory.
Olutiola, who is one of the two Old Tappan seniors, said she spoke to the team before the match.
"The first thing I did was remind them the pressure is on them (Demarest)," Olutiola said. "They're undefeated, we're not and we've had some struggles. So keep pressure on them - we're the underdogs. Come out strong, play our game and we'll be ok. It was our best game yet. I was happy about everything."
"We've been improving day to day," added Old Tappan coach Melissa Landeck. "That's what you want to see when you have younger players in the mix. They're receptive to coaching, they're enthusiastic. I'm very proud of them. They ask questions and they're working to improve every day. On top of that they're athletic and they're good volleyball players."
Demarest improved to 8-0 and is No. 2 in the North Jersey Top 20 poll. In the match no fewer than six players contributed points for Demarest. Galli finished with 8 kills and a block, Haray and Woods each had 6 kills, senior setter Olivia Cammalleri distributed 20 assists and senior libero Denise Pak scooped 15 digs.
"I think it's a big advantage that our team isn't run by one big hitter," Galli said. "It's spread out around the court and our setter has the ability to mix up the spots. The blockers on the other side of the court never know what to expect. You're not dependent on a single player. We all help keep each other up."
"As much as we have a veteran squad we have people in new spots and kids who have never played in this gym before," said Demarest coach Beth Powell. "It's a hard atmosphere. I give them (Old Tappan) a lot of credit. She (Landeck) made us switch in the second game. It was a tough match for us."
No. 11 Old Tappan fell to 4-4. Olutiola had 8 kills, 2 service aces and 8 digs; junior setter Emma Gobo had 16 assists and 6 digs; sophomore Grayson Housley had 8 digs; Giordano had 3 blocks and 2 kills; and freshman Brenna had 4 kills and 6 digs.
"This was a big test for us tonight," said Landeck, "because it's a rivalry game with Demarest on top of Demarest being very good this year, and having the most fans we've had in a couple of years. They responded well. It's really exciting and I don't think we've scratched the surface."
"They're one of the best teams in the state and everyone is so happy right now," added Olutiola. "Almost being able to beat them gives us a lot of confidence. Everyone was playing well, everyone was staying clean and it benefitted us."
FOR MORE PHOTOS FROM THIS EVENT PLEASE CLICK HERE. TO BUY A COLLECTOR'S PRINT OF THIS STORY PLEASE VISIT 4-FeetGrafix.com.