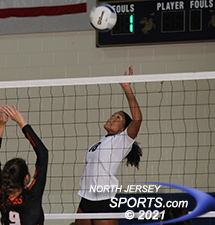 Sophomore Layla Giordano had a match-high 7 kills for NV/Old Tappan, which got back to .500 in the season with a sweep of Tenafly on Monday.
OLD TAPPAN – Northern Valley/Old Tappan has won three Tournament of Champions titles in the last 11 years, four Bergen County championships in the last 12 years and a myriad of league and sectional championships along the way. So maybe panic was not the right word, but there was some uneasiness around one of the state's top volleyball programs as it opened the 2021 season with two straight losses.
"We've had an uphill battle since volleyball got moved last season. We've had a lot of adversity and we are just climbing back. Every program can say the same thing, I am not say it only happened to us, but it has been a challenge," said Old Tappan head coach Melissa Landeck. "We had some tough losses to start the season, good matches against good opponents that beat us. We learned from those games and that became the goal. If you are not going to win the game than at least learn something from it and I think we did."
The lessons have been forced on the Golden Knights, but they have received them well as the two-match losing streak to start the season has been replaced by win streak that reached two on Monday with a 25-15, 25-10 victory over Tenafly that evened Old Tappan's record at 2-2.
"After that second loss we knew we had to step it up. We have a reputation to uphold, we need to live up to that reputation and on Friday and then today I think we are starting to show what we can really do," said Old Tappan outside hitter Jola Olutiola. "We are playing a lot better. We are playing cleaner, we are being more mindful and we are just being more positive on the court. We are doing more 'We can do this,' rather than getting sad every time we lose a point."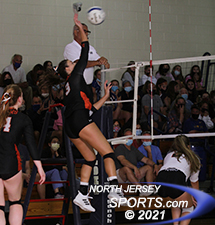 Sofia Bell hitting one from the outside for Tenafly, which fell to 1-2 on the season.
Old Tappan lost only one point of the first 9 contested in the opening set as it raced out to an 8-1 lead on its home floor. Olutiola crushed one from the outside off an assist from junior setter Emma Gobo to force an early Tenafly timeout and then Layla Giordano put one down from the middle to put OT ahead 7-1 as soon as the two teams returned to the floor.
Giordano, a sophomore, throws a varying look at opposing defenses. As a lefty the ball comes off her hand with a different spin. Her athleticism allows her to get well above the tape and she often uses the power tip to send the ball toward the floor on a straight line.
"I play basketball and you push the ball a lot in that sport, like when you are shooting and passing. One day in a summer scrimmage I did [the power tip] hard into the net," said Giordano. "Landeck told me to back up from the net and now I am doing it consistently and just trying to contribute to the team."
A four-point run on the serve of Olutiola pushed Old Tappan's first-set lead into double digits at 14-4 before Tenafly responded with its best stretch of the match. The Tigers won 5 of the next 7 points that included a rip from the outside by Rylie Theuerkauf to get Tenafly to within 16-11 and a bad pass off the serve of Anna Taufield made it a four-point deficit. It was the same spread at 18-14 after Sofia Bell hit one off the OT block, but the Knights, who did not burn a single time out in the whole match, then pulled away with freshman Samantha Kranzler behind the service line.
Kranzler had an ace among a three-point run that made it 22-15 and the Knights closed out the first set with a service winner and an ace on consecutive serves by Gabo.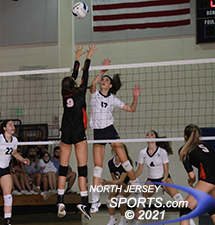 Samantha Kranzler is one of two freshmen contributing for Old Tappan.
Callie Milionis' block gave Tenafly (1-2) a 3-1 lead early in the second set, but a Giordano tip and a hitting error erased that gap and kicked off a 14-0 stretch that put the match out of reach. The run came on the serve of Gobo, who took the ball with the game tied at 3 and did not give it up until her team was in front by a 15-3 and the last of those points came on an ace that hit the line.
Olutiola sat out last year's COVID-scrambled season and played exclusively for her club team. Back now as one of only two seniors, along with Ashley Belous, on the Old Tappan roster, she is trying to lead both through her play and with her positive attitude. She had kills on the final two points to close out the win.
"Last year was tough for everybody. For a lot of the girls that was there first varsity experience and it came in a season like that and we were a little shaken up after the first two games this year," said Olutiola. "We just had to forget about everything. Forget about last year, forget about being 0-2 and just step it up and win a couple of game. We have won two in a row now and we are going in the right direction."
Giordano lead Old Tappan with 7 kills and Olutiola finished with 6. Sophomore libero Grayson Housley led the defense with 7 digs and Gobo handed out 14 assists and also had 5 aces in a well-rounded effort for the home side.
"Jola is a mainstay of our offense. Her leadership as a senior captain has been a positive for a very young team. Along with Ashley Belous, our other senior captain, they have both been outstanding as far as leadership and that has been very important for us," said Landeck. "Emma Gobo, our setter, had a great day at the service line and I thought that our libero, Grayson Housley, had a great day defensively. She is a kid that continues to grow in her game and it is getting harder and harder to put a ball down near her and we have two freshmen in the mix, Sam Kranzler and Brenna Delaney. Both of those kids are shining as freshmen and are only going to get better with time and experience. It's an exciting brand of volleyball that we have going now. It might be different than it has been in years past, but it is exciting nonetheless and fun to be a part of."
FOR MORE PHOTOS FROM THIS EVENT PLEASE CLICK HERE. TO BUY A COLLECTOR'S PRINT OF THIS STORY PLEASE VISIT 4-FeetGrafix.com.