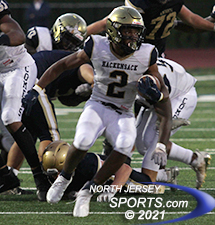 Curtis Whiting ran for 133 yards in the second half and for 168 in the game for Hackensack, which improved to 2-2 on the season with a 20-3 win at Old Tappan..
OLD TAPPAN - Hackensack scored 20 unanswered points in the second half to power past Old Tappan, 20-3, Friday night.
"That's a good football team," Comets coach Brett Ressler said of the Golden Knights. "They're a little beat up and our depth and our ability to wear teams down came into play. They had some good things rolling and did a good job against us in the first half.
"But we have a lot of one-way offensive linemen and one-way d-linemen that I think ultimately won us the game. We harp on a lot of conditioning with our guys, a lot of stuff after practice, a lot of stuff during the week. We have three certified strength coaches, myself included, so we put a lot of pressure on our development as a program in the weight room and on the field."
Old Tappan scored first when sophomore Nico Ottomanelli drilled a 31-yard field goal. The big play to get them in position to kick a field goal was a 19-yard pass completion from junior quarterback Tommy Caracciolo to junior running back Aidan Heaney.
Hackensack had a chance to tie the game on the ensuing possession. A five minute scoring drive stalled at the 25-yard line and a 41-yard field goal attempt by senior kicker Jake Kolmos hit the crossbar and bounced back.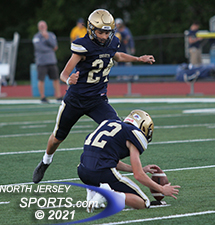 Nico Ottomanelli accounted for Old Tappan's points with this 31-yard field goal.
Earlier the Golden Knights had another scoring opportunity when junior defensive lineman Nicholas Varni recovered a fumble at the Old Tappan 38-yard line. A Caracciolo pass to sophomore wide-out Evan Brooks gained 18 yards and a few plays later Heaney scampered 17 yards down the right sideline.
But the drive ended at the 2-yard line when a Comets defender knocked down a 4th down pass.
Old Tappan managed to take that 3-0 lead into intermission when Knights junior defensive back Andrew Pinkus intercepted a pass in the end zone to halt a Comets scoring threat with 19 seconds to go in the half.
The second half was a completely different game. The Old Tappan defense was unable to stop Hackensack and the Old Tappan offense had a hard time moving the ball.
"We're just tough," said senior running back/defensive back Curtis Whiting. "We're a tough team and we're resilient. We have a new staff and we just fight through everything. I love my defense. [Senior linebacker] Hassan Bailey had a great game and [senior d-lineman] Michael Grant made a huge sack in the fourth quarter that saved the whole game."
On offense Whiting was the difference in the game. In the first half he carried the ball 10 times for 35 yards, but in the second half he tallied 133 yards on 17 carries to finish 27-168.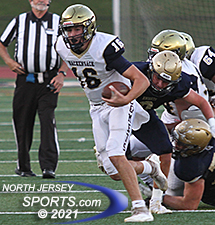 Hackensack QB Matt Pallouras ran in the final score of the game.
"Our O-line picked it up a lot," Whiting said. "They turned it up and found it deep inside of them. At the end of practice every day we go to the sled. They just pushed through in the fourth quarter and I love them for that."
The Comets held the Golden Knights to a 3-and-out to open the second half and then went on an eight-play, 60-yard touchdown drive. Whiting carried the ball five times, including a 15-yard burst up the middle on a key 4th-down play. He scored on a 1-yard plunge to give Hackensack the lead for good, 6-3.
Early in the fourth quarter Hackensack went on a long drive which consumed nearly eight minutes off the clock. On a 2nd-and-15 play Whiting gained 12 yards, dragging defenders along the way. Then he ran the ball for the next six plays, gaining 27 yards, including a 2-yard TD run to boost the lead to 13-3.
"Curtis was absolutely excellent," Ressler said. "I'm really excited for him. He's come full circle. I remember him as a little kid running around on the field when I was playing and now for him to have his senior year and an opportunity to shine a little bit is awesome."
"We lost to them last year when I fumbled on the goal line," Whiting said, "so it means a lot for me to come out here and [play well]."
Time was running out for Old Tappan and a quarterback sack ended the Knights possession at their own 26. Whiting ripped through the line with a 20-yard run down to the 6-yard line. On 3rd-and-6 junior quarterback Matt Pallouras faked a handoff to Whiting running left, rolled right and walked into the end zone untouched to make the final score 20-3.
"I'll give credit to my assistants for that [play]," Ressler said. "We were messing around with that in the past and you want a confident quarterback and we wanted to give him a shot to get into the box score."
Hackensack improved to 2-2, while Old Tappan fell to 1-3.
"We're back to 2-2," said Ressler, "and we have Northern Highlands next week. That's what we're focused on. We don't want to peak yet - we're steadily climbing. This is only my fourth game as the head coach so we're looking forward to keeping building. The kids are getting used to me and I'm getting used to the kids. They're growing within our coaching staff and our culture."
"It's very satisfying," added Whiting. "Now we're 2-2 and it makes a big difference in our playoff rank. We were ranked No. 14 and hopefully we will now move up. We beat a very good Old Tappan team."
FOR MORE PHOTOS FROM THIS EVENT PLEASE CLICK HERE. TO BUY A COLLECTOR'S PRINT OF THIS STORY PLEASE VISIT 4-FeetGrafix.com.