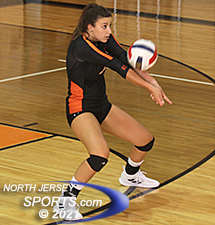 Sofia Bell finished with 8 kills for Tenafly, which evened its record at 4-4 after a hard-fought two-set sweep of Bergenfield on Friday afternoon.
TENAFLY -- Tenafly fought off an ever-improving Bergenfield team to eke out a 2-0 (25-23, 25-21) victory on Friday and evolution of the Bears' program did not go unnoticed by the home team.
"Linda is really an amazing coach. She's turned the program around. She's brought it to another level. The girls respond to her," Tenafly coach Jeff Koehler said of Bergenfield coach Linda Chu. "[This match] easily could have gone either way. Us getting that first game when they fought back [really helped]. Sometimes in volleyball you can fight all the way back and you're there and then you find a way to lose it. It's such a downer. It's demoralizing."
Tenafly had jumped out to a 21-12 advantage in the first game thanks to a balanced scoring attack by juniors Rylie Theuerkauf and Anna Taufield and sophomore Sophia Tapia, as well as a bunch of attack errors by the Lady Bears. But Tenafly committed a few attack errors and Bergenfield sophomore outside hitter Mia Gonzales blasted a couple of kills, while senior outside hitter Taylor Liriano chipped in with three winners.
In addition Bears sophomore libero Isabella Melendez left her feet for a number of diving digs to spur the offense.
"She has a lot of spirit and fight in her," Chu said of Melendez. "It's hard to be an underclassman and try to take a leadership role on the court. She's done a phenomenal job at it. She's been doing a great job trying to be a good teammate. I'm super proud of her. She wants to win, she's a go-getter and she tries to rally the team as much as she can. When she gets those digs and passes up it really gets the team motivated."
When the smoke cleared Bergenfield had gone on a 11-2 run to tie the game 23-all.
"We always have a slow start and get back into the game," said Chu. "They're very good at getting back into the game."
"I was a little bit stressed [during the run]," said Tigers junior middle hitter Sofia Bell. "We've gone to three sets before in previous years. I knew in the end we would pull through but it was really like a mental push for everyone. Everyone was stepping up."
An attack error gave Tenafly a set point and after a Bergenfield timeout Bell dinked the ball out of reach of the Bears defense to give the Tigers a 25-23 win.
The second game was similar with Tenafly taking an early lead and Bergenfield fighting back to close the gap. Melendez was all over the floor again making impossible digs to keep the ball alive and Gonzales was smacking the ball for kills.
Taufield broke an 8-8 tie with a pair of kills sandwiched around a great play as junior setter Meghan Koehler set a pass to Bell and Bell hammered a winner. A service ace by junior Callie Milionis and another kill by Bell gave Tenafly a five-point lead, 13-8, but the Bears clawed back, eventually tying the game, 15-15.
"I knew it was going to be a struggle because coach Linda (Chu) is my club coach," Bell said. "Callie (Milionis), Sofia (Tapia) and Noga [Marguiles] and I all play for her so we knew she was going to know a lot about us."
The teams traded points and with Bergenfield gaining a one-point lead senior Lila Hamilton and sophomore Maria Perricone pounded back-to-back kills and Melendez served an ace to put the Lady Bears up, 21-17.
"They are super-hard workers," said Chu. "I ask them to be a little more disciplined, to try not to get hung up on their errors and move forward. It comes with experience and gaining confidence."
Two Bergenfield attack errors and two more kills by Bell tied the game and after a Bears timeout Tigers junior Denah Chung served an ace to put Tenafly ahead, 22-21.
Bell blasted two winners for a match point and an attack error ended the night one rally later.
"We just changed the lineup to get everyone to hit more," Bell said. "I used to be outside with Rylie [Theuerkauf] and we changed it up. At one point I was asked if I wanted to stay outside and I knew I would do a better job if I would finish the game on the outside. Everything else was going pretty well. I just had to kill the ball and finish the set."
Gonzales finished with 6 kills and a service ace. Perricone and Liriano each added 3 kills. The Tigers evened their record to 4-4 as Bell finished with 8 kills, Meghan Koehler distributed 16 assists and Taufield had 7 digs.
"They put up a good fight," Chu said of her team. "I keep asking the girls to believe in themselves a little bit more and be a little bit more consistent in their playing. If we minimize the errors I think we can turn over these games."
"We scout teams and compared to other years we knew they were going to be way better," said Bell. "I didn't think it would be that close but for me I'm glad it was this close because we learned a lot as a team to never underestimate anyone."
FOR MORE PHOTOS FROM THIS EVENT PLEASE CLICK HERE. TO BUY A COLLECTOR'S PRINT OF THIS STORY PLEASE VISIT 4-FeetGrafix.com.