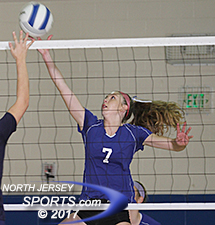 Junior Sedona Gaard stepped up to lead the Demarest attack as she finished with a match-high 12 kills in a two-set sweep of Rutherford in the Bergen County Tournament quarterfinals.
OLD TAPPAN – Third-seeded Demarest coasted into the semifinals of the 43rd Annual Bergen County BCWCA Volleyball Tournament with a 2-0 (25-17, 25-14) win over No. 6 Rutherford Wednesday afternoon at Northern Valley/Old Tappan High School.
"I'm so excited," said senior Ellen Hamlin. "Last year we lost in quarters so we're really excited to be in semis. We're taking it game by game."
The Norsewomen jumped out to an 8-0 lead in the first set thanks to some clutch serving by junior setter Alicia Iafrate, who recorded two aces in the service run.
"We had to serve and pass and pass and serve," said Demarest coach Beth Powell. "It always comes down to that."
The Norsewomen did some hitting, too, as five different players scored at least two points.
"We always say if someone is not having a good day we have so many other players to go to and get the point," said junior middle/outside hitter Sedona Gaard, who had a match-high 12 kills. "We have so many outlets and that's huge for us."
"That's a huge thing and why we're doing so well," added Hamlin. "We have an offense of multiple hitters. If I'm not getting it done we have Gianna [Arias] or Sedona (Gaard)."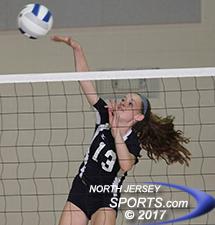 Sophomore Jenna Rogers was a force at the net and finished with a team-high 8 kills and also had two blocks.
A kill by Hamlin gave Demarest a 20-8 lead, but the Lady Bulldogs fought back behind sophomore Jenna Rogers, who had four kills and a block down the stretch. Rogers finished the match with eight kills and two blocks.
"Rutherford is a solid team with Jenna Rogers, who is a national champion high jumper," said Powell. "We had to be prepared for her to do some damage. She did a nice job blocking and putting some balls away."
The pace of play was slow throughout the match. Points were scored in a short amount of time and there were no long rallies.
"In the timeouts," Gaard said, "we were talking about how it was slow and we knew we had to bring our own energy to the court and keep talking. We got excited after every point to get the energy high. We play better in faster, more energetic games. That can sometimes be hard but I think we brought a lot of energy."
"We knew it was going to be a different type of game than we usually play," added Arias, "so we just had to come in and play it."
Hamlin ended the first set with her fifth kill of the game and the Norsewomen jumped on top again to begin the second set. Rutherford rallied to tie the second set, 6-6, but that was as close as the Bulldogs got in a match in which they never led at any point.
Gaard broke the tie with a kill and Demarest went on a 12-4 run to put the set and match out of reach for Rutherford. Hamlin again scored the winning point, this time with a service ace.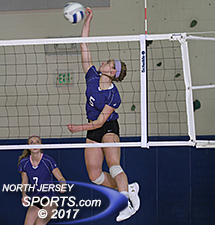 Ellen Hamlin's final kill of the match ended it as Demarest can now turn its attention to Pascack Hills in the county semifinals.
"Every day in practice we work really hard," said Arias. "We knew we had to get a perfect pass in order to get a perfect kill. So we all did our own thing and it factored into us winning the game."
The loss was just the third of the season for Rutherford (22-3), which won its fourth straight league title with a win on Thursday. Demarest improved to 17-0 and will face a surprise participant in the semifinals on Friday. Seventh-seeded Pascack Hills No. 2 River Dell, the defending county champion, in three sets in Wednesday's nightcap.
"I feel like we have some pressure because we're undefeated," Gaard said. "We don't like to use the word undefeated. We don't want to lose and we all know we don't want to lose but we've accomplished so much. We want to keep going. I guess there is some pressure but I don't think it's going to make us nervous."
"We just worry about ourselves," added Hamlin. "We have to play our game - serving, passing and playing good defense - and not worry about the other side."
In an interesting subplot, Pascack Hills is coached by Lindsay Runge, a standout high school player herself who played for Powell at Demarest.
"We just take it game by game," said Arias. "You never know what's going to happen. You have to be ready for anything and stay positive during the game. We always have people to tell us to keep going and play every point."
"The kids played hard tonight," said Powell. "There are a couple of things we have to clean up going into the semifinals. I was happy with the effort and we'll get back at it in practice tomorrow."
TO BUY A COLLECTOR'S PRINT OF THIS STORY PLEASE VISIT 4-FeetGrafix.com. FOR MORE PHOTOS FROM THIS GAME CLICK HERE!