Monday, November 7, 2011
By Cory K. Doviak
NJS.com Editorial Director
Ryan Walsh getting a lift after his goal with 3:21 remaining in regulation gave Old Tappan a 3-2 win over Ramapo and its first ever Bergen County Tournament championship.
OAKLAND – There was the perception that because it had never been there before, that the Old Tappan boys soccer team would somehow have been satisfied by merely making an appearance in the Bergen County Tournament final. That just getting to play in front of a crowd of nearly 1,500 would have been just as acceptable as winning a game in front of nearly 1,500 people.
By putting two goals in before halftime against top-seeded, undefeated and nationally ranked Ramapo, it was quickly evident that just being there was not going to be enough for the third-seeded Golden Knights.
"Coming in here we felt like we had a chance, we felt like it was our game to win because of how well we have been playing," said Old Tappan sophomore John O'Reilly. "We weren't satisfied just to be here. We knew that this was our chance to bring home a county championship. You might never get the chance again, so we wanted to come up big today."
Old Tappan seized its opportunity. After it saw its two-goal lead vanish in a span of four minutes against a spirited Ramapo attack midway through the second half, Old Tappan regrouped and hung in there until Ryan Walsh could pop in a header from 20 yards out with just over three minutes remaining to grab a 3-2 win and its first ever Bergen County championship in front of a nearly packed house at Indian Hills High School.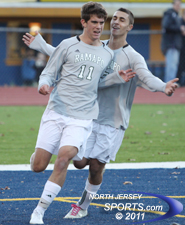 Sean Etheridge (11) celebrating Ramapo's tying goal with Chris Nash, who scored its first.
"Jonathan Nang played a perfect ball into the top of the 18. The goalie was coming out to get the ball and I flicked it back in over his head," said Walsh, Old Tappan's senior striker who has seen the program go from also-ran to county champion in his four years as a varsity starter. "I really wanted to score today, but I never thought that a 20-yard flick would be the way it would happen. I think everyone played great, I think we all put our hearts into the game and I just knew that somehow we could find a way to beat this team."
The way Old Tappan did that in the first half was to play solid defense and then take advantage of its few opportunities in the offensive third. Ramapo is the acknowledged king of restart goals, but Old Tappan turned the tables to take the lead. Off a corner kick by Tyler Walsh in the 11th minute, O'Reilly moved up from his fullback spot to join the fray, got up above the crowd and headed home the game's first goal.
Then, six minutes before halftime, Old Tappan doubled its lead when Nang played a free kick short to Adam Bodenstein, who then provided the service to that back post that Tyler Walsh headed toward the empty back post. Ramapo's Nick Guaglardi did his best to clear it off the line, but the shot was high enough to force Guaglardi's defensive header to go up into the roof. It was 2-0 nothing Old Tappan after a shocking first half.
"The two goals they scored in the first half came on their two chances," said Ramapo head coach Evan Baumgarten. "So you give them the credit. They put theirs away and we couldn't convert on ours."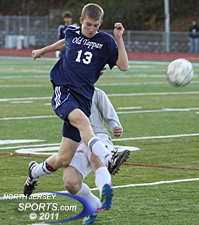 John O'Reilly did his part defensively and moved up to scored Old Tappan's first goal.
And Ramapo had plenty of them in the first half. Mikey Taranto's long throws from the sideline have been goal creators all season and his first of the game, seven-and-a-half minutes in, was so good that it went from the left boundary directly into the side panel inside the opposite post. Because it did not touch a player in the field of play on its way through, the goal was waved off, but that sent an early message that it was going to be a busy day for the Old Tappan defense and goalkeeper Frank Favata.
Favata's story is straight off a Hollywood script (he was not on the roster when the season started and was recalled when injuries decimated the keeper corps), but he did not want to be known as the 'Rudy' of Bergen County soccer, but as a contributing member of a county champion and just another player on the team. He was in the spotlight plenty on Sunday, using his right first, taped up like a boxer's beneath his goalie gloves, as his weapon of choice in punching away many of Ramapo's most dangerous advances.
"We knew they were a throwing team and their first throw in went right into the back of the net. Luckily no one touched it, so it didn't count, but we knew what we were up against," said Favata, who was also the winning goal keeper in the 2009 Bergen County Junior Varsity Tournament. "I realized right there how easily the ball could go in, so I just tried to stay back, stay on my line and get the ball out at all costs."
James Bounavita assisted on the goal that got Ramapo on the board.
It worked in the first half and through the first 13 minutes of the second half, but by then Ramapo had really ratcheted up the pressure. The Green Raiders had been down by two goals in the second half before this season (an eventual 3-2 overtime win over Northern Highlands on September 18) and were flying all over the field to get back in this one. The game turned physical and it was fun to watch as Ramapo nearly got on the board a few times before finally putting one in.
Just over four minutes into the second half Ian Foryessy got the first touch on a Taranto throw-in and Sean Etheridge ran on to the ricochet. Old Tappan's Vinny Capazzi slid into the scrum to knock down the first offering and Favata scrambled to close down the far post rebound. Four minutes after that, Taranto made a run up the left and sent in a cross that James Ortiz volleyed just wide to the right.
The Raiders' next chance, which was generated with speed straight down the middle of the field, was their last near miss before they found the back of the net. Etheridge had a full head of steam as he passed the midfield stripe and saw Taranto with a defender locked on his back at the top of the area. Etheridge played a straight ball to Taranto's feet, but instead of stopping it and trying to turn, Taranto dummied the ball and let it ride for Chris Nash, who made a smart run in from behind, but Favata held his line and went low to make the save.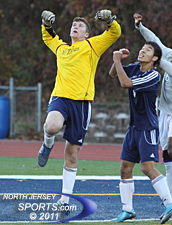 Frank Favata was stellar in net for Old Tappan once again.
Ramapo's first goal was the product of another build up in the middle of the field as James Bounavita drew double attention as he faded toward the right still with possession. With the middle now cleared out, Bounavita sent in Nash, who finished low right to make it a 2-1 game with 25:27 left to play. Four minutes later the contest was all square as Nash won a header at the top of the area and flicked on Etheridge, who went in behind and found himself in 1-v-1 on Favata with a whole net to shoot at. Etheridge went low right to tie the game at 2 and there were still more than 23 minutes left to decide a winner.
"When we gave up those two quick goals we all realized that we couldn't drop back," said O'Reilly. "We had to put the pressure back on them and make them respect us going forward again."
Just two minutes after Ramapo tied the score, Old Tappan almost took the lead back when Tyler Walsh headed down a corner kick that took one bounce off the turf on its way inside the second post, but Ramapo sweeper Matt Deziel was properly positioned to head it off the line.
Back and forth it went until Ryan Walsh, who has many strengths as one of Bergen County's top scorers, overcame one of his few weaknesses, his height, to get up over a defender and head in the game-winner with 3:21 remaining on the clock.
"I was kidding [Ryan] Walsh today that I would love to be able to play in a game like this. This is what a soccer player lives for: the big games with the big crowds and a lot at stake here, and I am so happy that he got that goal in the end there," said Old Tappan head coach Mike Hanchar, who came in with this senior class four years ago. "It was a very physical game and we were telling our kids at halftime that two [goals] wasn't enough. We were going to need more to get there. I told them to play as hard as they could and if they did that we would have no regrets regardless of what the result was. They did that and I think they got the result they deserved. Just tremendous."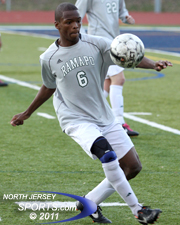 Ian Foryessey and Ramapo will get another shot at Old Tappan on Tuesday in the North 1, Group 3 state sectional semifinals.
Not lost amid the postgame euphoria was Old Tappan assistant coach John Burgandi, who has been a part of the high school boys soccer program for longer than anyone else currently affiliated with it. He as seen his own kids go through and seen the rise from nowhere to nowhere else he'd want to be.
"This is the fourth coach I have worked with here, they have come and they have gone at times, and Mike [Hanchar] is the best that I have been around. His mind for the game is exceptional, but I don't know how many people would have said that when we won two games in one of those years along the way, " said Burgandi. "But we just tried to get the community to rally behind us, to appreciate what we were trying to do. We used a little discipline and a little persuasion, but I think every one in the community and the program now realizes what some good hard work, some determination a some perseverance on the part of these kids can do. They were all here to see it today."
And they can turn out again on Tuesday as Old Tappan and Ramapo will get together again in the North 1, Group 3 state sectional semifinals in Franklin Lakes. It is said that heavy is the head that wears the crown and it will be interesting to see how it fits the Golden Knights, who go from decided underdog in the county final to the hunted in the section semifinals just two days later.
"We have a chance to come back and play," said Baumgarten. "That is a great thing that we get that opportunity."
FOR MORE PHOTOS OF THIS EVENT OR TO BUY A COLLECTOR'S PRINT OF THIS GAME STORY, PLEASE VISIT 4FeetGrafix.com.