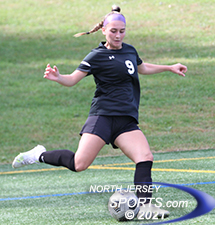 Stella Traphagan scored the goal that put Glen Rock in front for good in a 2-0 win over Dwight-Englewood in the Bergen County Tournament Round of 32.
GLEN ROCK – Playing in the Bergen County Tournament presents an interesting challenge for all teams during the early rounds. Unfamiliar opposition with no common opponents always makes for a tricky endeavor.
That is what Glen Rock experienced when taking on Dwight-Englewood in a first-round matchup. The Panthers were playing on their home field and had an overall edge in depth and experience, but with one of the best players in Bergen County, the fastest player on the field, and an aggressive goalie, Dwight-Englewood was a live underdog that could pull the upset.
To avoid that, the Panthers needed a total team effort and got exactly that.
Stella Traphagen found the back of the net late in the first half and leading scorer Ryan Doyle did the same early in the second as 14th-seeded Glen Rock advanced to the Bergen County Tournament's Round of 16 with a 2-0 win over Dwight-Englewood, the No. 19 seed, on Saturday afternoon in Glen Rock.
Despite having just one senior and nobody on the roster with Bergen County Tournament experience the Bulldogs showed early that they were not phased by any of it. Sophomore center midfielder Lilliana Moncion was a nightmare to mark all afternoon for the Panthers and freshman Sofia Huie-Pangian was a handful with her speed up top. The teams were virtually even up in terms of possession until 14:21 left in the first half when Huie-Pangian went down with a left leg injury and did not return.
Lillian Moncion was dangerous all afternoon for Dwight-Englewood.
That marked a turning point as Glen Rock became more aggressive and took the lead just minutes later. Marking back Jillian Luftman sent back in a failed clearing attempt right to the feet of an unmarked Traphagen near the top of the box. She took one touch to her right then shot it back across her body, ripping one into lower left-hand corner to give the Panthers a 1-0 halftime lead.
"It's harder for the goalie to get down and react so I was aiming low," said Traphagen. "Their goalie came off her line a lot so I had to make a quick decision. When we used the whole field the gaps were there and it gave us good angles to shoot from.
Glen Rock kept up the pressure in the second half. After bunching up for most of the first half and not finding success with Dwight-Englewood goalie Christina Rego (nine saves) picking off one straight-line through ball after another, the Panthers began to play their through balls diagonally and got better looks at the net because of it. Freshman Nicole Crane was effective throughout the second half as a holding striker. She delivered a through ball up the right flank for Doyle, who outran a defender to the ball then buried a shot just under the crossbar from a tough angle in the 48th minute to give the Panthers a 2-0 lead.
"The through balls were a lot easier to connect in the second half because we played wider and kept our head up to look for those gaps," said Doyle. "We had to come out in the second half and play our game."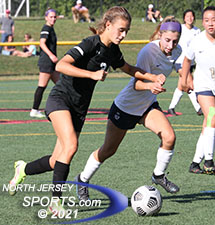 Ryan Doyle and Glen Rock will get a shot at No. 3 IHA in the Round of 16.
Moncion showed just seconds later how dangerous she is with the ball at her feet. She dribbled through six Glen Rock players before ripping a shot that forced Glen Rock keeper Sophia Pappalardo to make a diving save. It appeared Dwight-Englewood (5-3-1) got on the scoreboard midway through the second half when Emma Hsu put in a rebound of a saved shot by Moncion, but the call was offsides and the goal was waved off. The Panthers held on from there with Pappalardo (five saves) earning the shutout and advancing into next weekend's BCT Round of 16.
"I thought that should have been a goal and it would have changed the game for us," said Dwight-Englewood head coach Eddie Ballas. "But we didn't mark well enough in the middle of the field, too many unmarked players and it hurt us. We're young and we'll learn from this."
It will be no easy task as Glen Rock takes on third-seeded Immaculate Heart Academy. However, the Panthers do have a puncher's chance going into that game. With plenty of senior leadership and some young players that have proven to be dependable in big games along with having nothing to lose the Panthers are thrilled about the opportunity to see how they stack up against one of the premier programs around.
"We're going to keep practicing hard, we'll prepare as much as we can, and we'll do great," added Traphagen. "It will be a tough challenge for us but we'll be ready."
FOR MORE PICTURES OF THIS EVENT PLEASE CLICK HERE. TO BUY A COLLECTOR'S PRINT OF THIS STORY PLEASE VISIT 4-FeetGrafix.com.