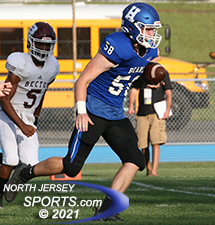 Senior Luke Strednak scored the first touchdown of his life on a scoop and score on the first play from scrimmage as Hawthorne knocked off Becton, 26-0, on the season opener on Friday night.
HAWTHORNE – From the time Luke Strednak started playing football he was more than happy to remain in the background, do the dirty work in the trenches, and allow various skill players around him receive all the adulation when they found the end zone. With a senior-laden squad this season for Hawthorne, Strednak merely wanted to be an integral part as a two-way lineman to help lead the Bears to a championship season. However, on the very first play from scrimmage this season it was Strednak's turn to bask in the limelight.
He scooped up a fumble and ran 29 yards untouched to paydirt. That score was all Hawthorne needed as it made one big stop after another to knock off the defending NJIC champion Becton Regional, 26-0, on Friday night in Hawthorne.
After a huge hit by Jayden Shwed on opening kickoff set the tone, fellow senior Ryan Dockray followed suit by forcing a fumble on the first snap of the game. Strednak, already in the backfield, reached down to pick up the ball without breaking stride before crossing the goal line and waiting for his teammates to mob him in jubilation. Dominic Passero tacked on the extra point to give the Bears a 7-0 lead just 18 seconds into the game.
"I've played football for 11 years and never scored a touchdown before," said Strednak. "First play of my senior year I score a touchdown. I loved it. I had all my friends rallying around me, it was awesome."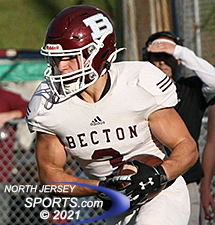 Becton's Sonny Ragusa had a 60-yard punt return for a TD called back for holding.
Becton had several chances to score throughout the first half. But they were either turned away by big defensive plays or shot themselves in the foot with a pair of untimely penalties.
Sonny Ragusa had a 60-yard punt return for a TD called back for holding. The Wildcats put a drive together following the holding call but eventually turned the ball over on downs thanks for a 4th down sack by Andrew Morzetta, who was making plays all over the place from the middle of the line as well as sideline to sideline. The Wildcats were back on the attack on their next drive and got within two feet of paydirt. Once again, an ill-timed penalty (a false start) pushed them back. Then on fourth down they executed a hook-and-ladder to Ragusa. Hawthorne linebacker Kevin Huffman was waiting and drove the strong tailback out of bounds before he could reach the end zone as Hawthorne clung to its 7-0 lead at halftime.
The Bears got the ball to start the second half and put together an impressive, methodical drive. They quickly marched down the field before senior southpaw Troy Eckert rolled out to his left and found Michael Palmer in the end zone. Ragusa made a good play on the ball, but Palmer was able to rip it away while falling to the ground for the touchdown catch to make it 13-0.
Becton's last shot at staying in the game came shortly afterwards. Ragusa broke off a big run up the right sideline down to the Hawthorne 10 before turning the ball over on downs. They forced a fumble a to get another crack at cutting into the lead. That lasted just one play though as the Wildcats fumbled on the very next play with Hawthorne recovering.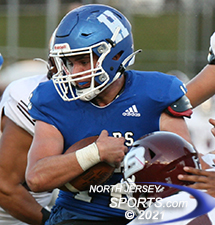 Hawthorne's Ed O'Hagan scored on a 69-yard touchdown run.
Instead of being a one-possession had Becton been able to score it was the Bears who were putting the game away. It happened as Brandon Beltran, Jayson Brudzynski, and Morzetta opened a hole and Ed O'Hagan busted through it before outracing the Wildcat defense all the way to the pilon for a 69-yard TD jaunt for a 20-point lead. Shwed capped the scoring in the final minutes breaking four tackles for a zig-zagging, highlight reel 39 yd. TD run.
"We called too many different things in the first half and focused on getting in our I-formation and pounding the ball in the second half," said Hawthorne head coach John Passero. "This game could not have started off better for us with a big hit on the kickoff, then the scoop and score, it was a perfect start. We faced a great team coming off a great season last year. I'm happy we kept our intensity up from the opening kickoff until the last play."
Hawthorne (1-0) will get ready during the upcoming bye week before preparing for Wood-Ridge. With such an impressive victory and so many senior starters on both sides of the ball, this is a team that is thinking both NJIC league titles and a section title in the state tournament as well. For as happy as they are with their season-opening performance, the Bears know that they have plenty of work left to do in order to reach their ultimate goals.
"We have picked up each other, we have love for each other, and we motivate each other every day," said Morzetta. "It's about getting the upper edge on our opponents. It's a team sport. If one player eats, we all eat. No team I'd rather go to war with every week, these are my brothers. We know we have something special here and we don't want to let it go to waste."
FOR MORE PICTURES OF THIS EVENT PLEASE CLICK HERE. TO BUY A COLLECTOR'S PRINT OF THIS STORY PLEASE VISIT 4-FeetGrafix.com.