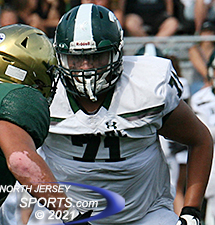 Anthony Aviles and DePaul on the battles in the trenches in a 17-0 shutout on the road at St. Joseph Regional.
MONTVALE – When Nick Campanile took over this year as the head coach at DePaul Catholic, the goal was to not only be competitive with fellow teams in the Big North-United Division but to beat them and put the Spartans in position to win a state title. But when University of Wisconsin commit A'Khoury Lyde suffered an ACL tear in DePaul's season-opener last week the chances of that happening this season seemed unlikely. Without the big play ability of Lyde available the Spartans went back to the basics. They relied on a suffocating defense and steady play from their offensive line to control the tempo of the game.
Facing a road test against St. Joe's (Montvale), they executed their new strategy to perfection to pick up a huge win and snap a long losing streak in the process.
Tyler Brown ran in a first-quarter touchdown and that was all DePaul needed. The defense dished out big hits all game long and the secondary played lights out football as DePaul picked up a win on the Green Knights' home field for the first time since 1973 with a 17-0 blanking of St. Joe's on Saturday.
The game was all about field position in the first quarter with St. Joe's holding an early edge thanks to a 50-yard punt from Jack Smiechowski that was downed at the 2-yard line. The Spartans never blinked with two big blocks from left tackle Anthony Avilles, who put together an impressive performance against Jimmy Mullen, one of the top defensive ends in North Jersey. One opened a big run from Anthony Almieda that got the Spartans' heels off of their own goal line. The other allowed A.J. Rodriguez enough time to hit Marshawn Ferguson for a big gain into Green Knights' territory. Although the drive eventually stalled out the field position game had been flipped.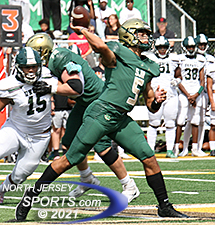 Open receivers and throwing lane were hard to find for SJR QB Luke Henrich.
That would play a factor after the Spartans forced a three-and-out. The call on fourth down was a fake punt with Smiechowski running around the right end. The Spartans were ready and forced Smiechowski down short of the sticks to give themselves their best field position of the day, taking over deep in St. Joe's territory. With just seconds left in the opening quarter Tyler Brown spelled Anthony Almeida at tailback and made the most of a rare rushing opportunity. He broke a tackle in the middle of the line then another one at the goal line to bulldoze his way into the end before adding the ensuing PAT himself to give DePaul a 7-0 lead.
"Our O-line really blocked well today and we trusted our defense to do the job from there," said Avilles. "I've been playing against (Mullen) since we started playing football and he's a great player. I know I had to be at my best and we worked too hard for this moment to let it pass us by. Our team just goes week to week. We want to go 1-0 every single week. Just keep grinding and keep working until we get to play in a state championship at MetLife Stadium."
That is when the Spartan defense took over. St. Joe's quarterback Luke Henrich rarely had time to throw and running backs Yasin Willis and Luke Tucci had no lanes to run through. Qyaeir Price was all over the field making the plays as the Spartans maintained that seven-point lead at the half.
Both teams could not move the ball in the third quarter before DePaul mounted a drive late. St. Joe's made a goal-line stand to keep the Spartans out of the end zone. Brown booted a 19 yd. field goal to make it a two-possession game with 5.2 seconds left in the third.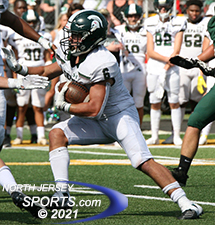 Anthony Almeida and DePaul improved to 2-0 on the season.
The Green Knights had one last shot with DePaul backed up deep in its own territory. Once again, the offensive line came up clutch when they needed to. The Spartans chewed up over six minutes of clock before Rodriguez hit Ferguson on a crossing route for a 2-yard TD that sealed their first road win over St. Joe's (1-2) in 38 years.
"We know what a big win this for us and for this program," added Avilles. "We've been lifting since January and been doing conditioning all throughout the summer to prepare us for games like this. We'll enjoy this and then we get ready to prepare for next week."
Lucas Young and Price each had 1.5 sacks as DePaul (2-0) used a smothering defensive effort to hold the Green Knights to just 65 yards of total offense on 31 plays, for a shade over two yards per play. Rodriguez completed 14 of 23 passes for 212 yards, 105 of them going to Ferguson.
Despite several standout performances, when it was time to hand out the game ball there was only one player who was even considered. It was A'Khoury Lyde who received the game ball with his teammates going crazy in cheering him on. The Spartans hope this is the first of many celebrations throughout the year.
"We have big goals for this season and we took a big step forward today," said Campanile. "I couldn't remember the last time St. Joe's was shutout, if ever. These guys have bought in to the off-season work and putting in the work every day in practice. It was a devastating week with (Lyde) going down. But he's here for us and we're all here for him. Hopefully seeing how well we played for him helped him feel just a little bit better than he felt yesterday. We see the weight room and conditioning paying off. It's a special win for this program. Now the challenge is to keep it rolling into next week and the week after that. This is a big, physical group and we're starting to see what we're capable of accomplishing."
FOR MORE PICTURES OF THIS EVENT PLEASE CLICK HERE. TO BUY A COLLECTOR'S PRINT OF THIS STORY PLEASE VISIT 4-FeetGrafix.com.