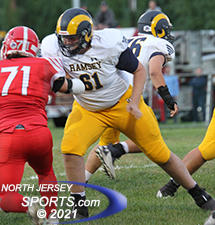 Logan Bahn and the Ramsey offensive front opened the holes for a dominat running game in the Rams' 48-34 win on the road at Ridgefield Park on Friday night..
RIDGEFIELD PARK – Running the ball effectively is an aspect of the game that Ramsey should do well. With one of the best offensive lines in North Jersey public school football and a bevy of game-breaking skill players the Rams use their ground attack to both set a tone early and then close out a game late.
That formula had a hiccup last week when Ramsey blew a 22-point lead before escaping in overtime with a win against West Milford. Whether the Rams learned a lesson from that performance would be figured out quickly as they had to turn around in a short week to face a gritty Ridgefield Park squad playing its biggest home game in over a decade.
Ramsey's ground attack was on point from its first drive to its last. With quarterback Danny Veenstra leading the way, the Rams got off to a fast start and maintained a comfortable lead throughout the game with a late second-quarter touchdown being the backbreaker. Running backs Luca Gemma, Justin Martone, and Veenstra all found the end zone twice on the ground as Ramsey pounded out 397 rushing yards to remain unbeaten with a 48-34 triumph over Ridgefield Park on Thursday night in Ridgefield Park.
"Those guys up front block really well every game. If our running backs and I do our jobs then we can do wonderful things," said Veenstra. "Scoring before the half was huge. After going three-and-out on our previous drive, we needed to get the ball back and score to get the momentum going our way before the half."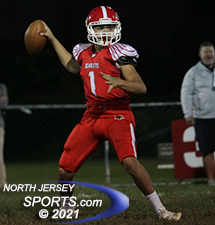 Brevin Cooney made some big plays in the passing game for Ridgefield Park, which fell to 3-2 on the season..
Any questions on whether the Ramsey players were shell-shocked after the close call over West Milford were answered in three plays. On a third-and-6, Veenstra kept it on a read-pass option play, broke a tackle in the hole then cut back to the short side of the field and raced for a 55-yard touchdown to put Ramsey in front.
Ridgefield Park (3-2) fought back and showed they had quick strike ability as well. Junior quarterback Brevin Cooney converted a key third-down play hitting Joe Rinaldi up the seam for a 30-yard completion. Andrew Vargas then punched it in from a yard out to tie the game at 6.
Ramsey went back on the attack with Gemma this time finding the end zone and Martone running in the two-point conversions to make it 14-6. On the Rams' next drive, Ridgefield Park stacked the box in the red zone to force Veenstra to throw. He did not have to throw often in this game but was effective and efficient when he did. That included hitting Gemma for a five-yard score to boost the lead to 21-6.
Cooney showed off his big arm on the Scarlets' next drive when he tossed a picture-perfect pass 40 yards downfield with Jalexin Pimentel making a nice over-the-shoulder catch then eventually led to a Cooney diving for the pilon to trim the Rams' lead to 21-12. The Scarlets had even more momentum after getting a defensive stop, but it was the final 90 seconds of the first half that proved to be costly for them.
After a quick three-and-out, the Scarlets were forced to punt and now it was Ramsey who had a chance to pad its lead. Veenstra calmly led his team down the field with an RPO (read-pass option) pop pass to Martone setting up the Rams deep on Scarlet territory. From the four-yard line, Veenstra took one step as if he was going to run a quarterback draw then lofted a pass to his right. Geema came out of the backfield to make a leaping catch then maintained his balance to fall into the front corner of the end zone with just four seconds left to give Ramsey a huge boost heading into the locker room, 27-12.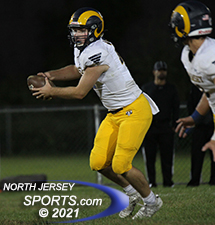 QB Danny Veenstra has led Ramsey to a 5-0 start heading into games against Hanover Park and Lakeland in the next two weeks.
"That was a tough one, missed tackles against a team like this will come back to bite you," said Ridgefield Park head coach Chris Rapp. "They have a way bigger offensive line, they're fundamentally sound and their quarterback is awesome. When you play against a team like this you have got to play perfect. We don't play for moral victories but there a lot of positives to take out of this game. I'm proud of the way we fought and we're going to learn from this."
Ridgefield Park did have a pair of chances to put a scare into Ramsey during the second half, this time it was the defense and the special teams unit that stepped up. Late in the third quarter with the score still 27-12, the Scarlets were driving until one big play brought that drive to a halt. Joey Lis jumped an out route to pick off a Cooney pass. The Rams reverted back to leaning on their O-Line and they went to work as they did all night. With three lineman who are at least 6'3" and over 260 pounds (senior tackles Robby Mandel and Tyler Lawson along with emerging sophomore guard Logan Bahn) along with rock solid center Tim Smilon and senior guard Jon Martinez, the Rams consistently won the battle at the line of scrimmage and used the jet sweep to devastating effects. With Martone finding paydirt from nine yards out to make it 33-12. The Scarlets twice cut the lead to 13 in the fourth quarter, but the Rams recovered a pair of onside kicks to close out another big win.
Veenstra (187) and Martone (153) combined to rush for 340 yards for Ramsey (5-0). The Rams have a few extra days to rest before a pair of home games against solid teams, Hanover Park and Lakeland, over the next two weeks. Currently third in the power point rankings for the North 1, Group 2 state playoffs, they know that these next two weeks will be crucial as they shoot to earn a high seed and make a run at a section title.
"Whenever we have a great week of practice we play well in games and come out with a win," said Veenstra. "Our defense will keep getting better and our offense needs to keep locking in and running the ball. With some tough opponents coming up we need to keep competing every day at practice to prepare us for these games."  
FOR MORE PICTURES OF THIS EVENT PLEASE CLICK HERE. TO BUY A COLLECTOR'S PRINT OF THIS STORY PLEASE VISIT 4-FeetGrafix.com.