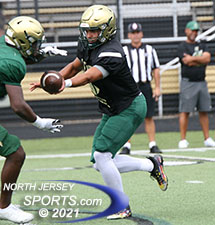 Luke Henrich has earned the starting QB spot at St. Joseph Regional, a perenial New Jersey powerhouse and a program of national distinction.
MONTVALE – As Luke Henrich entered his sophomore season in 2020, he had a laser-like focus despite the country and the high school sports landscape being in a chaotic state due to the Covid-19 pandemic. His goal was to step in and be the starting quarterback at St. Joseph's Regional, a New Jersey powerhouse and a program of national distinction. Henrich was on track to do just that until another quarterback transferred in and edged him out in a battle for the starting spot.
It is more the norm these days that a player in Henrich's situation would himself transfer out and look for an opportunity to get on the field, but he would have none of that. The 6-foot-1, 210-pounder knew that it only meant he had to work even harder to be the one taking snaps under center for his junior year. His time has finally arrived, and he is ready to lead the Green Knights on their path towards a state title against one of the toughest schedules in the country.
"Luke is a natural leader and the kind of guy you want to lead your program," said St. Joe's head coach Dan Marangi. "Our biggest opponent and Luke's biggest opponent is experience. There aren't any warmups, and we must be ready right out of the gate. I see what the potential is there in Luke and he's a player that the whole locker room rallies around. He's always looking for more tape and to gain more knowledge, which as a coach is exactly what you want to see in your quarterback."
Henrich, a West Orange native, came into St. Joe's fresh off winning a national championship in junior high with the Brick City Lions (Newark). Although Henrich's services were highly sought after going into high school he knew he had to scratch and claw every single day to get noticed in a crowded quarterback room. It took just a couple of days in a St. Joe's uniform for Henrich to catch the eye of offensive coordinator Rob Stern.
"In our first meeting he was literally writing down every word I said, he couldn't learn the playbook or get information fast enough," said Stern. "You could see the athleticism and he had could make all the throws. Just from how he carried himself and his attention to detail I knew early on he had the chance to be special."
Henrich paid his dues on the freshman and JV levels, impressing his coaches and, just as importantly, earning the respect of his teammates with his calm demeanor and tireless work ethic. It appeared that Henrich was primed to win the starting varsity job before the transfer of former Paramus Catholic starting quarterback Dorian Nowell threw a monkey wrench into the situation. Along with Justin Mucci there was a hard-fought three-way competition for the starting job that went all the way until just before the Green Knights' season-opener last year. Nowell won the job and helped lead St. Joe's to a 6-2 record.
"Coming in here really humbled me and adjusting to the speed of the game was not an easy adjustment; I knew that I had to put in the extra work on the field, watching film, and in the weight room to get to where I want to be," said Henrich. "I was disappointed when I didn't get the starting job, but I think it was the best thing for me in the long run. I don't ever want to take the easy way and you earn everyone's trust by staying and fighting when things get tough. Every rep in practice and every snap in a game is an opportunity to prove yourself."
The Green Knights will be tested right from their opening game. They will take on Our Lady of Good Counsel, a Top 50 team nationally, today at 2:00 at Overpeck Park in Palisades Park. With the loss of first-team all-state selections, running Audric Estime (now at Notre Dame) and left tackle Geno VanDeMark (Michigan State), Henrich will look to lead a revamped Knights' attack on a march towards a state title.
"Walking into St. Joe's as a freshman I felt a lot of love and a lot of loyalty," added Henrich. "I want to honor that loyalty and give them everything I have every play and every rep in practice. I want to step up my leadership every day and make sure everybody is together. We have to stay on the same level, control the tempo, and keep pushing. Sitting back two years allowed me to really focus on the mental reps as much as the physical ones. A successful football team starts with hard work, loyalty, and sticking together. I want to set an example for my teammates and for this program on and off the field. I know it's my time now to lead us and I'm ready for the challenge."
TO BUY A COLLECTOR'S PRINT OF THIS STORY PLEASE VISIT 4-FeetGrafix.com.