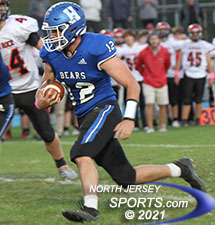 Ed O'Hagan and the Hawthorne running game dominated the second half of a 37-3 victory over Glen Rock on Friday night.
HAWTHORNE – Going into halftime with a lead is generally a positive development for any team, but Hawthorne's players were not all that thrilled with it. Up 9-3 at the half over a stingy Glen Rock side, the Bears were not happy with their first-half performance. A team known for their offensive weapons and big-play ability at several positions could not get much going in the first half.
A new half provided a new opportunity and find a rhythm and It took just one play for the Bears to prove that their execution on all levels would be on full display.
Quarterback Troy Eckert busted loose for a 55-yard run to open the third quarter. Two plays later, Jayden Shwed plunged in from a yard out. Fellow tailback Ashton Navarrete hit the holes behind a dominant offensive line to add a pair of second-half scores as Hawthorne cruised to a 37-3 victory over Glen Rock on Friday night in Hawthorne.
"We expect everyone to come out, execute, and do their job like we did tonight," said Eckert. "It starts with our work ethic in practice. We're a team that goes all-out, all the time, and we work as hard as possible. We know we have a great team; we just have to execute the way we did in the second half.
Fresh off an upset win over previously unbeaten Pompton Lakes, Glen Rock got a stop on fourth-down then a big play from quarterback Mike McCarthy moved them into field goal range. After a scoreless first quarter, Mike Flaccavento booted a 34-yarder early in the second quarter to give Glen Rock (2-2) a 3-0 lead.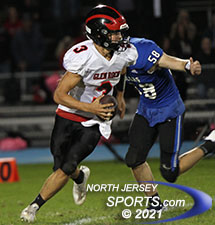 Mike McCarthy had led Glen Rock to an upset of previously unbeaten Pompton Lakes last week.
On the ensuing drive, Hawthorne tied the game on a 26-yard field goal from Dominic Passero. The Bears then got the break they needed when Ed O'Hagan made a diving interception to give them a short field. They cashed in with Navarrete running it in from three yards out. The Bears held the same six-point lead going into the second half but as they walked to the locker room there was nothing to celebrate with plenty of work left to do.
After a quiet first half both the offensive line and Eckert under center made their presence felt immediately to start the second half. With a huge hole opened up by center Ryan Dockray and left guard Brandon Beltran, Eckert broke into the second level. With running backs Shwed and O'Hagan also in front of him Eckert easily got into the second level. He then stiff-armed a defender off of him and raced 55 yards all the way down to the Glen Rock 10.
Shwed followed with a nine-yard run up the middle and then he followed his center, Dockray, right into the end zone on the next play as Hawthorne needed just over a minute to get back on track.
"There were just some things we needed to tweak and get right for the second half," said Eckert. "That run to start the second half, it was actually a little bit of a busted play on a handoff. I just followed some great blocks and bounced it to the sideline. When we punched it in that really changed the game and put us back in control."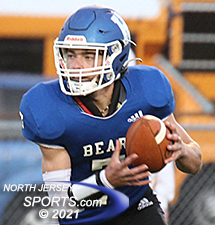 Troy Eckert and Hawthorne are now 4-1 on the season with the only loss against Rutherford in double overtime.
Hawthorne dominated the line of scrimmage throughout the second half on both sides of the ball. Luke Strednak, Jayson Brudzynski, Dockray, Beltran, and Morzetta have been a cohesive unit all season up front. The Bears quickly got the ball back and cashed in again with the southpaw quarterback Eckert showing some nice touch on his passes. He lofted one up and then watched as wide receive Michael Palmer outleaped a defender to haul it in for a touchdown and a commanding 23-3 lead.
From there it was all road grading with Shwed and O'Hagan providing a slew of punishing runs before Navarrete delivered the knockout blows by finding paydirt two more touchdown runs to make it a career best three TDs on the evening.
"We can't score touchdowns without our O-line and we'll ride that until the end," said Navarrete. "We believe in our guys up front and they made our job easy in the second half with the holes they were giving us to run through. From there we just had to do our job and hit the holes. Also want to give our scout players credit because they push us every day in practice and prepare us for these kind of games."
Passero connected on all four of his PAT attempts in the second half for Hawthorne (4-1). With the bitter pill of an overtime loss to Rutherford now well in the rear-view mirror the Bears are looking forward to finishing the season strong and making a run in the North, Group 2 state tournament.
"It's another day, another dollar for us, we just look at whoever is in front of us," said Dockray. "I knew it was going to be a dogfight coming in with a guy like (Brown University commit Nolan Clark) up front. He's a great player and we knew we had to slow him down. All we look at is doing our job and taking things one game at a time. We're past the Rutherford loss and we're not looking ahead to states. This was a big win for us and we'll work hard to get another one next week. It's just playing hard and getting better one day at a time. When we do that we get the results we want."
FOR MORE PICTURES OF THIS EVENT PLEASE CLICK HERE. TO BUY A COLLECTOR'S PRINT OF THIS STORY PLEASE VISIT 4-FeetGrafix.com.