Caitlyn Featherstone scored one of two Ramsey goals in the first six minutes of the game of the Rams' 3-2 win over Wayne Valley on Monday afternoon.
WAYNE – Getting off to a fast start is something longtime Ramsey head coach Rebecca Mills has stressed to her team and it is a lesson that has sunk in with her players. In all five of the Rams' victories, they scored in the first quarter and in both of their losses, they did not. With county tournament time coming up shortly for both Ramsey and their opponent on Monday, Wayne Valley, setting a tone was paramount to see who would earn an all-important confidence booster.
Ramsey has some youth on the roster but still leans on its seniors to do the heavy lifting. Caitlyn Featherstone and Jess Keary scored in the first six minutes of the game before another senior, goalie Erica Babbitts, made two huge saves late as Ramsey held on for a 3-2 triumph over Wayne Valley on Monday afternoon in Wayne.
Despite the scheduled start time being pushed back a bit as the Ramsey bus was stuck in traffic heading to Wayne, the Rams came out flying right from the opening whistle. They quickly earned a corner and cashed in on it. After a shot was blocked in front, Madi Stitz sent it back in front and Featherstone was there to knock it home to give Ramsey a 1-0 lead just 2:37 into the game. They added to that lead three minutes later when Molly O'Neill carried the ball all the way up the left flank before carrying it along the goal line. That forced the Wayne Valley defense to go her way, which opened up a lane for Keary in front of the net. O'Neill found her and Keary found the back of the cage to make it a two-goal lead.
"Caitlyn (Featherstone) does such a good job of keeping the pressure on in the circle and that helps us get off to good starts," said Keary. "We need to trust each other as a team. It's important for us to get the ball wide every time. We did that a lot in the first and third quarters and it worked well for us. We knew this was not going to be an easy win and we kept working together."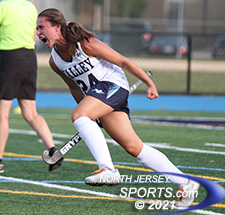 Daniella Indomenico scored Wayne Valey's first goal on a penalty stroke late in the first half.
This game was full of momentum shifts starting with the second quarter. Wayne Valley came alive in the with sheer hustle and determination. The Indians flipped the switch, getting to every loose ball and connecting passes to finally mount an attack. When a Ramsey defender stepped on the ball near the goal line it resulted in a penalty stroke with 4:13 to play in the half. Daniella Indomenico stepped up and flicked it into the lower right-hand corner to trim the WV deficit to 2-1 heading into the second half.
Ramsey quickly regained control in the third quarter and padded its lead. Keary once again pounces on a loose ball in front of the cage to give the Rams a 3-1 lead. They continued to dominate possession until one counterattack changed the complexion of the game.
After being unable to score an insurance goal that would put the way away, Wayne Valley's Jane Justin broke out up the left side. She let loose a long shot that somehow got through traffic, past the screened Babbitts and tucked inside the far post to put the Indians within striking distance, down 3-2 with 8:15 to play. Wayne Valley (5-4) rode the wave of Justin's goal to earn several corners and dangerous scoring chances. The best two of those came with four minutes to play with Babbitts having to come off her line to make a save on a hard shot and then another on the rebound as the Rams eventually survived the Indians' late surge to pick up a big win.
"I think we when we turn it on it's hard to stop; but two quarters is not enough against a team like Ramsey, you need that effort for all four quarters," said Wayne Valley head coach Kaitlyn Struss. "The hardest part is that all of our losses have come in games we feel we could have and should have won. We are a young team. So we still have a little trouble with adjusting on the fly. It's about making those adjustments then following through and executing. But we're working hard and we'll continue to learn from our mistakes."
With a favorable schedule over the next couple of weeks, the Rams hope to get on a roll heading into the Bergen County Tournament. After a quality win like this, the Rams feel that they can grow into a championship team.
"We have to be a more consistent team and we can't ease up after we get a lead," said Featherstone. "The first step is giving it our all and playing our style for a whole four quarters. We have to bring it on and be ready to have our best game no matter who we're playing or how big the game is."
FOR MORE PICTURES OF THIS EVENT PLEASE CLICK HERE. TO BUY A COLLECTOR'S PRINT OF THIS STORY PLEASE VISIT 4-FeetGrafix.com.